At UAT, a Student Innovation Project (SIP) is a culmination of an undergraduate student's hard work on a specific assignment relative to their degree and technological field of study. A SIP is similar to a Capstone or Master's thesis but with an agile, new-age approach to developing a student's career readiness. During their last three semesters at UAT, students work intensely during and outside of their SIP-designated class to develop, design and craft their ideas into a technology product or service that makes a claim to Innovation. A student's SIP does not have to necessarily be a new invention or market-ready. The main task at hand is to create something innovative utilizing advancing technology—capable of being better than anything of its kind available in the market today.

"Most schools have students write papers or present research or work, but we have them create and present these creations in a live session that is actively graded as a graduation requirement," said Dr. Mark Smith, UAT Program Champion – Business Technology and Mark Tank organizer (UAT's version of Shark Tank).

At the end of each semester, UAT hosts a SIP Showcase event where students present their projects to a panel of faculty and an audience full of fellow students, parents and potentially industry executives. Each presenter is allowed 10 minutes to deliver their product or service. They discuss how it works, give an overview of their path to their prototype, and make their claim to Innovation. The presentations conclude with a Q&A session where the person or team is asked about their project and the challenges they encountered while bringing it to life. They also discuss their product's current status and market readiness, as well as their plans for monetization or the future goals for taking the project further.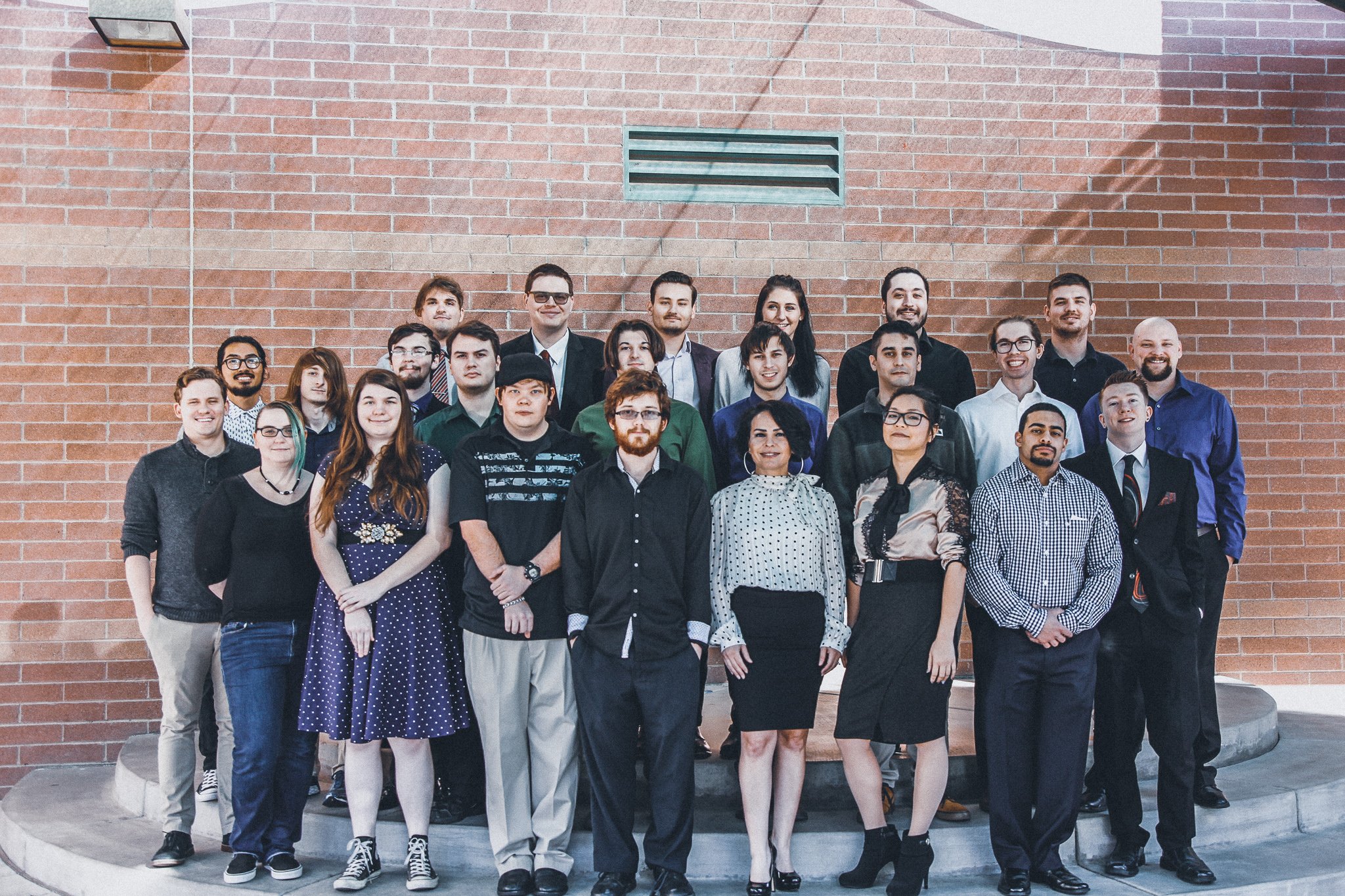 Art Direction Professor, Dapzury Valenzuela and the Fall 2019 SIP students.

Once finished, the judging panel takes a day to discuss the projects, and together, they pick three award winners for 'Best in Show', 'Most Market Ready', and 'Most Intriguing'. The audience also participates in live voting during the SIP Showcase to pick the 'Audience Choice' award, and this year's line-up was incredibly competitive. Dr. Dave Bolman, UAT's Provost, commented that the Fall 2019 event as the "most impressive SIP Showcase yet".
Those awarded with 'Most Innovative' titles include:
Best in Show, DeadNS by Garrick King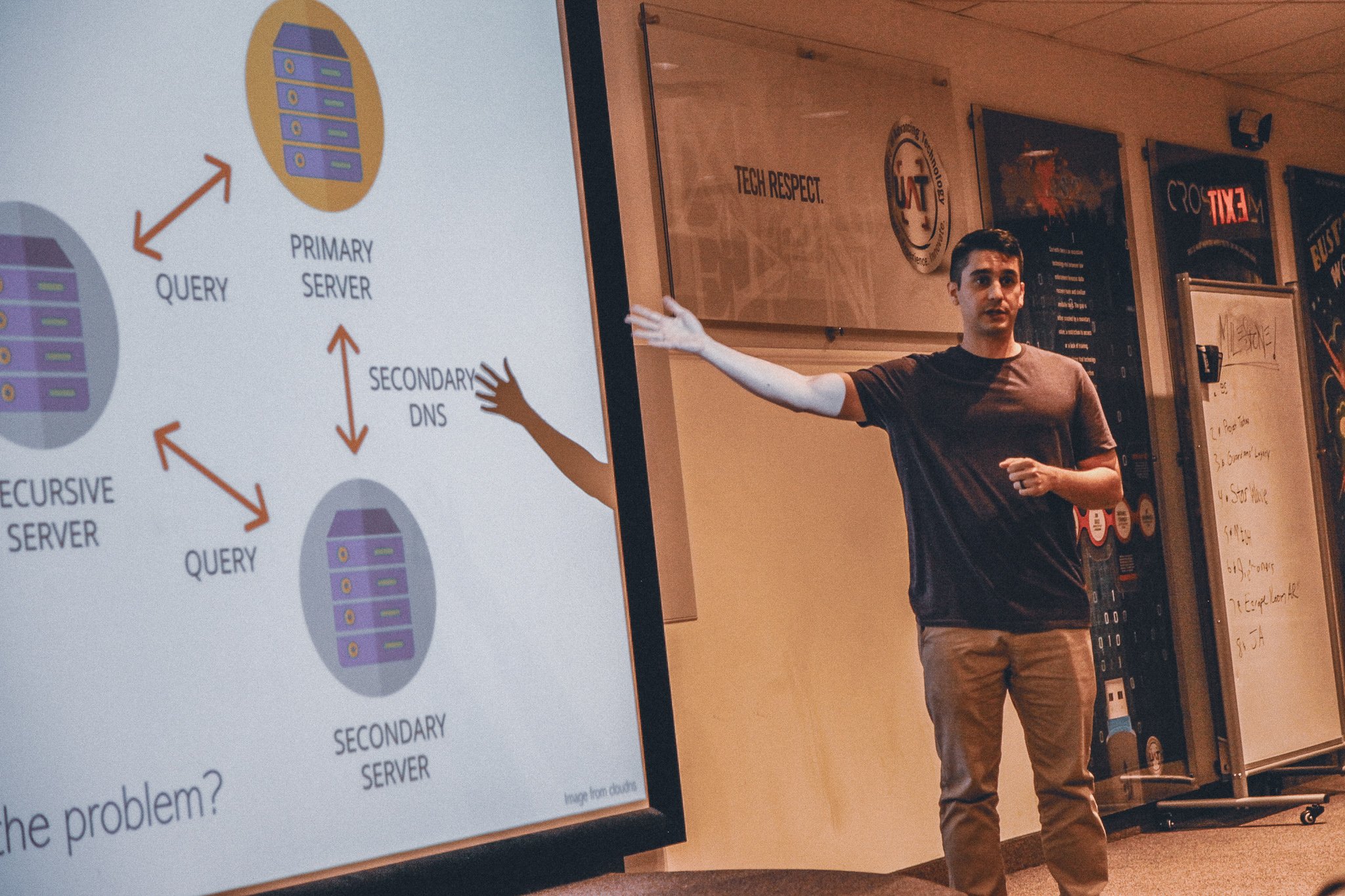 Most Market-Ready, ServerPanel by Bailey Herbert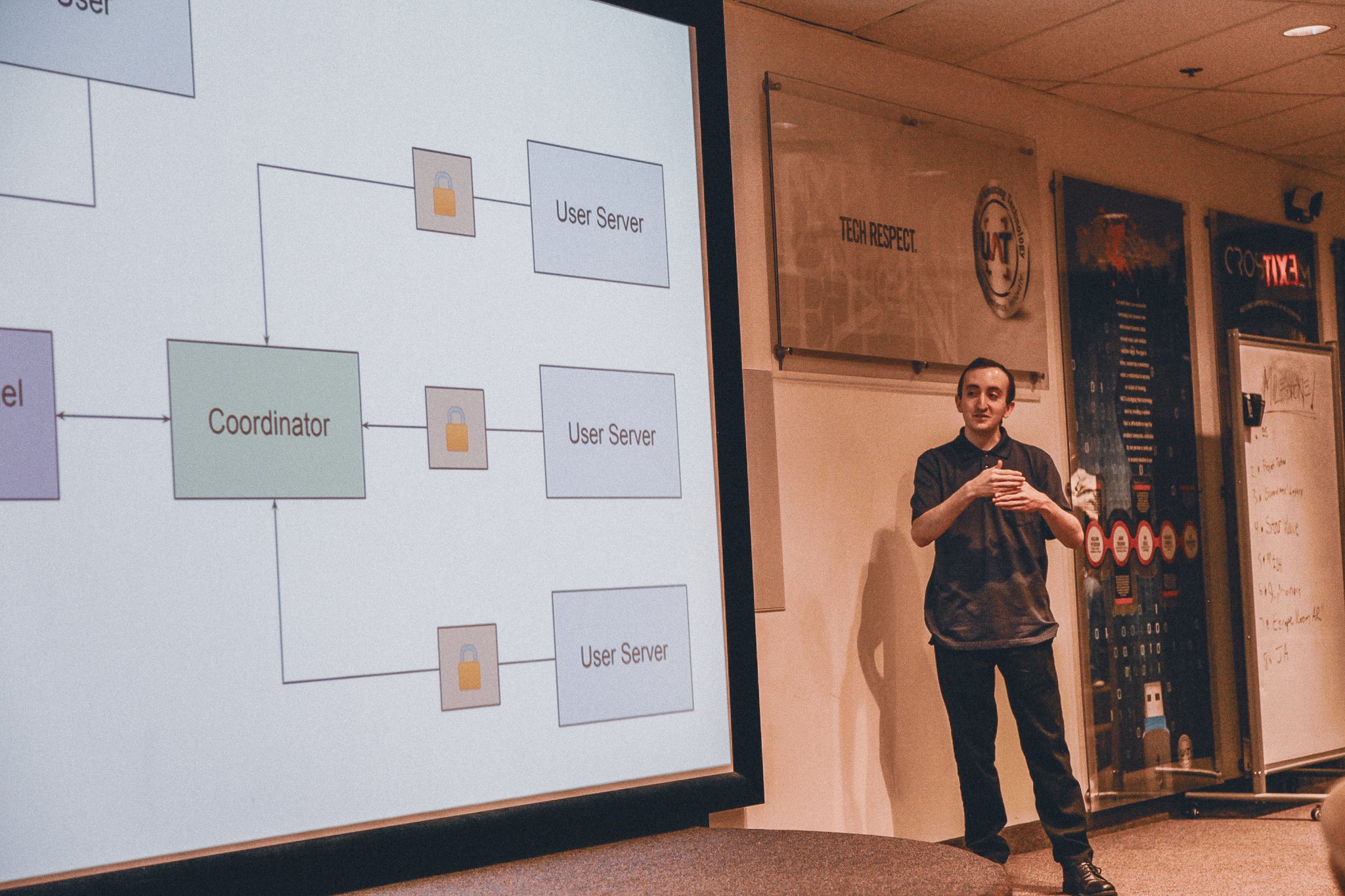 Most Intriguing, Conflation by Ian Favreau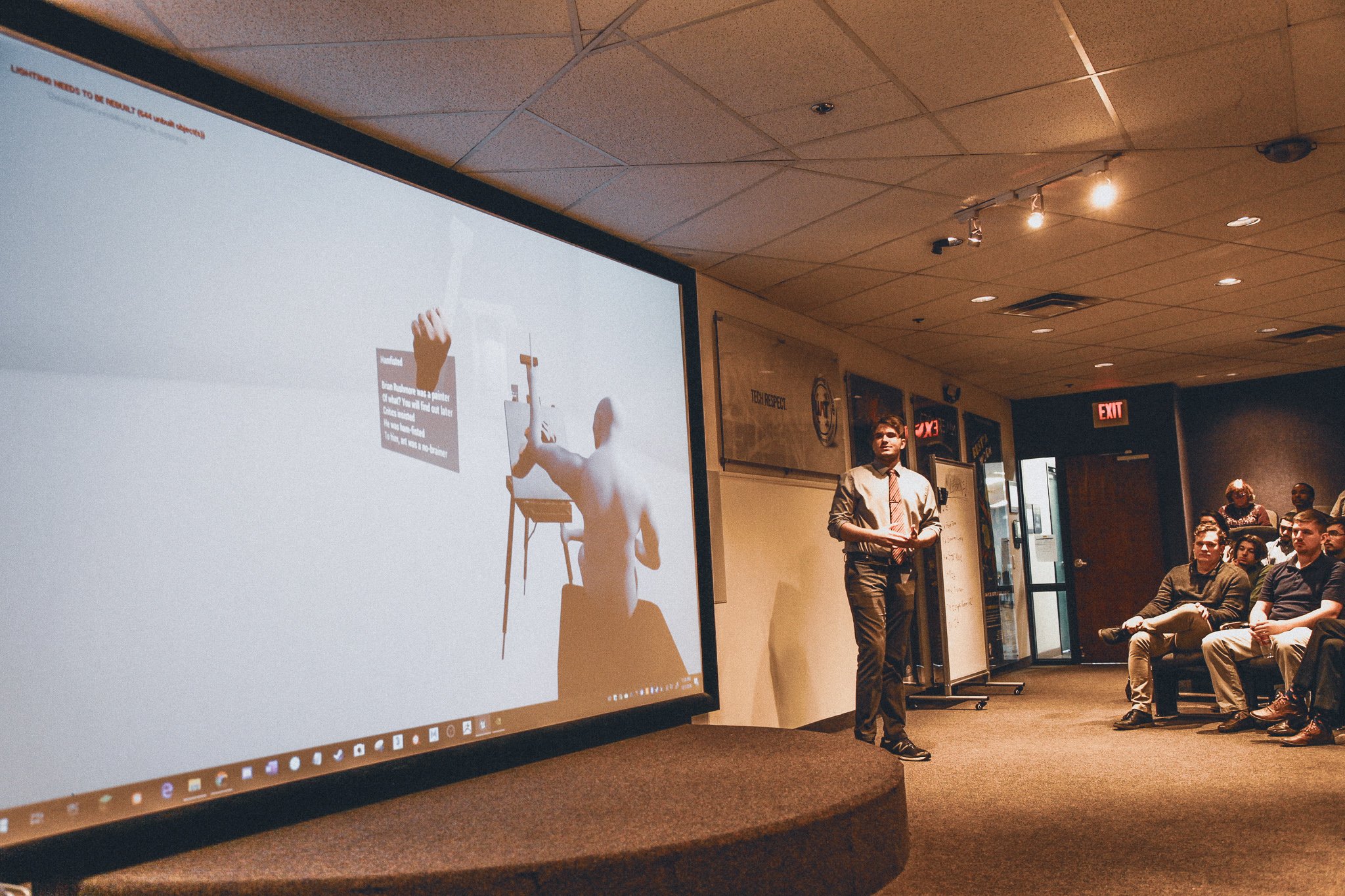 Audience Choice, Conflation by Ian Favreau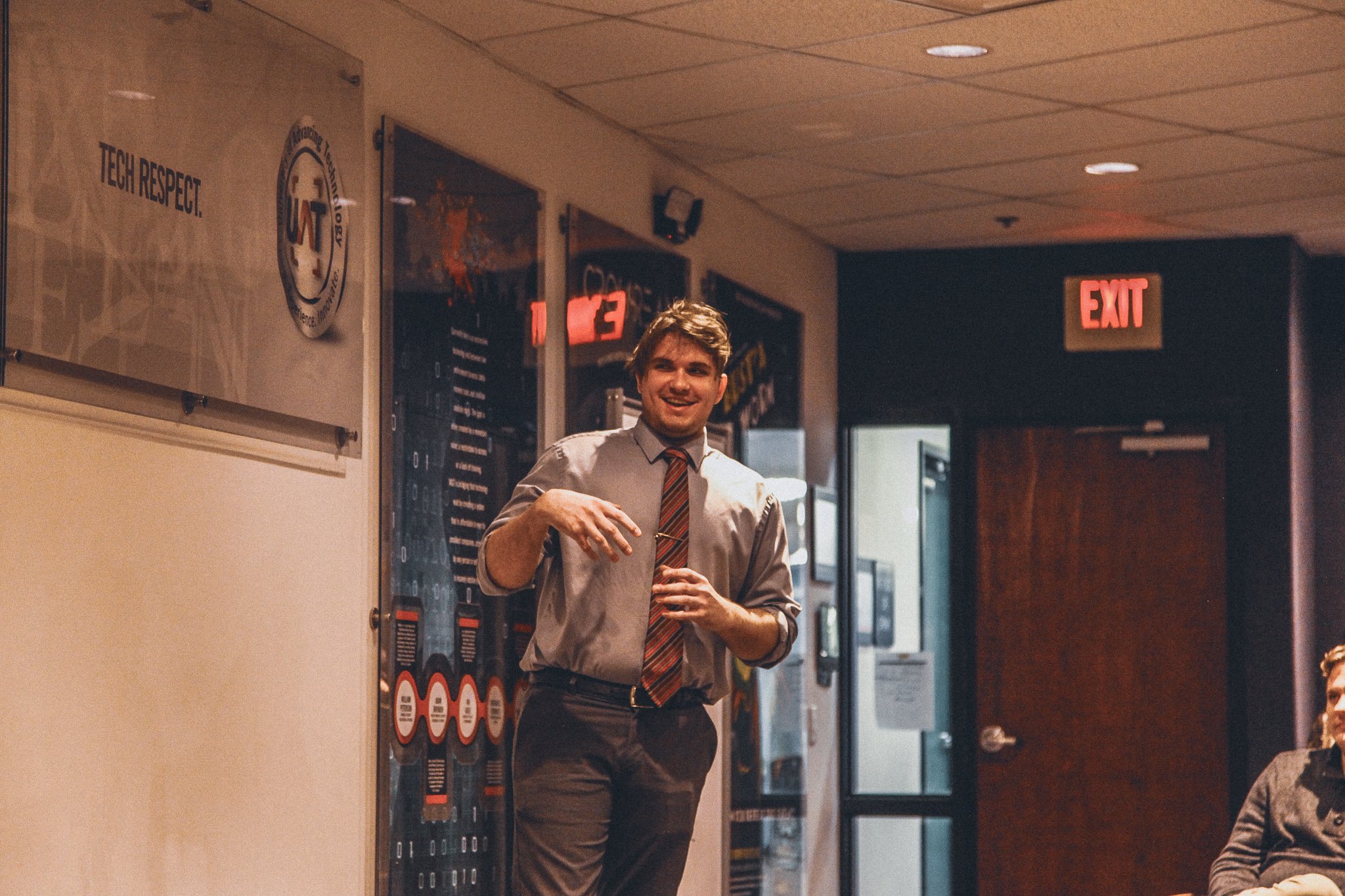 Although only four projects were chosen for awards, the innovation shared throughout the entire showcase far succeeded prior events according to Dr. Mark Smith, who is also a panelist and organizer for the SIP Showcase events. He commented, "The Fall 2019 SIP Showcase marked some of the best and brightest of our students showcasing some of our university's best projects to date, and they just get better every semester as we keep raising the bar and expectations."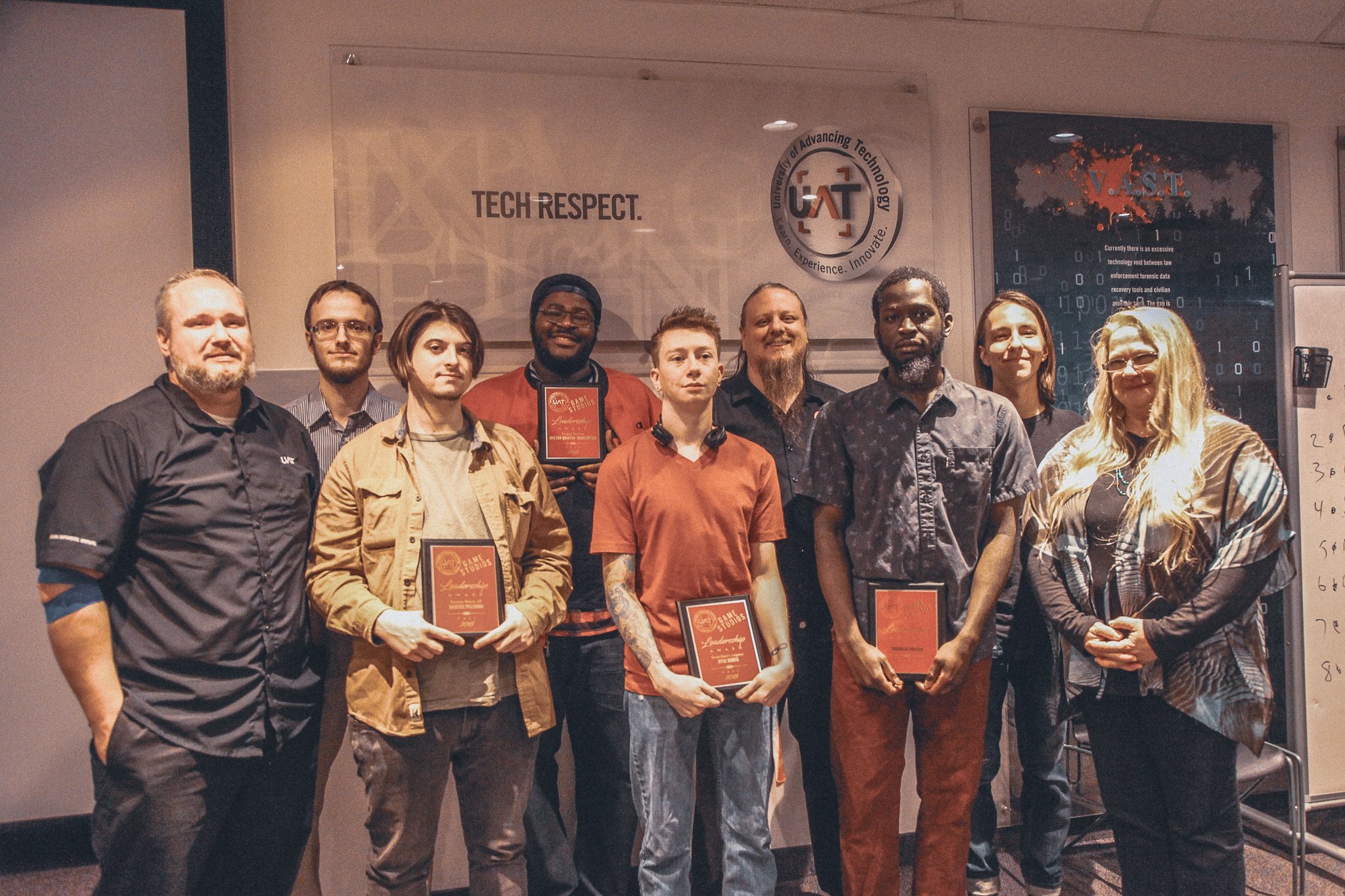 SIP and additional student awards were presented by distinguished faculty. L to R: Dr. Matthew Henry, Professor Donald Schepis, Darin Palermo, James Goddard, Kyle Davis, Professor Derric Clark, Abdulai Sallah, Addison Buettner and Professor Lynn Understiller.
The Full List of Fall 2019 Student Innovation Projects
Guardians Legacy – Kyle Davis, Devon Garret, Mikaela Farrell, and Harley Davis put together an RPG (role-playing video game) project focusing on heightened skill development and utilizing skill tree choice, where a player can make customizations to their character throughout play of the game.

Escape Room AR – Darin Palermo created a Mobile platform AR (augmented reality) game allowing you to have a virtual interactive Escape Room experience from anywhere, breaking down the walls and limitations of this popular entertainment trend in a real-world setting.

Input Dependent System – Kieli Adkins and Keith Caryl created a game mechanic that uses what you pick up in the game to set the personality of a character, and the game changes and points shift depending on the user's personality and choices.

Conflation – Ian Favreau, inspired by world-renowned artist, Salvador Dali, created a surreal art story video game that won over the audience and panelists with its use of perspectives, emotions, poem puzzles, and smooth aesthetics, featuring a dark-minded dreamscape brought to life through game art, design and animation.

Donna's Paradigm – Donna Dinh elevated another student's SIP project, Chris Koon's Proficiency Sphere Map, defining and interpreting how it functions through designs and assets, transforming the original documentation into digital art form.

Project Techno – James Goddard created a DJ and car-driving video game with use of bright retro designs and colors, as well as a polished GUI (graphical user nterface) for echo location.

A Silly Guide to Love – Enrique Garcia created a video game that tests the companionship of two players by enabling the performance of one player to affect the other's simultaneous play. He also conveyed data regarding the outcome of a study conducted during development involving the players' temperaments and how it affected the overall compatibility score.

Task Counter – Merlin Call set out to create a video game that awards a player additional points for completing real-world tasks, such as chores or going to class, to promote accountability and set play limitations on gaming when goal tasks haven't been completed.

UAT Space Flight Computer – Robert Perry, US Navy Veteran, developed a near space flight computer for UAT space missions that is more advanced than any option currently available on the market, built with additional sensors for more significant data collection and testing capabilities. He also shared the reporting from its last successful mission.

ServerPanel – Bailey Herbert developed a Cloud tool that allows a person to have a suite of cloud administrative services on their server, enabling hosting of multiple web servers. He is launching this as a new business in the coming weeks as a more affordable subscription service than what's on the market today.

ReciPlease – Stephen Oellette created a Mobile app that allows recipes to be created, stored, accessed and shared with others when not connected to Wi-Fi, being unique to other recipe apps currently available where data is only accessible when connected to the Internet.

Athena – Zac Thompson built a better way for neural networks to be built, allowing live output of the network, currently in an image recognition and learning phase using the GAN (generative adversarial network) that UAT students implemented. It is in progress to make it a web-based subscription for market purchasing.

Hephastaus – Trevor Kinard created a generative design tool for FEA (finite element analysis) engineering CAD (computer aided design) work and engineering stress analytics that uses a GUI (graphical user interface) for data input.

deadNS – Garrick King created the first and only free zero-logging, encrypted DNS (Domain Name Server), with a highly professional website (https://www.deadns.com) that allows people to perform web queries without their information being tracked. It is already in the market and in use as a free service.

Cricket Learning – Brennan Joseph, Devon Large, and Brant Wagner developed a video game that teaches players awareness about ads and how to avoid click-bait by quickly eliminating ads when on a popular site with common ad space settings.

SecureIT – Shon Woodruff created a Managed Service Provider (MSP, usually a full-service IT provider for businesses) concept for residential purposes to combat the rising Cyber Security threats as well as educate individual users on awareness of how to protect and manage their digital environments at home.

MicWrite – Alex Orzescu developed an E-Sports audio transcriber that uses voice recognition to create a transcript and coaching tool aligned with play. This helps gaming teams optimize play by providing content they can review for training and development purposes.
Are you an innovator with an idea? Then UAT is the place for you! Contact us to start building your future today.