It's no secret that the more technologically advanced our world gets, the more we have to participate in it. This is great for connecting people worldwide and maximizing availability, but it introduced a rapidly expanding problem: network security.
What is a Network Security Degree?
When you give your personal information out to third parties (or make your information available), it's important to make sure that information is being protected. A degree from The University of Advancing Technology (UAT) in Cyber Security can give you the opportunity to develop ways to protect people's private information, ethically hack, and gain a lucrative career in IT. Every company with information backed up electronically is in need of cyber security, so there are plenty of job opportunities awaiting.
According to Aaron Jones, UAT's Program Champion and Professor of Network and Cyber Security, "This degree is valuable in because it functions as the litmus test necessary to enter the job market. It is common for influencers and even news organizations to make wild claims about how technology is an open career path that requires little or no education. The truth is that many jobs do and will continue to require a degree to enter and some of the most lucrative career paths will continue to require higher education for admittance."
UAT has a few different Cyber Security degree programs. There are three Bachelor of Science degrees to choose from in this field: Network Security, Network Engineering, and Technology Forensics. To enhance knowledge and career opportunities, UAT offers a Master of Science in Cyber Security. All of these degrees give students of any experience level valuable information that can prepare them for the complicated, important world of cyber security.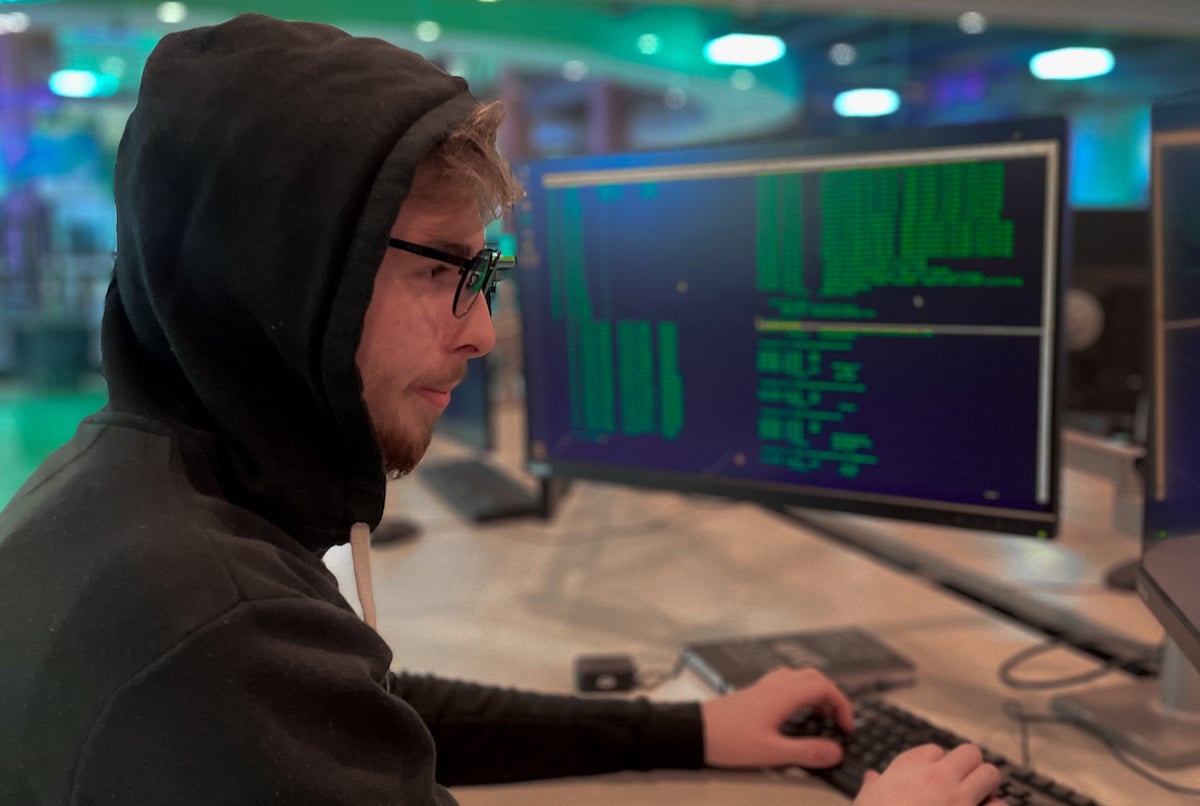 Network Security student, Tyler Prettyman working in the Security Operations Center (SOC).
What Qualifications To Look For in a University's Network Security Degree Program?
Before considering a network security degree program from any college or university, it's important to identify the ways its program is distinguished from all others. This includes looking at the institution's accreditation and any supportive industry recognition, partnerships, qualifications and more. Diving deeper, also reviewing the curriculum and talking to an advisor about mentorship programs, special projects or internships will help to further demonstrate the program's ability to provide you with a valuable education.
UAT is accredited by the Higher Learning Commission (hlcommission.org), an institutional accreditation agency recognized by the U.S. Department of Education.
University of Advancing Technology (UAT) is also a designated Center of Academic Excellence - Cyber Defense Education (CAE-CDE) institution through the National Information Assurance Education Training Program (NIETP). Sponsored by the National Security Agency (NSA) and the Department of Homeland Security (DHS), NIETP operates under national authority as the national manager for cyber defense education and training relating to national security systems.
All of this means that UAT is more than adequately able to prepare students for a real job in cyber security, supported by some of the best cyber security corporations in the country.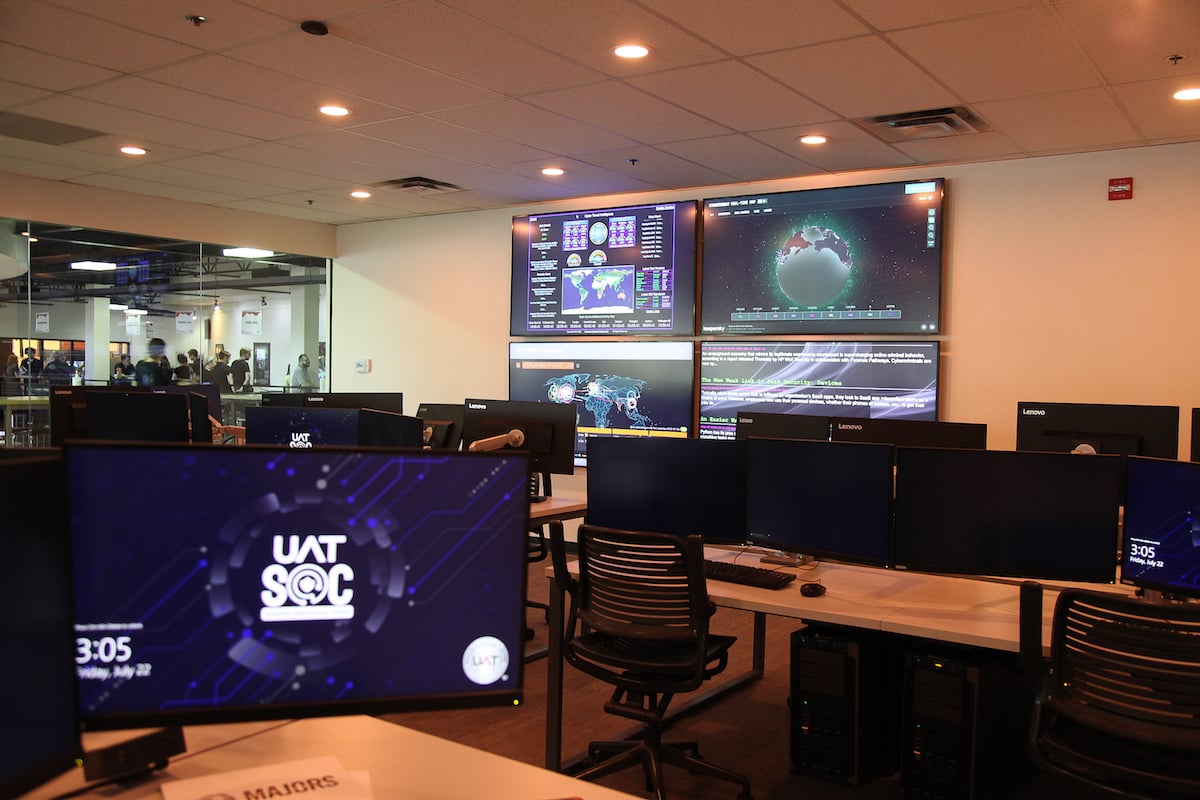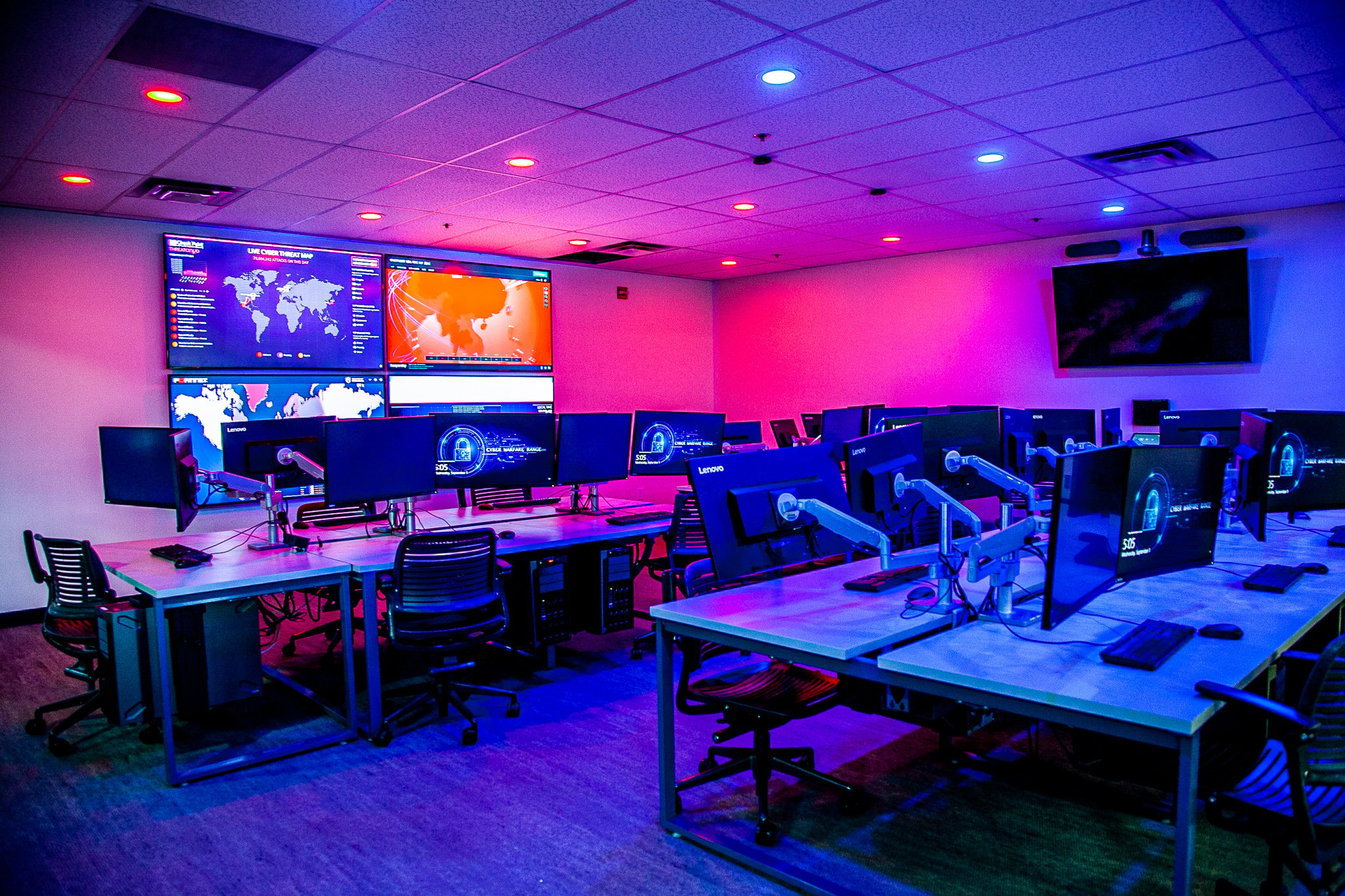 University of Advancing Technology's Security Operations Center (SOC).
Network Security Degree Requirements
The network security degree program requirements combine studies with application.
Network security professionals work to keep information private, integral, and available. This specific degree focuses on theory application aligned with industry standards. Students in this degree program will have several objectives to prepare them for the cyber security workforce.
They will get the opportunity to create network designs that implement proper security measures and install and test existing security hardware and software tools. They will also construct their own policies related to cyber security and practice preparing for the worst-case scenario. There is also a focus on building ethical and legal understanding among students (so as not to create a bunch of evil computer geniuses).
Finally, students will get to research and evaluate several security-based threats and develop original systems to prevent cyber security threats and incidents.
Network Security Degree Curriculum and Courses
There are a number of valuable and interesting courses that make up the Network Security degree program. A student's network security foundational courses include Computer Forensic Essentials, Foundations of Network Engineering, and Network Engineering Hardware. These courses and more are designed to lay down the groundwork for network security as a whole. Students will learn what causes cyber-attacks, how modern networks operate and get preparation and practice for real tasks that must be performed by IT professionals.
Next, the skill development courses of the Network Security degree from UAT focus on utilizing the fundamentals through application to develop and enhance their skills. These courses are designed to sharpen specific skills and interests. Courses include Introduction to Databases, Programming for Hackers, and Security Applications.
Students will learn how to track and record data, how to ethically hack and understand cyber defense techniques, and stay up to date on security applications and appliances they will likely be using after they graduate.
The final set of degree-specific courses for network security students synthesizes knowledge from the previous courses and applies it to actual situations and organizations. Courses include Exploit Development, Network Defense and Countermeasures, and International and Federal INFOSEC Standards and Regulations. Students will learn what makes a network vulnerable, how to find vulnerabilities in a network and the specific ways a network can be defended.
Many of these courses as well as general education courses from UAT also give students the opportunity to build on their portfolios. Additionally, each student is required to develop a Student Innovation Project (which has been compared to a state school's master's thesis) and complete boards in order to graduate. Through these projects and presentations, they prove themselves as innovators in network security, which is critical to achieving demonstrated mastery and job readiness.
While this might sound like a lot, the reward is worth the invested effort.
"The journey of earning a degree in network security can be daunting," says Professor Jones, "But with perseverance and a willingness to make the most of it, you will find it to be fun and exciting. You will also develop relationships that may last years or decades after you graduate. You will discover that the cyber security field is remarkably tight-knit and full of interesting characters you will run into again and again."
Who Is The Network Security Degree For?
As Professor Jones puts it, "Students who fancy themselves guardians and protectors will enjoy network security. Your job will be to protect networks, users, and their data. You will be a vital player in most aspects of the business and your job will oftentimes require experience in and mastery of many different aspects of the cyber world. You will often be required to brief others on situations and come up with plans for recovery when times are tough."
Moreover, anyone with a passion for cyber security may find this degree intriguing. Network security can be beneficial to personal router usage and, of course, corporation routers. When a network is properly secured, it can protect data from being taken and/or destroyed. This is extremely important for corporations that deal with sensitive, personal data from their customers.
This is more than just leaked phone numbers (although, those are also important to protect). Working in network security could allow you to protect people's social security numbers, medical information, addresses, and more. Ultimately, by protecting people's information, you can save their lives.
You may wonder, "Is a degree in cyber security worth it?" It is if you're confident enough to explore one of UAT's most challenging degree programs and crave a fulfilling, lucrative career. Fortunately, there are a myriad of careers in cyber security that a network security major can explore.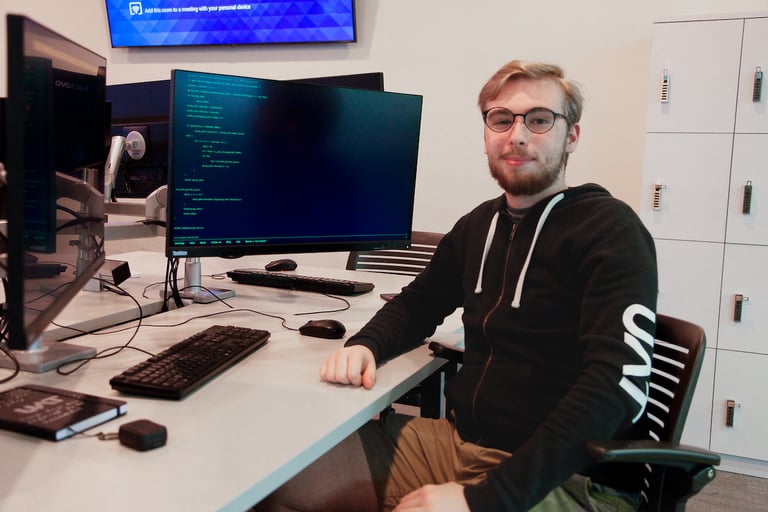 Network Security student, Tyler Prettyman working in the SOC in his UAT hacker hoodie.
Are You The Next UAT Network Security Innovator?
UAT students in the network security degree program also get access to special opportunities to work as interns for several government agencies, participate in externships with numerous companies, and have been employed by companies in the local area as well. No matter what path they take, the Network Security degree opens many doors to exciting careers.
If you have a knack for solving complicated problems and foreseeing complications before they occur, network security could be for you. It is also a lucrative career that persists throughout economic struggles and technological evolution, which guarantees a consistent need for network security professionals.
UAT students get hands-on experience with their peers and professors that provides valuable, versatile information no matter where a student ends up after graduation. Students of varying skills and interests will have the opportunity to explore those while maintaining a focus in cyber security. This ensures every graduate has the foundational skills necessary for the cyber security workforce regardless of where their interests lie. The Network Security degree will give students the ability to not only comprehensibly understand tasks and procedures involved in cyber security but choose specific paths related to it and maximize their chances of success.
Learn more about becoming an ethical hacker through UAT's Network Security degree. Get connected with a UAT Admissions Advisor to help you with the next steps to getting you all the information you need, or apply for acceptance now.