University of Advancing Technology (UAT) alumni Erik Link graduated in 2010 with a Bachelor's degree in Game Design. He has since moved to Los Angeles and made his mark in the gaming and movie industry. Erik currently works as a motion capture technician at Activision Blizzard and most recently worked on Avatar: Way of Water. We were able to catch up with him to get the inside scoop on what he worked on and how his education at the University (UAT) helped him get to where he is today.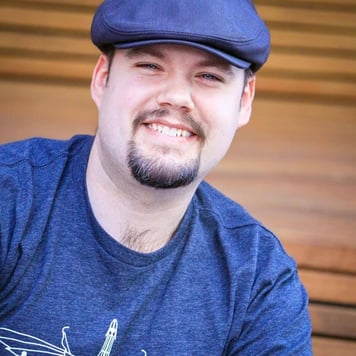 What do you find most valuable about your education?
The ability to learn skills and have access to the software and equipment that is needed within my industry.
How well did UAT prepare you for your career?
UAT helped a lot due to having access to the mocap (motion capture) room. I was able to learn and create many projects via motion capture.
What projects are you most proud of?
Avatar: Way of Water, Call of Duty : Black OPS 3, Call of Duty : Modern Warfare 2, Godzilla vs Kong, Operation Monarch for Warzone and Diablo 4.
How did you get the job working on Avatar The Way of Water?
After working in LA for about three years I had prior co-workers that got hired on in 2017, they referred me and I got hired for the project in 2018.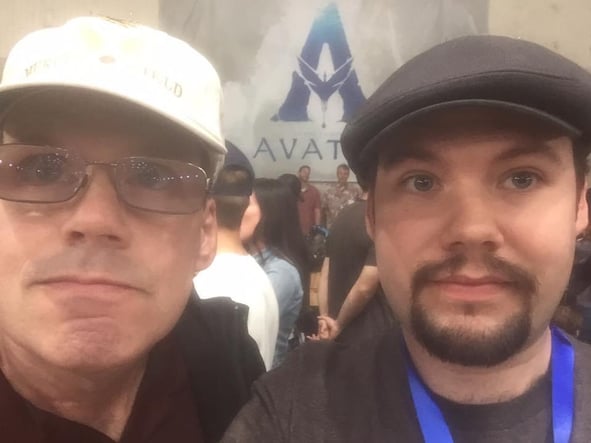 What in the movie did you work on?
I worked on the majority of the facial capture animation for any of the Navi characters faces and edited motion capture animation for various characters.
What is the most exciting part about working on this project? What was the most challenging?
Obviously working with James Cameron, the cast and production for this film was the most exciting part. As for challenging, I would say just working with new emerging technology. I'll be honest there is no mocap studio that does under water motion capture which made it very challenging to get the data working.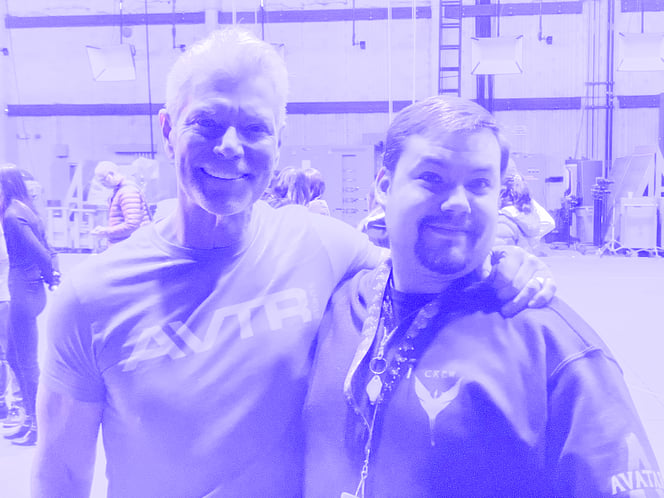 Erik with Stephen Lang who plays Colonel Quaritch in Avatar: The Way of Water
How did your education get you started on your path to working on Avatar The Way of Water?
Besides UAT providing the fundamentals of game design and art, UAT also provided a class in motion capture. That class not only taught me the fundamentals of mocap but once I finished it I was able to gain an internship with the THQ PHX mocap team which gave me real world experience in the mocap industry. After the internship was over, I kept doing my schoolwork until I saw the first Avatar film which propelled advanced technology within the mocap industry to where it inspired me to pursue a career in that field. Since then, I kept my focus on mocap and learning anything related which led me to work on indie projects, then game publishing and finally I got the chance to work on the sequel of the same movie that inspired me in first place.
What is next in your career move?
At the moment besides perfecting mocap tech for the studio, I have been involved with more virtual production work where I am aiming to keep up with new VFX trends with motion capture, animation and real time sets.