Justin Anthony is a Navy veteran and UAT graduate. After running across his name in the Omaha World-Herald, we thought we'd check in to see how he feels about his education and experience at UAT, as well as his career since graduation. Read on to find out more about Justin!
Tell us a little bit about yourself.
Well, where I am from is hard to pinpoint. I spent my first early years in Colorado, moved to Nebraska for a while, joined the Navy and went all over the world, then back to Nebraska for a while. So, maybe Nebraska? I don't FEEL like I am from here, but it's the last place I've lived, haha.


When did you attend UAT and what did you study?
I got accepted to UAT right as I deployed to Iraq back in 2009. About 5 or 6 years later I graduated with a bachelors in Virtual Modeling and Design with a 3.98 GPA. See, it took me longer because I had to take frequent breaks due to deployments and that sort of thing.
What was your favorite class?
My favorite classes were the Data/Scientific Visualization classes with Professor Spencer (who is no longer at UAT), and the 3D modeling classes. Professor Spencer in particular pushed me to my limits, and then just beyond them. He helped me whenever I needed it, and went above and beyond to ensure I came out of these classes with something I could really use. See, I love 3D modeling, and the data visualization classes helped me put art to use in mediums other than games or movies. Those 2 classes, along with Human Computer interaction, and UI/UX courses, set me up for a new career outside of the military. Thank goodness too, because the Navy didn't help me with any of that at all.
How do you think UAT is different from other schools?
It wasn't just the knowledge and skills I gained from UAT, but a passion for technology, too. I quickly became a software engineer after graduating, putting most of what I learned to the test. Chief among these skills was the ability to learn new material quickly. I had to be able to do that to graduate, since I was 100% remote and active duty. The pace of learning stuck with me, and has been a driving factor in everything I do.
What have you done since graduating? Do you feel UAT prepared you?
With my love for tech, the ability to consume it quickly, and a passion for keeping a pulse on emerging technologies and methodologies I was set up perfectly to have a life-long career in technology. I'm not only a software engineer, but I've been developing video games, dabbling in robotics, and looking for new opportunities to do something cool with colleagues I still keep in touch with from UAT.
How does the latest tech make a difference in today's career market?
The latest career market in relation to technology is evolving very quickly. There is a lot of demand for talent in tech fields, and although there are enough people to fill those roles, employers are becoming very competitive to get the best into their ranks. The tech field is not easy to excel in unless you're truly passionate about it. UAT will undoubtedly fuel that passion, whether it currently exists within you or not. Before I started, I just wanted to be an animator. Coming out the other side I felt more like a generalist that can dip into any arena in the tech field that strikes my fancy. There is a lot of demand for specialists, but generalists like myself are more rare, and more sought after due to their ability to lead multiple teams comprised of different skill sets.

So, thanks, UAT.
Thank YOU, Justin! We are proud of your service and achievements, and glad that you shared with us. As an educational institution, our best moments come from hearing that our students are successful in their chosen career path.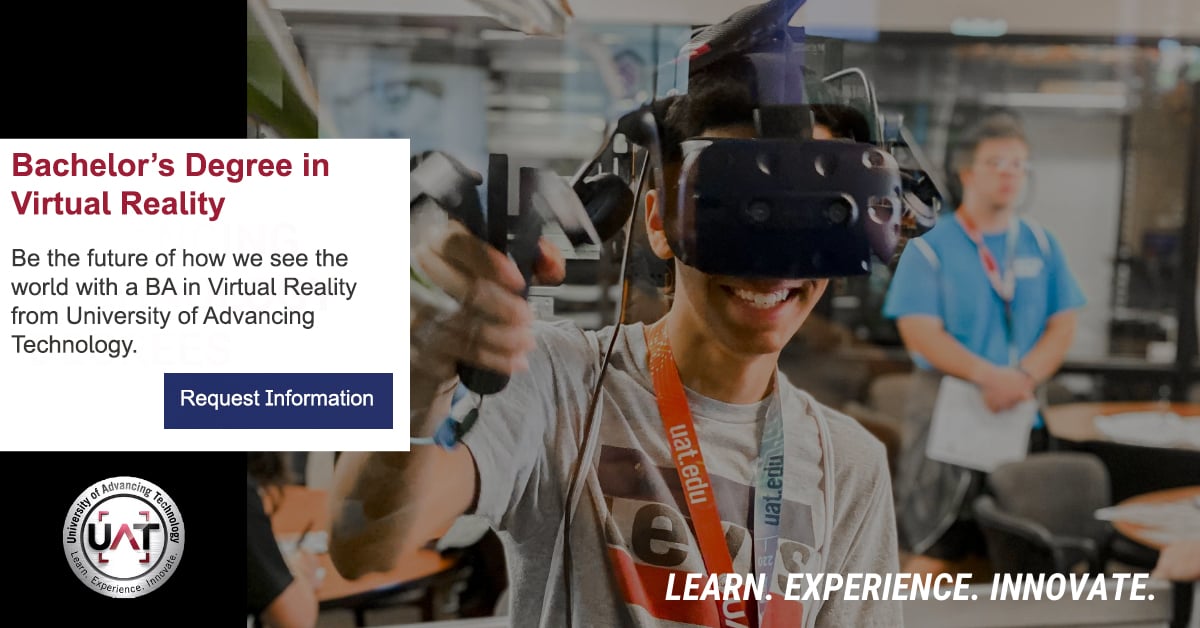 Have a story to share? Email marketing@uat.edu.
---
At UAT, we work hard to provide a helpful transition to veterans. Advance your civilian career, complement your military skills or pursue a fresh path in advancing technology. Whichever path you choose, UAT is committed to your success. Find out more at https://www.uat.edu/military, and get started by filling out our Fast App at https://uatfastapp.com.