Attending a college's virtual open house is a great way to learn more about the school, it's programs, and college life. As an attendee, you'll have the opportunity to ask questions and hear from Professors whose classes you may be taking. So what are virtual open houses like? Let's cover the basics first...
What is a Virtual Open House?
It is a live video presentation lead by school staff that can be attended virtually from anywhere you have access to a computer, tablet, or mobile phone with internet connectivity. A virtual open house is an opportunity to learn about a university, its academic programs, admissions, financial aid, campus life, and more. Think of it as a way to check out a college you're considering attending.
Why Do Universities Have Virtual Open Houses?
Not all students are able to visit a college in person. Universities understand this so they host virtual open houses to give out-of-state students an opportunity to experience the college remotely. As online and distance learning becomes more popular, colleges want to provide these students a way to connect with the university community, professors, and support services.
What Happens at a Virtual Open House?
After registering for the event, you'll likely get an email from the university with instructions on how to join the virtual open house. Most virtual open houses are hour-long, live events though portions may be pre-recorded. On the day of the event, you'll join the virtual session and will be able to see and hear the presenters, and maybe even other attendees. The host will tell you about the university, its academic programs, admission requirements, financial aid, and other support services. If you're attending a degree-specific virtual open house, then you'll learn more about that major and its requirements. Also joining the host will be professors and possibly some current students. After hearing about the university, the host will open the session to address attendee questions. This is when you'll get a chance to ask your specific questions. After the Q&A session, you maybe see a pre-recorded campus tour. Before the session ends, you'll be given instructions on next steps if you're interested in learning more or applying to the school. A few days after the virtual open house, you may get an email with access to a recording of the session you attended.
How Do You Find Out If a School Has Virtual Open Houses?
Look at the school's website, usually in the events section or under admissions, to see if they virtual open houses scheduled. The easiest way to find out about an open house is to do an online search for the college's name and 'virtual open house'. Find a convenient date and time and then register for the event.
If you can't visit a university in-person or you're going to be an online student, attending a virtual open house is a great way to learn more about the school, its academic programs, student support services, financial aid, admissions information, and the campus and community.
Benefits of Attending a Virtual Open House
Attend From Anywhere You Are
As long as you have an internet connection and a phone, computer, or tablet, you can attend a virtual open house. Flexibility is a key benefit to virtual open houses. Many are available at various times of day and days of the week. If you're a working professional, you may find availability after work hours or on weekends. For high school students, you'll find schedules are conveniently set for after your school day ends. The event is usually an hour long so the investment in time is well worth the information you'll get.
Meet Your Professors and Talk to Current Students
Wouldn't it be great to meet your professor before the first day of class? Or ask a student at a college you're considering what their experience has been? At a virtual open house, you can do just that! If you're attending a degree specific virtual open house, it's likely you'll speak to professors whose classes you will be attending. Now is your chance to ask them about the program, what types of classes you'll take and how they fit into your major, ask questions about prerequisites, and anything else you want to know about. If you're attending a more general virtual open house about the university, listen to the way the professors talk about the academic programs. What type of experience in teaching do they have, how long have they been at the university, is there a generally accepted teaching style that most professors use? Make sure to have some questions prepared for current students. Ask them about their academic experience and don't forget to ask about campus life, extracurricular activities, and the community outside of campus.
Make Connections With Academic Advisors and Enrollment Counselors
Whether you've been doing lots of college research or you're just starting the journey, knowing who to speak with is extremely important. Picking a college and a major can seem overwhelming but with the right assistance from the right people, it doesn't have to be. Virtual open houses will give you a chance to hear from knowledgeable academic advisors who can provide guidance on the admission process, requirements, and information you'll need for the application process. If you've already been accepted to the university, you'll be interested in hearing about the enrollment process, guidelines, and procedures. Being able to connect with Enrollment Counselors on a virtual open house can help make the enrollment process much easier.
Learn About Financial Aid Options
Maybe the most daunting part of preparing for college is going through the financial aid process. No doubt you have a lot of questions. At a virtual open house, you can listen to and speak with financial aid experts who can help answer these questions. Hear directly form Financial Aid Officers about the type of aid available, scholarships, loans, grants, and more. Make sure to ask about important dates and deadlines. The FAFSA is a very important part of the financial aid process so you will want to specifically ask about those deadlines. If you don't already know, find out about tuition costs, fees, and any other out-of-pocket expenses. If you're interested in a work-study program, now is the time to ask about that.
See The Campus, Classrooms, Common Areas And Dorms
Most virtual open houses will include images or video of the campus, classrooms and student housing. This may be a pre-recorded session that is shown after the live portion of the event. This is a great way to get a 'feel' for the campus on which you'll be living and the classrooms where you'll be learning. Take a moment to notice the size of the classrooms and the features of the campus. If you're going to live in the dorms, pay attention the size of the rooms and the facilities and features of the building. Does it look like somewhere you can live, study, and have fun? Even if you plan to live off-campus, you're going to spend a lot of time on-campus and in common areas so make sure it's a place where you can see yourself thriving.
Virtual Open Houses For Online Students
If you're an online student, joining a virtual open house is a great way to feel connected to the university and learn valuable information. You may not be going to classes on-campus, but no doubt you have the same questions about academic programs, student services, and financial ad. Some could argue that attending a virtual open house is even more important for online students. Because you won't meet face-to-face, a virtual open house will give you the opportunity to hear from Professors, students and university staff before deciding to apply. You'll be able to see the campus and feel like you're a part of the community. You can get the college experience even if you never plan to step foot on campus!
6 Tips For Getting The Most Out Of A College's Virtual Open House:
Register early as space may be limited. While colleges accommodate a variety of schedules, virtual open houses usually have an attendee limit to ensure plenty of time for Q&A.


Prepare your questions ahead of time. Make sure to have a list of the most important questions you want answered so you know who to ask and when to ask them.



Take notes! You'll hear a lot of great information at a virtual open house so be prepared to take notes when something that interests you is mentioned. Most schools record these events so if you do miss something, follow up with the host to see if the recording is available.




Listen to the questions other's ask. You may hear a question you didn't think of but want to know about. You'll also get a chance to follow up on a question if it is something you want to know too.


Before the virtual open house ends, make sure you know what the next steps are if you want to apply or enroll in the college. Find out what information is needed or what department you should speak with next.



Attend more than one virtual open house. Universities will often have several types of virtual open houses. Some will be a general overview of the college; some will be degree-specific and there may be some that are topic specific like financial aid. Use these events to get as

much information about the university you're interested in and degrees you're considering.



Bonus Tip! Have fun! Attending a virtual open house is a fun, interesting and effective way to learn about a college and the programs you're considering. Take this opportunity meet new people, make connections, and enjoy preparing for college!
Choosing a college is an important decision that takes some preparation and planning. If you can't visit a college in-person or you're an online student, attending a virtual open house will give you an opportunity to gain insights about a college and its programs. These events are more than just virtual tours, they're a way to learn more, get connected, and enjoy the college experience!
---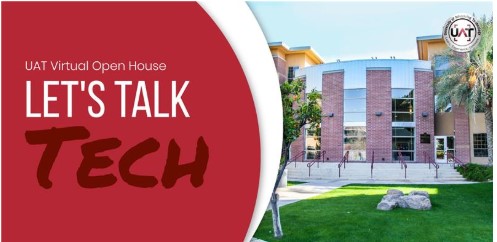 Are you interested in attending an open house for University of Advancing Technology? We have open houses every month and would love to see you there! For dates, times and topics, please visit our events page.