Happy Little Trees
University of Advancing Technology (UAT) regularly holds fun events for students, including the popular Bob Ross Painting Night, allowing to meet new friends while also expressing their creativity.
UAT has many values including: fun, leadership, friendly, growth and pride among others. These values are woven throughout the many events UAT hosts for students. By creating a friendly, face-to-face environment, UAT helps students build friendships with each other while having a ridiculous amount of fun. This instills a sense of pride and authenticity in students to show up exactly as they are.
During the Bob Ross painting event, students gathered to paint, laugh and dress up as Bob Ross. Like each UAT student, Bob Ross led a unique life full of creativity.
Born as Robert Norman Ross (October 29, 1942 – July 4, 1995), Bob Ross has been a household name since the '80s. His paintings were popularized by The Joy of Painting, an instructional art TV program that aired from 1983 to 1994, of which he was the creator and host. Influenced by his time in Alaska, the American painter is best known for his nature landscapes.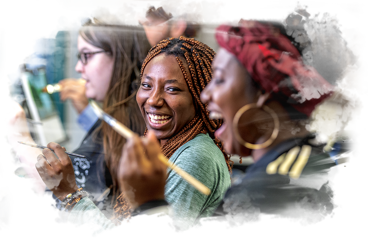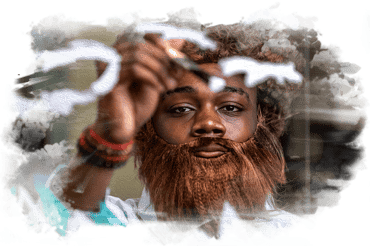 During each half-hour episode, Ross would teach the wet-on-wet oil painting technique and instruct viewers to paint along as he crafted scenic mountains, trees, log cabins, lakes and the like.
Over his lifetime, it is estimated that Ross created upwards of 30,000 paintings. Known for his gentle demeanor, he offered viewers encouraging sayings, such as "let's add some happy little trees" and "we don't make mistakes, we just have happy accidents."
More recently, he gained viral popularity on social media, in part due to his image being used in video games, TV and film. However, the real catalyst was in 2015 when Twitch streamed a multi-day marathon of The Joy of Painting to celebrate what would have been Ross's 73rd birthday. Attracting 5.6 million viewers, this marathon led to weekly broadcasts of The Joy of Painting every Monday.
Then, in 2016, Netflix introduced another generation to Ross with Beauty Is Everywhere, which includes episodes from seasons 20, 21 and 22 of the original The Joy of Painting. This cemented his presence in pop culture.
Art is all around UAT! Students love unleashing their creativity at themed painting nights and paying homage to Ross by dressing up in his well-known getup.