Brandon Michelsen is an alumni of University of Advancing Technology (UAT) most known for two things... his love of space, and Loomo. (What's Loomo you ask? That's a whole story of it's own...)
Brandon was a student that hardly ever wasn't working on a project or assignment, and consequently, now works in a great position that's very impressive for a recent college grad. He exemplified what it means to be a technology student, and his future looks so bright, it's blinding.
Read on to find out why he chose to pursue a technology, and why he felt it was worth it.
When did you graduate, and what degree did you receive?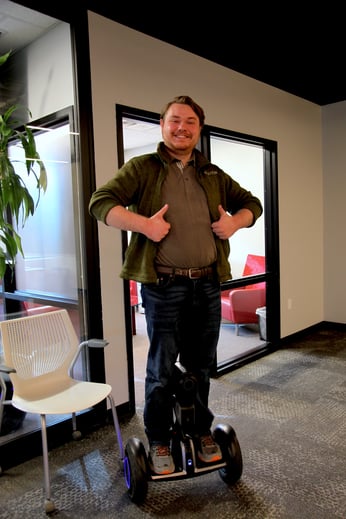 I graduated in May of 2020 and got my Bachelor of Science in Robotics and Embedded Systems, along with two Associates degrees: one in Computer Science and the other in Artificial Intelligence.

Where are you working and what is your position now?

I work at a company called Plug Power as an Embedded Software Engineer.

Do you feel you could have gotten this job without a technology degree?

I don't think I could have gotten this job without a degree. It was something that definitely helped me stand out on my application.

In your opinion, why is a degree important?

I feel like a degree is important depending on the job you are looking for. In the more engineering-focused disciplines (robotics, electrical engineering, mechanical engineering, etc.), it is definitely something that employers look for, mostly because an engineering degree shows that you have learned the more theoretical aspects of engineering that are hard to learn on your own.

How did a technology degree set you apart and/or help you feel more ready for your job?

I feel the project-focused aspect of my degree set me apart. It helped give me some more technical talking points during my interviews, and it gave material for my employer to look over to see how well my skills matched what they were looking for. Not to mention, projects are a great way to help build your problem-solving and troubleshooting skills for your career.

What specifically made your education at UAT worth the cost?

I would say the community was what made UAT worth it. If you're an individual who is excited about technology, UAT is filled with like-minded people, all learning from and encouraging each other. Without my peers in the robotics degree, I don't think I would have been as prepared for my career as I am now.
---
Interested in a career in technology?
Start the process by filing out our fast app at uatfastapp.com. In just a few minutes, you can begin planning for your future.
UAT offers a variety of degree paths, including associate, bachelor and master's degrees.