Brett Chapman is a film maker, director, cinematographer, videographer, video editor, content creator, and SFX makeup artist. He is also a UAT grad!
Brett has been doing great things over the past few years, and he took the time to catch us up on his creative adventures.
Tell me a little about yourself. Where are you from, etc.?
My name is Brett Chapman. I'm 25 years old. I am from a small town nestled away in Northeast Arizona called Snowflake. I grew up there in the 90s in a very large Mormon family. We had to get creative as kids and make our own entertainment as we had limited technology and large amounts of outdoor space to roam around in. I grew up racing quads off road and was an honors student from kindergarten through college. My passions in life include action sports, art, cinema, music, the outdoors, skydiving, tech, fitness and learning new skills or hobbies.
When did you attend UAT and what did you study?
September 2014­–August 2016. I completed my four-year degree in two years. I studied digital video and graduated with Cum Laude distinction. While at UAT, I competed in and won several film festival awards and accolades alongside my production peers. My senior short film, Loyalty Lies with the Dead, won the 2016 Spring SIP Fair "Best in Show" award.
Why did you choose this field?
I originally got into film through my grandpa and high school. My grandpa had a large collection of movies and would let me borrow them to watch. I started digging through classic blockbusters somewhere around Jr. High. I've always been a very creative narrative writer and enjoyed storytelling growing up. I always excelled in my English classes that involved narrative writing. In high school, I had an empty elective space I needed to occupy, and so I took an interactive digital media class that revolved around video creation. I quickly fell in love with creative really cheesy dumb videos with friends I made in the class. I continued taking the more and more advanced versions of the class throughout the rest of high school. During my senior year, UAT recruiters came to the school and showed us all about UAT. I was in awe of the level of video production the school was creating and teaching, as well as all the very nerdy, cool programs the school offered. I applied and ended up being awarded nearly 75% of my schooling costs through scholarships. That was the deciding factor for me, and so I went to UAT. Once there and after fully diving into film, creating projects and watching things with concepts I had never been introduced to before, I instantly fell in love with the industry and film creation as a whole.
What has your career path been since graduation?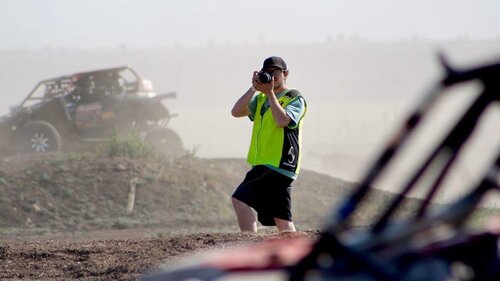 Since I left UAT, I have done a vast amount of various work in the video production industry. I've freelanced for production companies in the valley, filmed weddings, advertisements, corporate marketing, events, festivals, films and basically everything under the sun that can be captured on film. In 2016, I got back into racing through film and started filming professional off road race events in the world of action sports. That led to working for Jax Redline, a professional trophy truck driver who at the time was only 14. I moved to Texas and began managing the race team's brand, social media and creating video content. I traveled with the team all across the United States and Mexico on a private jet. I filmed and documented all the race events and racing updates for the team. In one year, I took almost 30 separate private flights. I got to film the infamous Score International Baja 1000 and NORRA Mexican Rally. I traveled and filmed races in Baja, California and Mexico, all the way from Ensenada to Cabo San Lucas. I got to chase and film the race car out of a helicopter. I did collaborations for the team with celebrities on the Hoonigan team and Blake Wilkey. After I parted ways with that team, I continued filming action sports as a freelancer and moved back to Arizona. My action sports footage has been featured on brands, sponsors and networks such as: World of Xgames, Redbull, Monster Energy, Pagid Racing, Honda Factory Racing, Polaris RZR, Tuba Art Films, Best in the Desert, the Mint 400, King of the Hammers, ESPN and many more.
Since then, I have gotten back into working on short films and doing high end production work for luxury brands and corporate clients. There are two separate short films I worked on that are currently being featured at film festivals across the world. I also contract as a freelance video editor at a marketing company in downtown Scottsdale. There I edit dealership commercials for all major OEMs from GMC to Jeep to Mercedes-Benz that are aired on things like the Amazon streaming platform.
What projects are you most proud of?
I hate favorites, and I'm constantly looking to improve on the work I do. I'm proud of the work and progress I've made but there isn't one thing that highlights the years of deviation it takes in this industry. I'm usually most proud of the most current project I just created or the new one I'm working on. I bask in that project's success for a while and then move onto bigger and better ones.
Do you feel UAT prepared you?
What I did learn was significant in that I got to learn different production roles, I learned a lot of industry terms, had to cultivate making creative solutions to problems, got to work on sets with my student peers and most importantly, learned how to operate as a professional in the production industry. That definitely put me one step ahead of people that didn't attend school.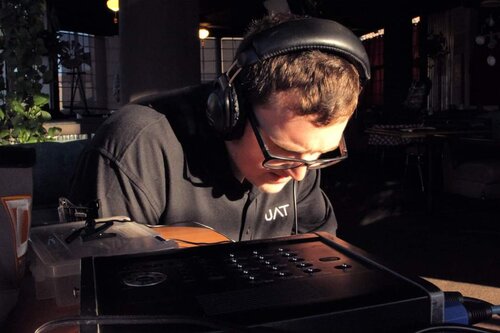 What's the best advice you received to help with your education and/or career?
Don't think that Hollywood has all the answers. The video production industry is huge and there are several career opportunities outside of slaving away in California. Curve your expectations and keep cinema and filmmaking as a passion-based thing, rather than trying to make it your career. Almost like a hobby. There's much more money and experience to be had in different arenas. Become a swiss army knife of video production and don't limit yourself to one production role. Never stop learning and use the resources available to you to grow. You can learn a lot on YouTube these days.
What advice would you give future and current students?
Work your ass off but remember to work on yourself. You cannot make a successful career if you're not a whole person to begin with. Eat healthy, address your mental and physical health and don't burn yourself out too much.
What's important for these students to know when they're looking for job opportunities?
Again, don't limit yourself to only making films in Hollywood. Branch out and find work in the thousands of niche video industries, and don't limit yourself to taking on work for one role. Do it all and be it all. Most importantly, NETWORK! Ninety percent of the jobs I've gotten have not been from my portfolio or resume. They come from meeting people, forming connections with them, working together and then result in getting tossed work from those people later on down the road. Stay connected with people on social media and follow production groups. Remember this. The production industry is like a VIP-only world. Find some other VIPs, friend them and get into the party.
What's next in your life/career?
Currently I've been building out my arsenal of production skills and equipment for my own production company. I plan on continuing to do that. I'm hoping to be brought on as a permanent team member at Digital Air Strike. I'm continuing to book freelance video production jobs for huge corporate and luxury clients. I've also started back up on working on film. I am currently writing a feature film and working on any short film sets I can get on. Check out my website: chapmandigitalcinema.com.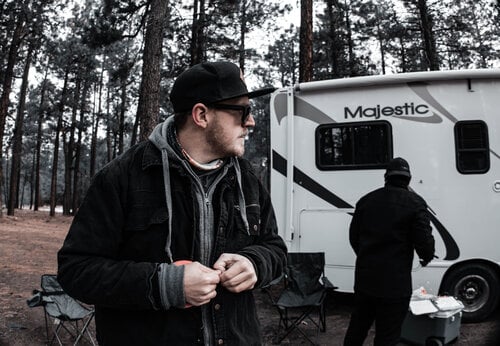 ---
UAT's digital video courses combine the fundamentals of digital filmmaking technologies with artistic production to create an advanced degree for students wanting to launch a career in digital filmmaking and video production.
Digital filmmaking students will plan, design, and assemble pre-production materials to create digital video projects including screenplays, character building, storyboards, and shot lists. They will develop, write, and create digital films including fictional films, documentaries, music videos, commercials, animations, visual effects, and short films. Film production skills and techniques for professional camerawork, film composition, and film lighting will be explored. Digital Video Bachelor of Art Degree graduates will be prepared for careers in digital filmmaking, digital film editing, digital animation, and motion picture production.
Interested? Apply now! Fill out UAT's fast application.