Moving away from home and into a new place can be overwhelming, but we're here to help relieve some of your stress so you can focus on the excitement. As seasoned veterans of college moves, we've put together a comprehensive list of items to bring with you when moving into Founder's Hall at the University of Advancing Technology (UAT). While everyone's needs and preferences may differ, this list will give you a solid foundation to work from. Don't hesitate to also consult with friends and family for additional suggestions, and feel free to download and share this list with others who may find it helpful.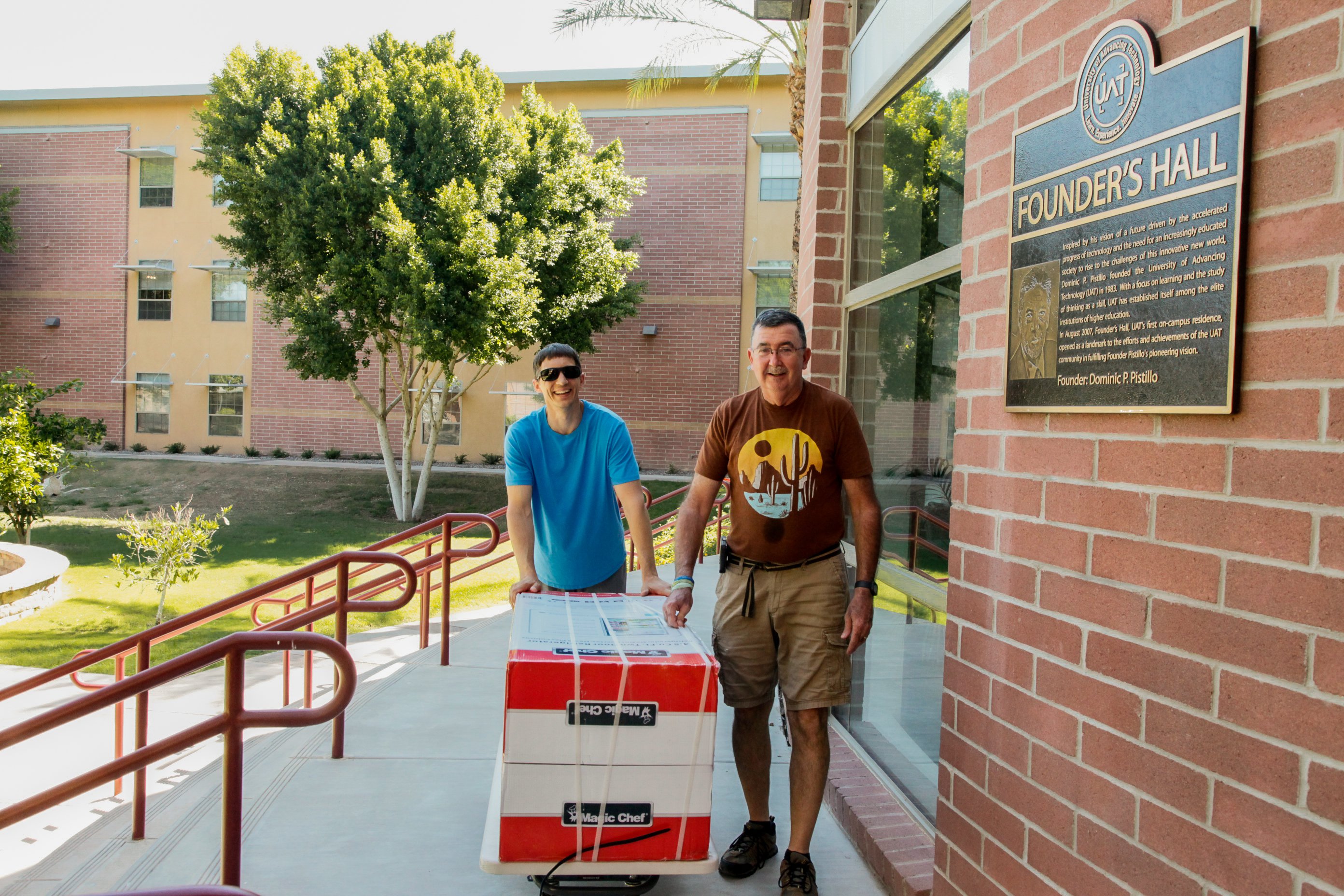 Let's Start with the Necessities
1. Bedding
The top priority on your packing list should be bedding. Make sure to bring along sheets, blankets, pillows, and pillowcases to make your new room feel like home. While bedding is essential, it's also a chance to showcase your unique style, so choose something that reflects your personality and is comfortable as well. College life can be hectic, and a good night's sleep is crucial, so don't underestimate the importance of rest.
2. Towels
The second item on the checklist is towels. It's advisable to pack a minimum of two sets of towels to avoid frequent laundry runs. We recommended packing bath towels, hand towels, and washcloths.
3. Toiletries
Next up are toiletries. These are the items that we often take for granted as they are typically provided by our parents at home. Don't forget to pack your toothbrush, toothpaste, shampoo, soap, deodorant, and other necessary personal hygiene items. You'd be surprised at how many people forget to bring these and end up making a last-minute run to the store.
4. Clothing hangers
Include hangers on your list and anticipate purchasing additional ones since it tends to happen inexplicably. 🤣
5. Desk lamp
We know that you are all diligent students who will spend many late nights studying, so it's essential to have a desk lamp for those times.
6. Laundry basket or hamper
Now that you'll be the only one handling your laundry, make it easy on yourself. Bring a laundry basket or hamper so you can keep all your dirty clothes in one place. That way you'll know when it's time to head to the laundry room. Having a hamper also makes it easy to carry your clothes back and forth from your room to the laundry room. You don't want to lose any socks in the hallway trying to carry it all in your arms!
7. Mini fridge
Although we do have a community kitchen in Founder's Hall with a refrigerator, if you want quick access to snacks and drinks, you'll want to add a mini fridge to your list.

8. Desk supplies
We know nowadays most things are done using a laptop but it is still important to have a few pens, pencils, highlighters, sticky notes and other office supplies on hand.
9. Power strips
Power strips are a necessity for college students as you'll be using a considerable amount of technology from your laptop and phone chargers to your lights and gaming consoles. You'll need all the plugs you can get, and it's better to come prepared in this area than to constantly swap out plugs.
10. Basic kitchen supplies
As previously mentioned, Founder's Hall provides a fully-equipped kitchen for all students to use. If you're someone who enjoys cooking, don't forget to pack some supplies such as a place setting or two, and pots and pans. Cooking for others is a great way to make friends, so show off your culinary skills and invite your peers to join you for a tasty meal.
11. Cleaning supplies
Now that we're living independently, it's up to us to clean up after ourselves. Make sure to pack some cleaning supplies including all-purpose cleaner, paper towels, and a small vacuum cleaner or broom and dustpan to help keep your space tidy.
12. TV
If you want to have a more immersive viewing experience than just your laptop, consider bringing a TV for your dorm room. This will allow you to enjoy movie nights with your roommate and have a more enjoyable entertainment experience.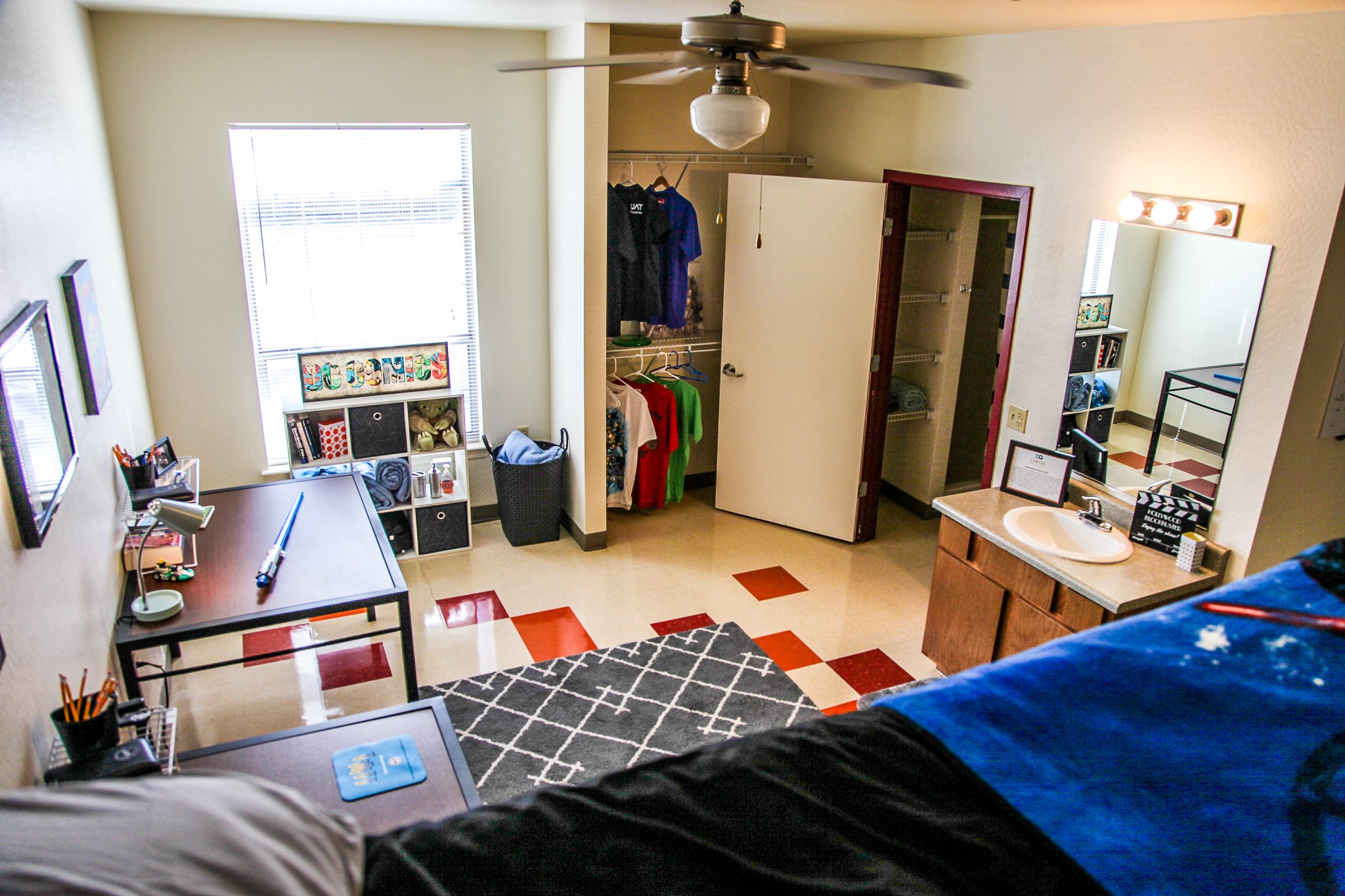 Let Your Personality Show
Rest assured, we haven't overlooked the importance of having some fun items on your packing list. While it's crucial to prioritize the essentials, we also suggest bringing along some items that speak to your personality. These will help make your room feel like your own and enhance your overall experience. Adding personal touches to your decor is also an excellent way to introduce yourself to new people.

1. Gaming consoles
Would we really be UAT if this wasn't first on our list? Gaming is huge on campus whether you're interested in joining the eSports team or just gaming for fun, it's a great way to connect with others. We understand that not everyone has a gaming console they can bring with them to college, but fear not! Founder's Hall has a fully-equipped gaming room with a wide range of options and games available. So, if gaming is your thing, you'll have plenty of opportunities to play.
2. Musical instruments
Bonding with others through music is a wonderful experience. If you have a passion for playing instruments or want to learn, remember to bring them along. Nonetheless, it's important to keep in mind that noise levels should be respectful in the dorm when practicing.
3. Board games and card games
Who doesn't love a game night? Make sure to pack your favorite board games and card games for when you need a little break from technology.
4. Sports equipment
Our campus features a spacious quad that is perfect for outdoor enthusiasts and sports enthusiasts. If you're interested in playing ball games, don't forget to bring your gear. With Arizona's near-perfect weather conditions, spending time outdoors is essential for maintaining good mental health.
5. Streaming device
Make sure to add a streaming device, such as Roku, Chromecast, or Firestick, to your list of things to pack. After all, you have your TV ready to go, but you'll need a way to stream all your favorite shows and movies.
6. Camera
We understand that most of us rely on our smartphones for taking photos, but consider bringing a digital or film camera to capture your college memories in a unique way. You'll have the opportunity to create tangible keepsakes that you can display in your dorm or even compile into a photo album. Trust us, your future self will appreciate it!
7. Decorations
This is where you can really let your creativity shine! Adding personal touches to your dorm is a fun way to make it feel more like home. You can bring in string lights, tapestries, posters, pictures, and even fun rugs. Don't forget to add some greenery with a plant or fresh flowers to brighten up the space.
8. Speakers
Remember to bring a speaker along with you so that you can enjoy your favorite tunes or even listen to classical music while studying - it's highly recommended!
9. Books
We understand that reading for pleasure may feel like an additional task while in college, but we highly recommend packing a few books for leisure reading. When you need a break from studying or screen time, a good book can be a great escape. Who knows, you might even start a book club on campus! 📖
10. Art supplies
Bring your art supplies with you to campus and let your creativity flourish! If you're feeling inspired, you can even participate in our paint nights. Sometimes we even dress up as Bob Ross to really get into the artistic spirit. Expressing yourself through art is not only fun, but it also ties into many of the courses we offer here at UAT. Bonus points for bringing your own supplies!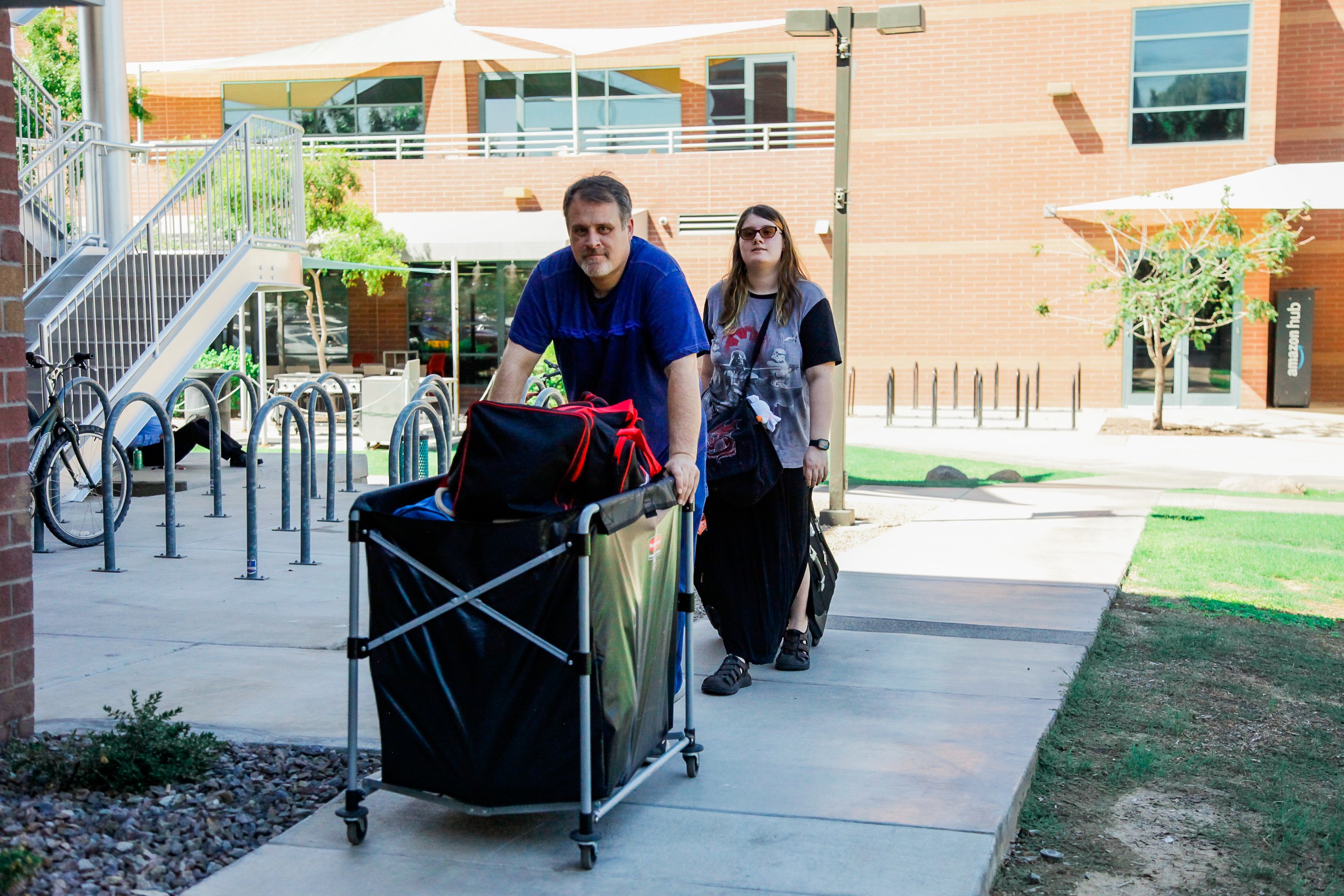 Did You Forget to Pack These?
Did you know these next two items are the most forgotten items by students when moving to college? We don't want you to forget anything, so we're sharing a couple items that might have slipped your list.
1. Surge protectors
2. Mattress topper
Bonus Items to Remember
Don't wait until you arrive at your new room to realize you're missing these items. Add them to your list now and avoid the hassle later!

1. Command strips
2. Sewing kit
3. Bedside organizer

We understand it is impossible to predict everything every student will need while moving in, but we hope this list is a helpful start for you! Want a print-out for shopping? Download UAT's Move-In Checklist form!