For technophiles, CES isn't just a conference—it's bigger and better than any theme park, and there are even more possibilities than most can imagine. Business and tech leaders from all over the world converge to show off what's happening now, and even more exciting, what's possible for the future.
As a university wholly focused on technology, we are constantly looking ahead, because if you're only on par with the latest, you are already behind. This year looks to be an exciting one for tech; 2020 brings roll-up TVs, 8K resolution, and AI everything.
Dr. David Bolman, UAT Provost, documented some of his favorite elements from the past CES, and he's sharing them as a series of blogs that will give you FOMO if you didn't make it, and probably encourage you to start planning your trip next year. In this first edition, you'll understand how CES is like a high-tech carnival, with amusements for people with only a basic knowledge of tech to those working on cutting-edge projects.
"When you're curious, you find lots of interesting things to do." Walt Disney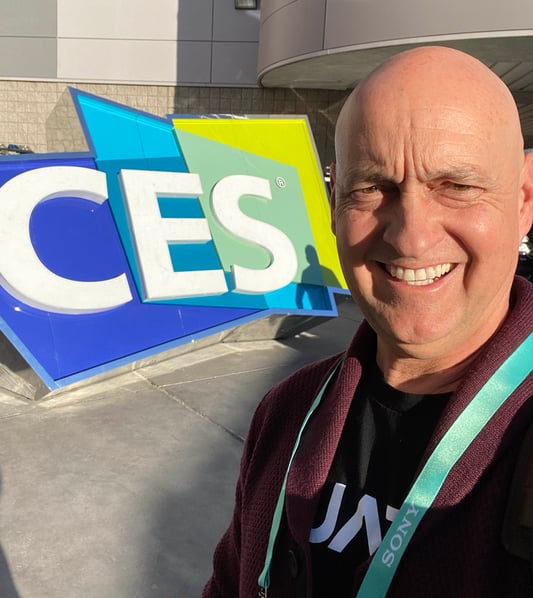 From Dr. Dave:
To understand CES, consider that Samsung alone has 25k+ square foot pavilion. People walking shoulder to shoulder, like a summer day in Disneyland, through technology sensory stimulation chambers that are 150% higher than the max settings of the human brain. Curved OLED screens as tall as a building firing resolutions well-beyond what our eyes can perceive. Large panel screens that pivot on the wall from horizontal to vertical, matching the orientation of cell phones. 8K resolution screens with tasteful white frames so that when the TV display is turned off, one of thousands of the works of art housed in museums is displayed—at resolutions that looks as good to our eye as viewing the original piece. Having viewed A Sunday Afternoon on the Island of La Grande Jatte in person during December and then calling it up via Samsung at CES, I was impressed (even though the Samsung version is much smaller).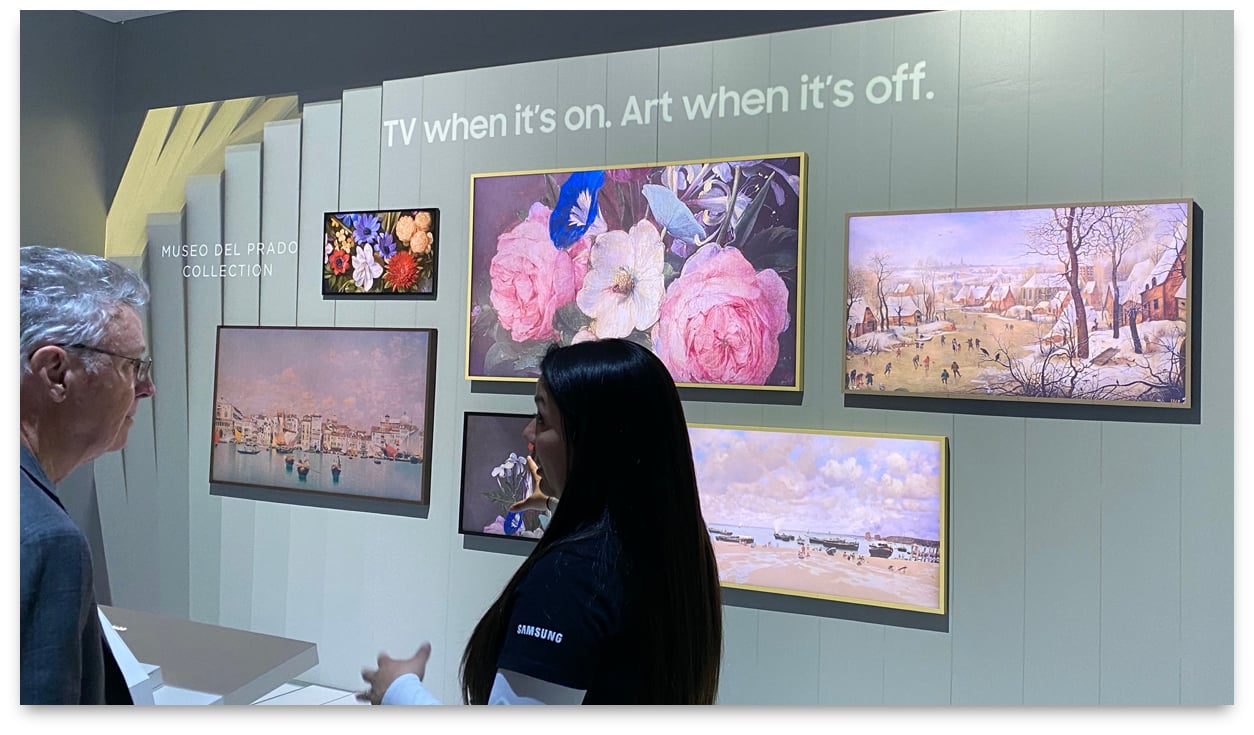 "Disneyland will never be completed. It will continue to grow as long as there is imagination left in the world."
Each year the shows are similar (big, loud and encompassing). There are always dancing robots, big TVs, gadgety home tech, IoT, next generation smart cars, C/net broadcasting live, AI attached to anything and everything and at least one person in a wet suit swimming in a giant aquarium to show off the kind of underwater jet propulsion rig that you expect in a James Bond/Johnny Quest shows from the Mad Men era. In the thick of all this highest tech imaginable, the oddity of getting between the main halls by following (on foot or by golf cart) a faux grass path crossing what is normally the driveway to loading bays. If this is your first time at CES, these demonstrations of what tech will be will leave your brain center fired up long after you have left the pulsating halls and the straight out of Tokyo bus rides are in your rearview.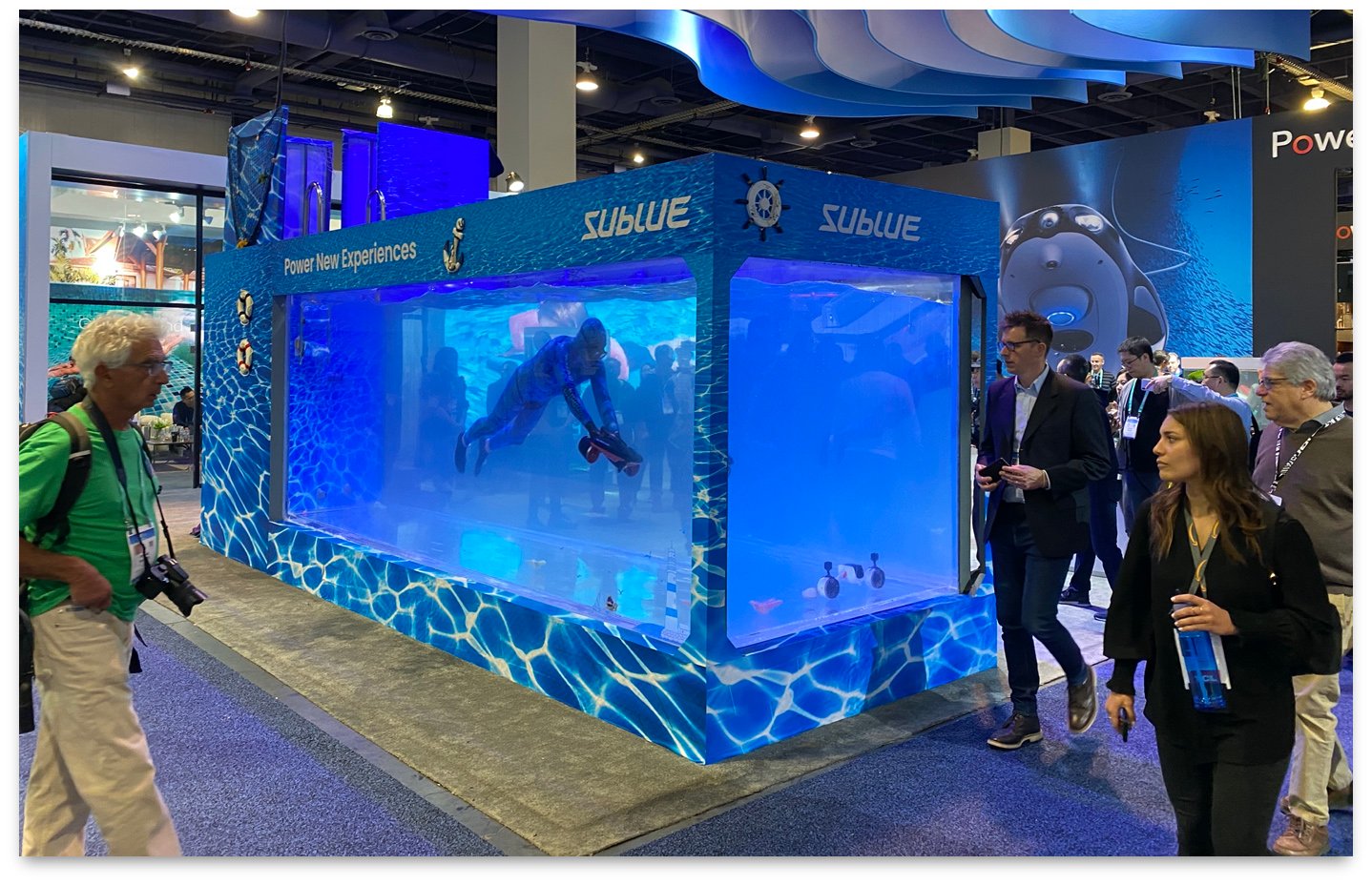 "Times and conditions change so rapidly that we must keep our aim constantly focused on the future."
Dialing down some of the flash for an edgier tech intensity per square foot means heading to the Eureka Park—aka a very amped up SIP showcase. Imagine a vast room parceled into stalls like a cross between a digital Persian market and the neighborhood in Blade Runner's dystopian LA where Hannibal Chew makes replicant eyes. This is one of the busiest halls of CES where thousands (maybe hundreds, but it feels like a million, so I split the difference) of vendors are grouped into neighborhoods by country, college or type of tech. These are not the polished techs of the main halls, this is the kickstarter zone filled with prototypes and rough cuts. Some promising, some junk, some just weird (anyone feel like funding an AI-driven electric guitar system designed to entertain your cat?). Bumping shoulder to shoulder like riding in a NYC subway inside of this not ready for prime-time player version of tech you see plenty of tech creativity. Surgical ready stereoscopic VR systems, and Korean vertical farming were the kinds of solid applications looking for funding inside of Eureka. And of course there was the smart potato. A booth that was so wrapped in fandom, that the closest I could get was a "phone held high shot" that confirmed the celebrity status that this bluetooth enabled Nueraspud achieved. Here is a link to their crowdfunding page: https://www.indiegogo.com/projects/the-world-s-first-smart-potato-smartpotato#/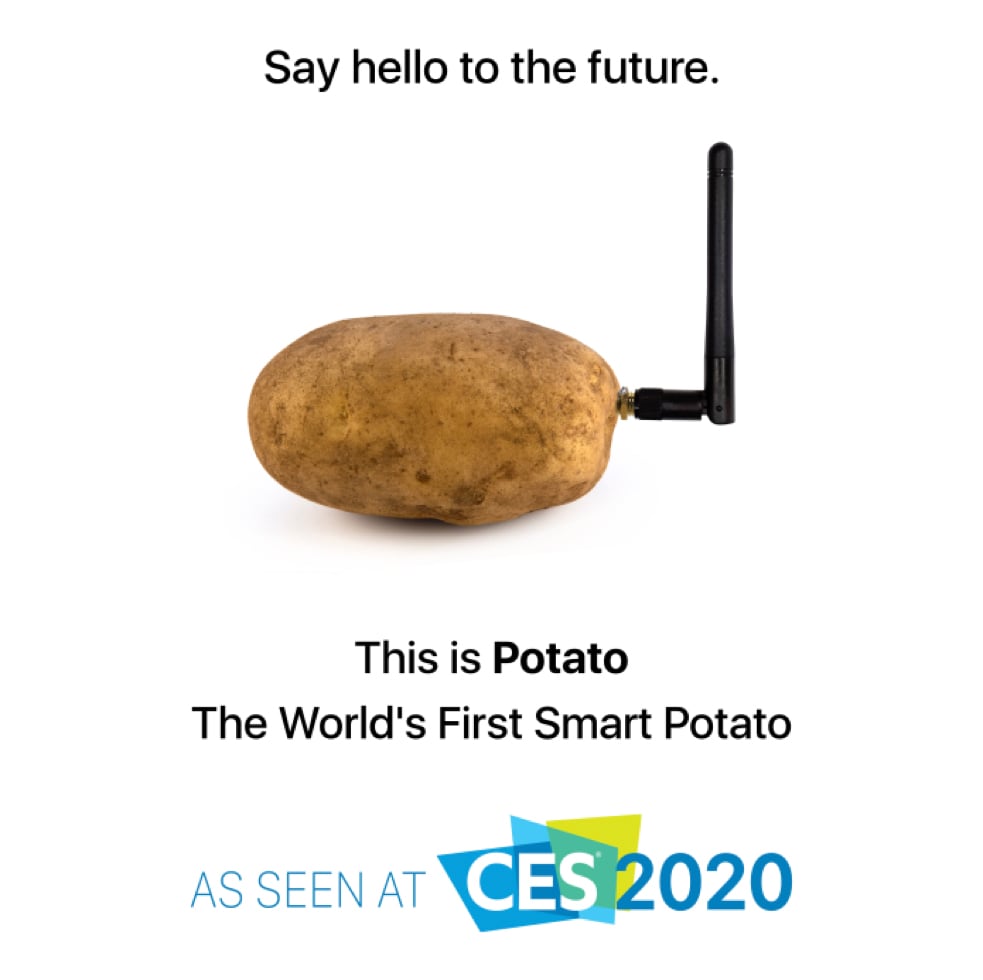 "We keep moving forward, opening new doors, and doing new things, because we're curious and curiosity keeps leading us down new paths."
Robots and drones are always on display at CES and there was no shortage of squads of airborne or pushup pumping devices performing synchronized routines accompanied by lasers, steam and bass. This year more of them were consumer-ready and available at price points that had me picturing a near future where it will be normal to see people going about their day surrounded by ground and aerial possess providing digital vanguards announcing their arrival with song and dance like modern day Roman generals. More practical in use, but no less oozing anime cuteness, were the robots cruising the floor using their AI to perform some butler'ish service. There were 'bots ferrying supplies from one booth to another, others that were serving drinks and plenty of others demonstrating hands capable of alternately nimbly picking up small glass objects and then bricks.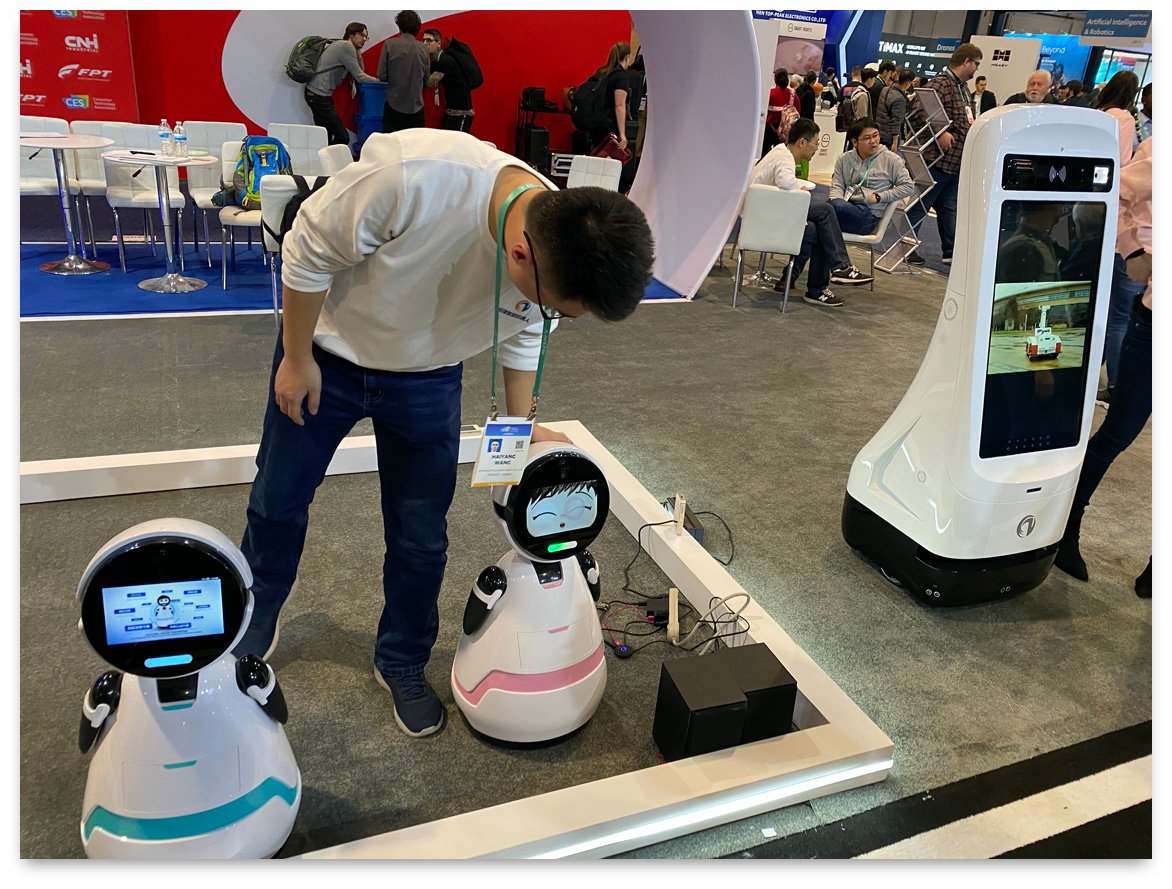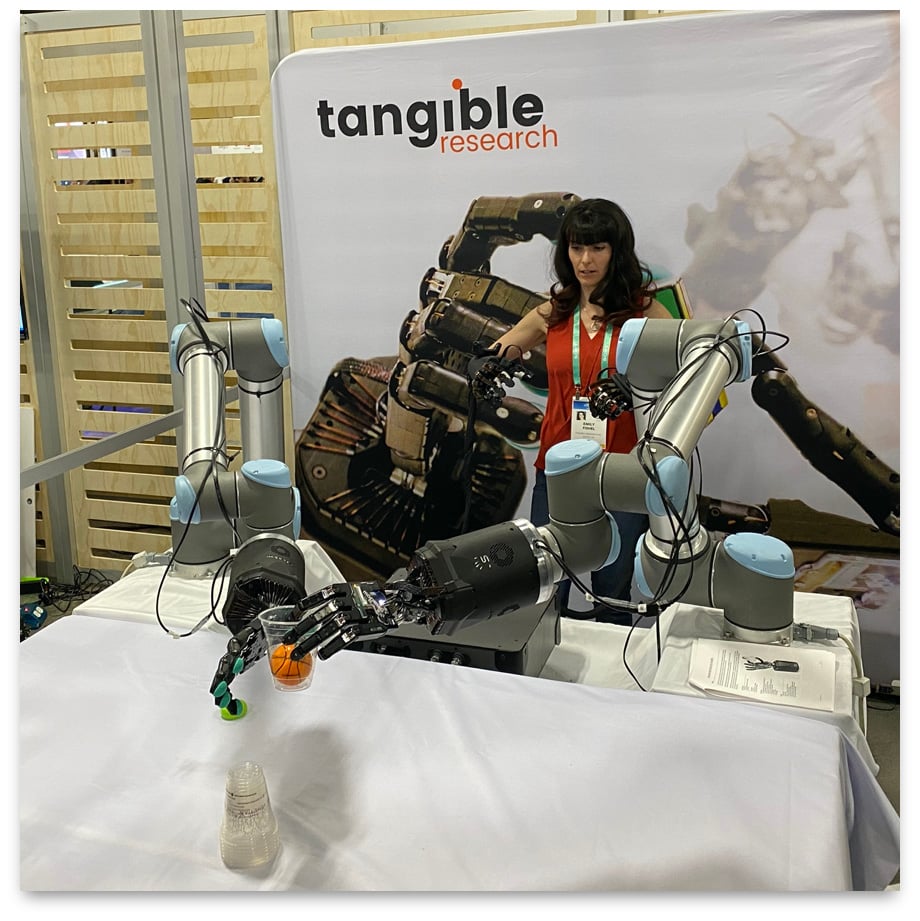 "First, think. Second, dream. Third, believe. And finally, dare."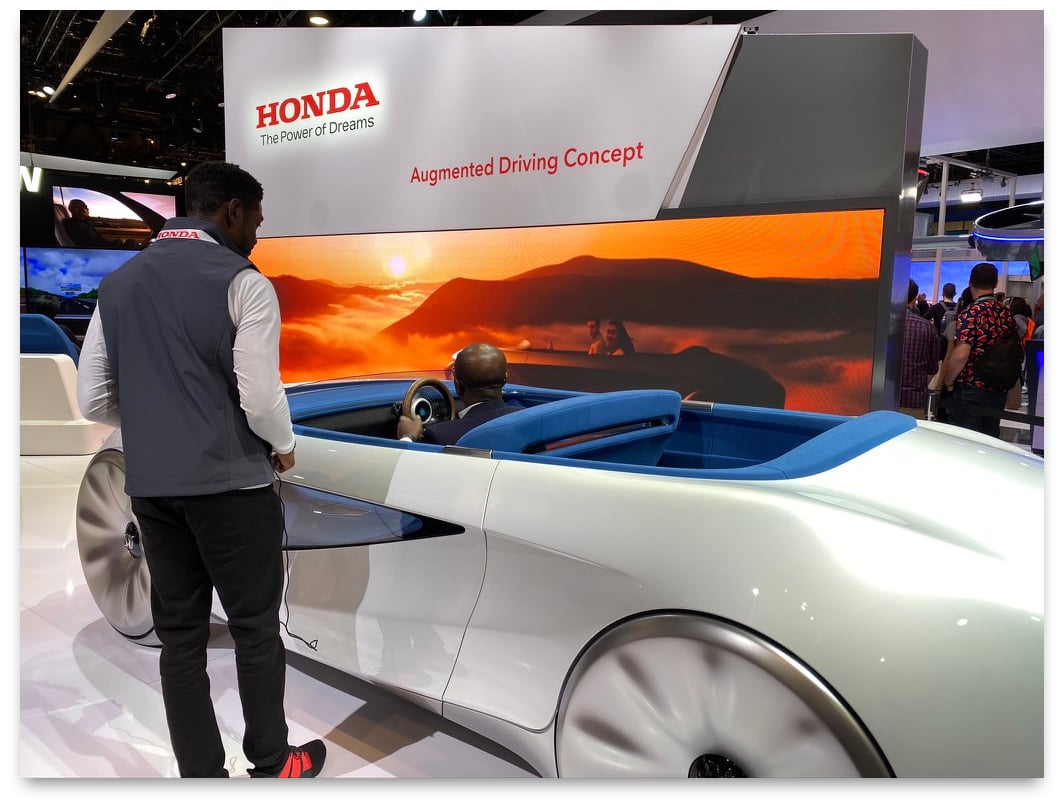 Watch for more of Dr. Dave's experiences with the latest tech, and let us know what you're most looking forward to as AI continues to wow and surprise us with exciting ingenuity. If you are an innovator or wanting to get started, you can find the latest in tech revolution at UAT, where our mission is to educate students in advancing technology who innovate for our future.
We accomplish that by re-imagining the future of learning, intellectual property and talent cultivation to accelerate Arizona and national tech-entrepreneurship. UAT has developed a vibrant, multifaceted academic environment with a synchronic learning model where students are challenged to explore new and traditional concepts, and to independently and collaboratively practice what they learn in real-world situations to achieve their full potential UAT academic programs result in Associate, Bachelor or Master degrees. Start your journey at www.uat.edu.