Kick-Art the Day with Extreme Painting
The University of Advancing Technology (UAT) encourages students to explore their creativity, and that's exactly what they did with extreme painting, also known as splatter painting. Messy is an understatement, as paint flung from brush to canvas, covering anything in its path. Don't worry though, there was a no splash zone for students who didn't want to end up covered in an array of different colors.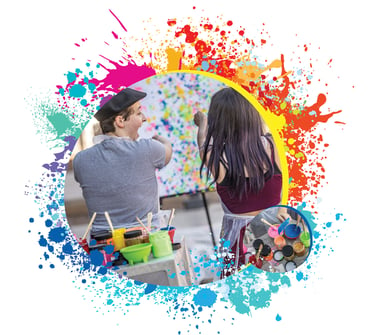 Art is a stress reliever, and with the amount of laughing that happened on campus during this event, it's safe to say the students had a stress-free blast. It didn't matter which colors they picked or their paint flinging form, the end results all turned out uniquely awesome.
When it comes to extreme painting you can fling paint from brushes, squirt paint from a bottle, or use your hands to create your designs. That is what makes it so fun—there are no rules! Expressing creativity through different art mediums allows students to explore new outlets that may evolve into something bigger. We understand that school and life can be hard and overwhelming at times, which is why it's important to provide students with opportunities to take their mind off of things.
Painting can be considered a visual language with colors, shapes, and textures, creating individual aesthetics. Meant to create expression, paintings depict everything from narratives to abstract concepts to real life, making it a beneficial activity for all. From digital designs and gaming graphics to 3D prints and sculptures, you can find art all across our campus. Students enjoy playing around with traditional art, and seeing how they can take what they learn and mix it in with their tech innovations.
UAT is a place where students learn to translate ideas through concept, design, production and implementation. Bring art to life at UAT!