SIP Title: Control Your Emotions
Student Name: Hanna Richards, Game Design, Game Art and Animation
As a lifelong lover of video games, Hanna Richards (Game Design, Game Art and Animation) has always been inspired by the narrative element of games. She grew up playing titles renowned for their emotionally compelling stories—games like Naughty Dog's The Last of Us. But still, Hanna saw the potential for further emotional sway on the player: What if the player's emotion could impact the gameplay experience?
Enter Control Your Emotions, Hanna's Student Innovation Project (SIP), a project that takes emotionality to a new level.
Control Your Emotions factors in the player's real-time emotions to the gameplay experience, impacting character interactions and story outcomes through procedural generation. The non-playable character (NPC) starts the scene in a neutral state, only to be swayed by player input regarding their emotional state while playing. While the project in its current state requires the player to input their emotional state, Hanna envisions a future version that could use detection hardware to automatically pull this data.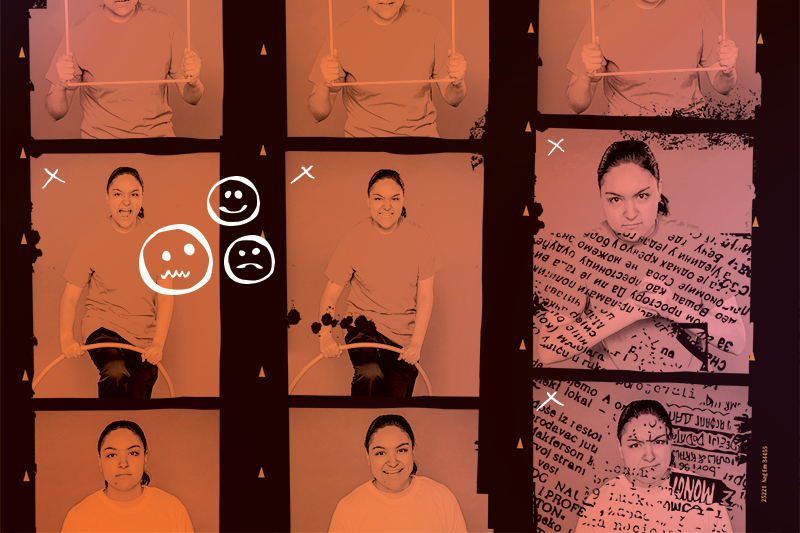 Hanna feels that the types and structure of classes at UAT are different from the average university her friends attend, but says what ultimately made her college experience unique was the dedication of the faculty.
"The connection with the professors is really the most interesting thing about UAT," she said."When working on projects for your portfolio and trying to get a job, they are helpful to the max. They're there for you, they're going to help you every step of the way. And they're only here to help you succeed."
For Hanna, coming to Arizona from the small town of Adelanto, CA, building that connection with the UAT community was key to her success in completing her SIP as well as double-majoring in Game Design and Game Art and Animation. To complete her SIP, Hanna collaborated with UAT graduate Alec Carter (2021, Game Programming) and took guidance from UAT faculty—primarily Matthew Marquit (UAT professor and alumnus, 2016), whose courses Hanna learned so much from.
Hanna chose Game Design as her initial major because she "fell in love with it" after taking a few game design courses in high school. After attending some of UAT's digital arts courses, she decided to add a second major in Game Art and Animation. Hanna feels that combining her two passions is a dream come true.
In order to bring her vision to execution, Hanna had to learn a variety of skills, both anticipated and unexpected. From visual scripting to prototyping in Unreal Engine 4, she had to expand her knowledge and capabilities to bring Control Your Emotions to reality. Hanna also noted that in addition to increasing her creativity through design courses, her English classes were instrumental in learning how to construct a complex narrative structure.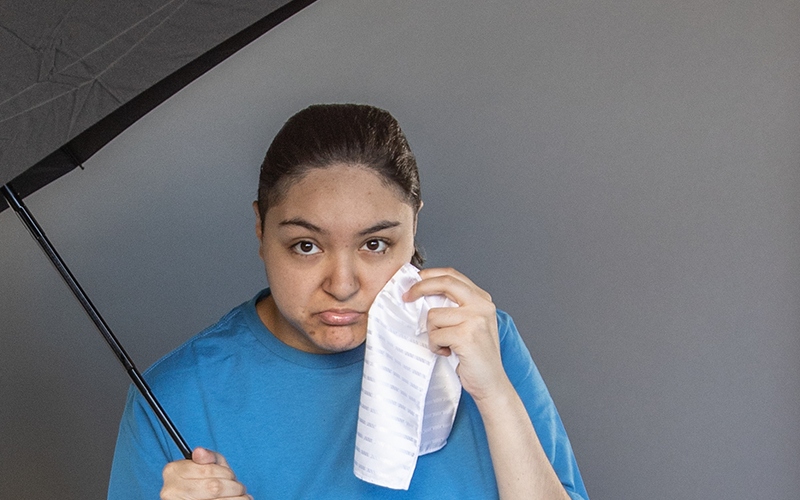 Hanna's claim to innovation is an impressive and daunting one, in that she wants to expand game design itself, taking video game narrative to the next level.
"When players are playing games, they're designers in their own right too," Hanna explained."They're feeling connected to these games, because games already do that to people—they make them feel connected, they make them feel special. And I think my SIP is another way to branch onto that and to make it even more special for those players."
Hanna is graduating this fall from UAT and plans to move back to California for a beat to polish up her resume and her portfolio, before tackling the next challenge of her budding career as a game designer and animator: Seeking gainful employment.
Hanna's keeping an open mind to wherever life and her career could take her next.
"Wherever work takes me—I'd be willing to go and venture off."
Begin Earning Your Game Design Degree at UAT:
Did this student's story spark your interest in UAT? Now is the perfect time to request more information or even apply for admission! Wherever you are at in your journey toward pursuing higher education, UAT's friendly Admissions and Financial Aid teams can offer you support and guidance. Take the next step into your future by reaching out today!