Creation of the U.S. Army

On June 14, 1775, the Second Continental Congress formed the Continental Army under the command of George Washington. Today, we honor the men and women who dedicate and sacrifice their lives to the United States Army by celebrating its 244th year old birthday.
The service, dedication and sacrifices made by the men and women serving our nation in the United States military are recognized by University of Advancing Technology. Whether you are active duty, a reservist or a veteran, UAT provides a variety of program offerings, learning options and financial aid opportunities that support you in achieving your educational goals in a way that meets your needs.
We appreciate the sacrifices our veterans, service members and their families have made for our country. UAT was founded by a military veteran in 1983. Our military student support services, online degrees and policies are aligned to the unique needs of our veteran and military students.
Advance your civilian career, complement your military skills or pursue a fresh path in advancing technology. Whichever path you choose, UAT is committed to your success.
FAST FACTS
UAT maintains ongoing relationships with several U.S. government organizations as a Center of Academic Excellence as designated by the National Security Agency and the Department of Homeland Security
UAT's Synchronic Learning provides an education framework embodying UAT's methodologies, curricula and people dedicated to fostering an environment of innovation that promotes demonstrated mastery and job readiness.
UAT is a member of the Arizona Veterans Association
UAT is proud of its designation as a Military Friendly School
An integral component of Synchronic Learning is SyncFlex, a flexible learning approach that provides real project experience for busy adult students.
GI Bill®* and Yellow Ribbon approved
UAT has dedicated staff and resources that will allow you to work through the application, admissions and enrollment processes, as well as help you find available funding for your education
* GI Bill® is a registered trademark of the United States Department of Veterans Affairs (VA).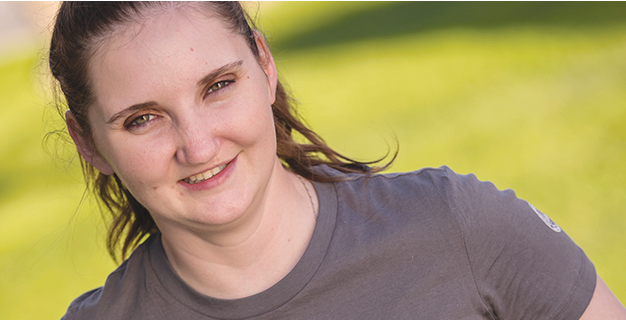 Army Veteran Spotlight
OLENA BURNESS
UAT GRADUATE, NETWORK SECURITY AND TECHNOLOGY FORENSICS
Originally from Poltava, Ukraine, Olena Burns majored in both Network Security and Technology Forensics. She came to the U.S. as a teenager and joined the army after high school, which helped pay for her UAT education. "UAT is very military friendly," she says. "I really appreciate the support I received. I've got to say, I love this school, the tools it's provided me and the knowledge I've accumulated. I recommend this school to anyone who is excited about learning and can take a concept and run with it."
When asked how UAT is different from other technology colleges, Olena replies:


Leading-edge industry knowledge taught by the best. UAT's Tech Forensics and Network Security programs are probably the best in the state because of the instructors. They are working in the field while they teach so you're always learning what's really out there. One of my professors has even been an active member of the DEFCON Community for 17 years. No other college, in my opinion, offers that high level of faculty interconnectivity.
I'm a hands-on learner, which is also why I love UAT and would recommend it to those who may have different ways of learning. It's personalized, and everything you learn offers a way to develop a project hands on or with a virtual machine to get it to actually physically work. UAT also opens doors to opportunities. I was selected as a volunteer for Black Hat, and got to attend DEFCON as well. When our UAT group was tasked with hacking the electronic badges for DEFCON, I was the first to do it. My instructor was so proud of me but not as proud as I felt about myself and what I accomplished.
Source: https://www.uat.edu/military
Source: https://nationaltoday.com/army-birthday/
Source: https://www.military.com/army-birthday