Feed Your Inner Chef
From banana bread to pasta to a classic casserole, students learn how to prepare tasty meals in Resident Assistant-led cooking classes that take place each month in Founder's Hall at University of Advancing Technology (UAT). These events offer the opportunity to learn new skills and meet new friends, in addition to devouring delicious food, of course! Our students have more than just an appetite for learning. Recently, they learned how to make homemade pasta. 🤌 🍝
How to Make Homemade Pasta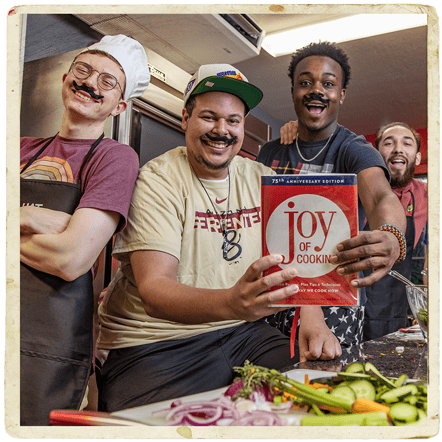 Ingredients
2 cups all-purpose flour

3 large eggs

½ teaspoon sea salt

½ tablespoon olive oil
Step 1: Combine wet ingredients
In a small bowl, whisk together eggs, water, olive oil and salt. Set aside wet mixture.
Step 2: Make a flour mound
Pour the flour onto a clean surface and form a flour mound. Make a large well in the center.
Step 3: Add wet mixture to well
Add the egg mixture into the well, ensuring the flour "walls" are high enough that the egg won't spill out.
Step 4: Mix together
Use a fork to gradually incorporate the flour mixture into the egg mixture, forming a soft, slightly sticky dough.
Step 5: Knead the dough
Once the dough is too thick to mix with a fork, switch to kneading by hand.
Lightly dust the counter with flour. Then, knead the dough for approximately 10 minutes until it's smooth, firm and dry.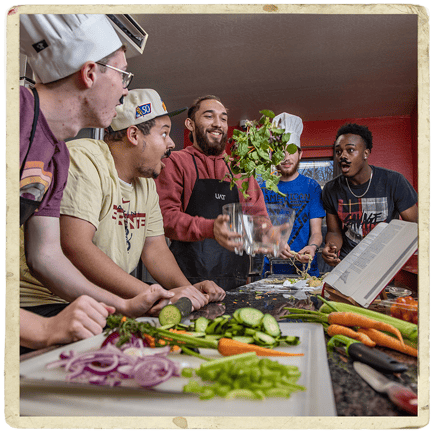 Step 6: Divide the dough and let it rest
The dough is ready to be shaped once it no longer sticks to the countertop.
Divide the dough into six portions and cover with plastic wrap.
Let the dough sit at room temperature for 30-60 minutes.
Step 7: Cut the noodles
After the dough rests, roll the dough into thin sheets and cut the noodles either by hand or with a pasta maker.
Once cut, lightly dust the noodles with flour so they don't stick together.
Step 8: Cook the noodles
To cook, bring a pot of water to a boil and add a dash of salt. Add the noodles to the water and cook until tender, about seven to 10 minutes.
Serve with your favorite pasta sauce and enjoy!
These cooking classes help get students excited about eating healthy and cooking their own mouthwatering dishes, utilizing the community kitchen located in the dorms, which is fully stocked with all the pots, pans, utensils and more! UAT has all the amenities needed to satisfy your cravings.