Rebecca Levasseur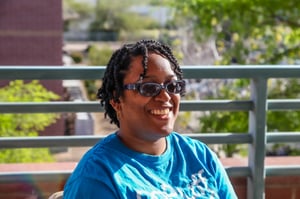 Hometown: Fort Washington, Maryland
Major: Digital Video
Rebecca remembers being six and sitting in her elementary school's computer lab exploring all the features of the old Macintosh computers. Her fascination with computers matured into playing around with video editing for school assignments, coding activities and picture editing for fun in high school. She's always been interested in technology.
Rebecca changed her major to Digital Video after originally attending UAT for Network Security. Since she has more experience in the video field and some close friends in the Digital Video major, the transition happened naturally.
Ultimately, Rebecca just wants to edit videos. She loves creating with video editing software and discovering all the things you can make. Rebecca loves UAT for its smaller campus, which promotes a close-knit family atmosphere amongst faculty and students.
When she's not studying or doing homework, Rebecca likes to hang out with friends and play games, go to the mall, hike and joyride BIRD scooters. Inspired by her brother, parents and friends, Rebecca wouldn't be here without their support and advice in times of doubt. After graduating from UAT, Rebecca would like to edit videos as a career.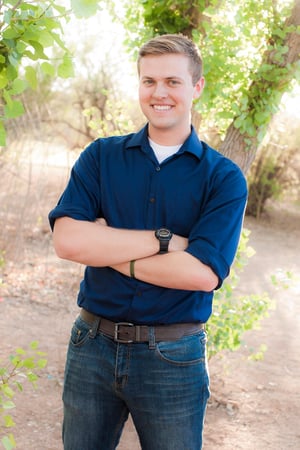 David Austad
Hometown: Gilbert, AZ
Major: Network Security
David decided he wanted to increase his knowledge after working for three years at a third-party IT company. With many of his clients working in the medical industry, he felt he could better meet their need by gaining additional skills. This led him to pursue a degree in network security.
David remembers networking PCs together during gaming LAN parties and building his first PC as a teenager. He's been interested and influenced by tech from a young age. Since many state universities didn't offer degrees that specifically addressed the field of work he was interested in, he found UAT and decided to attend. UAT's atmosphere felt like home to David, a place where he could do the things he loved. UAT's innovative spirit has rubbed off on David.
David's favorite hobby is gaming—all sorts of gaming, including board games, video games, card games and anything that challenges him to use tactics and intellect to achieve victory. He also enjoys hiking with Jennifer, his wife.
Through the years, David was especially inspired by his great grandfather. At a young age, David had the privilege of spending time with his great grandfather at his Northern Arizona cattle ranch. At the ranch, David learned that any task worth completing is worth completing well, the value of hard work, and to never give up on any dream.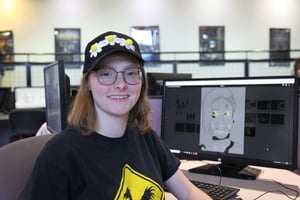 Aubrey "Kim" Martin
Hometown: Keyesport, Illinois
Major: Game Art and Animation
Kim loves seeing the possibilities of what something can looked like in a TV show, animation, movie or even a comic. She's always been interested in character design and development, so she chose to study Game Art and Animation to become a character concept artist.
After her junior year of high school, Kim received a call from one of her close friends, who told her that UAT offered both of the majors they wanted to study. They soon visited UAT for a campus tour. "The moment I walked into the main building was the moment I decided I was going to attend UAT," remarks Kim, "nobody was going to tell me otherwise."
Kim enjoys hobbies such as digital and traditional drawing, playing video games, creating 2-D animations and playing piano.
Since attending UAT, Kim discovered her love for 2-D animation and has gained many new skills, such as developing 3-D modeling in 3DS Max and Autodesk Maya and creating vector and pixel art and animations for functional video games. She has also taken a position as a character artist at the student-run company BunchOfNerds. Most importantly, she's gained strong motivation, new friends and a true happiness at UAT.
Interested in meeting more UAT freshmen? Read our last issue of Geek411!