A Break from Tech to Talk Current Affairs
My messages usually orbit around technology trends and the accomplishments of UAT's students and community. This time around, my thoughts are taking a different track.
As I write this, UAT students and their professors have joined together to discuss the Russian invasion of Ukraine, and I couldn't be prouder. Of course, we would prefer to be talking about technology with its possibilities to make life better through newfound usefulness, creativity, and the infusion of fun. Events this week have caused the majority of the world to turn its attention elsewhere. In ways not seen for decades, citizens of the world are processing the implications and loss of life that downstreams when a country uses military force to achieve an agenda. Students coming together to discuss, understand and form individual perspectives about the Russian government's invasion means that you take membership in a global community seriously. This student-initiated discussion reflects UAT's values of Honor, Leadership, and Team Sport well. Where each of us lands in our understandings about people, countries, and government will be honed by what is unfolding in Ukraine today.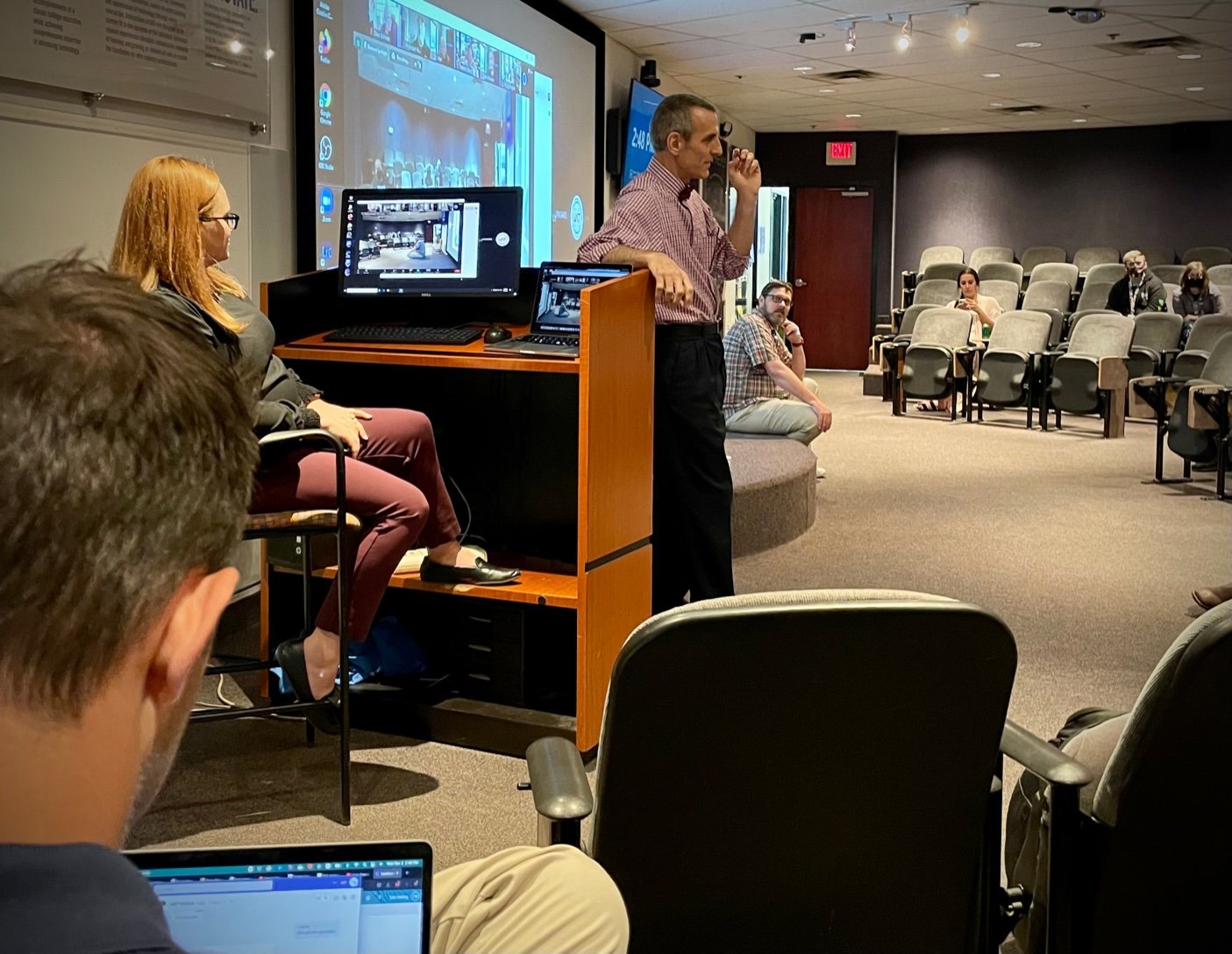 Faculty, staff and students discuss Ukraine online and in the theatre.
This Russian invasion has a complexity that will take months and years to unspool and wrap our heads around. That said, I believe that once the Russian military crossed the Ukraine border, the trajectory of Europe and the world's relationship with Russia became dramatically changed for the foreseeable future. One lens I place on this moment in history is almost Arthurian in its clarity. Despite all the grey in the world, clear good and evil (mostly good) exist. A large country using its might to violently exert its will on a neighbor is by its nature wrong in the extreme. Any nuances of culture and history help our understanding and distinguish people from their governments, but they do not excuse evil acts. In moments like this, the world needs people and organizations to cut through fears and churn in ways that push back hard against bullies. Every news announcement holding up the growing number of technology companies (Apple, Microsoft, Google, Boeing, Disney, Netflix, Twitter) treating the actions of the Russian government as the pariahs their actions define them as is a reason to celebrate.
Taking action to support Ukraine and its citizens by those working and creating in technology shows our understanding that the world and the tools we create for its people exist in interconnected ways. We build to create a world where lives and businesses are better and more delightful. Playing in this excellent sandbox comes with an equal responsibility to forcibly turn our backs on those who, like a character from Macbeth, would tear our world at the tech seams.
Circling back to the Geek Rho + Faculty discussion on Ukraine, the UAT community in that physical and virtual room engaged thoughtfully on what is happening. You discussed how to access multiple news sources to get better 360-degree perspectives, and you differentiated between the Russian people and their leaders. I observed UAT being thoughtful members of a global community during those moments. I left that session feeling optimistic about the future of technology and the world.
Next time, back to the tech.
---
Read more at:
https://www.wired.com/story/us-sanctions-crimp-russia-tech
https://www.fastcompany.com/90726978/apple-google-netflix-and-visa-join-the-ever-growing-list-of-the-companies-halting-business-in-russia
https://news.sky.com/story/how-are-the-big-tech-companies-responding-to-the-invasion-of-ukraine-12555497
https://fortune.com/2022/02/28/business-sanctions-russia-ukraine-invasion-google-daimler-meta-fifa