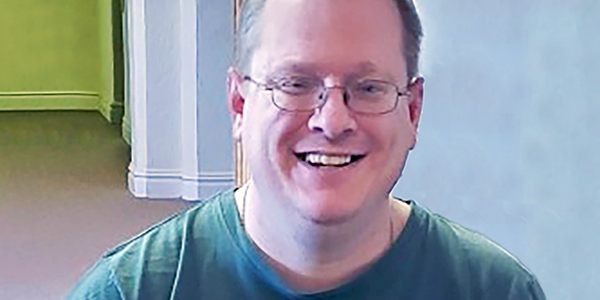 Meet James "Glenn" Truett
James "Glenn" Truett, a transfer student, is double majoring in Digital Maker and Fabrication and Robotics and Embedded Systems at University of Advancing Technology (UAT). He chose these degree programs because they can formalize his education on subjects he has been interested in and teaching himself for the past five years.
Glenn loves UAT's project-driven approach to teaching, learning and assignments, which is why he chose the University. "Instead of spending all my time studying for a test, I get to put that time and energy into actually learning and then doing what has been taught."
Glenn finds inspiration in ordinary people doing extraordinary things and is inspired by many people at UAT. "[Most people] inspire me to do better because I see where I want to be in life, and they serve as a reminder to an alternative way to live the life I have chosen."
So far, Glenn has enjoyed his time at UAT and has gained a lot, "Not only have I gained new knowledge and skill sets, but I also have gained a larger social network. I have created many new friendships and relationships with people who could be a part of my future business ventures."
Having attended college in the past, Glenn offers valuable advice to students, "One of the worst pieces of advice I was given the first time around is 'make sure you have something to fall back on.' I don't want to fall back on anything, except my faith. If I am going to fall, I want to fall forward. If I have something to fall back on, then I am not committed to the plan in motion. If you don't have a backup plan, then you are more motivated to succeed. You may fall, but you learn from it and keep moving forward. You don't quit. If you fall six times, get up seven and keep moving forward."

Meet Miriam "Pike" Garcia
Hailing from Los Lunas, New Mexico, Miriam "Pike" Garcia transferred to UAT to pursue a bachelor's in Game Art and Animation. She chose Game Art and Animation because it involves both design and creativity, two areas she is passionate about. Her ultimate goal is to become a concept artist for a major video game company. Prior to UAT, she earned an Associate of Applied Science in Game Development & Simulation from the University of New Mexico-Valencia.
Born in this millennium, Pike doesn't remember a time when she wasn't surrounded by technology. Some of her favorite memories are playing video games with her family on PlayStation 2. Need for Speed Underground 2 and Ratchet and Clank are especially nostalgic for her.
Pike finds some of her biggest inspiration from video game creators: Gears of War crew like Cliff Bleszinski (lead developer/director), Chris Perna (art director) and Lee Perry (gameplay and level designer), Ian Milham from Dead Space and the entirety of the Bethesda studios.
Drawing since she could hold a crayon, Pike grew up creating with physical mediums. In high school, Pike had the opportunity to start exploring digital art and added that to her repertoire. Pike is a well-rounded artist who likes to explore different mediums. She 3D models, writes fiction and creates traditional studio art and digital 2D art. She has also developed her own video games from concept to finished product in both 2D and 3D.
Pike has created multiple portfolio pieces since attending UAT. This semester, her classes allowed a lot of creative freedom and pushed her to take her art to the next level. Learning storyboarding has shown her how to be a writer, artist, director and producer.
"I'm here not to think outside the box but deconstruct it, tear it apart and reassemble it into something new."

Meet Collin Strauch
Collin Strauch was born and raised in New York and came to UAT to dual major in Game Design and Game Programming.
Collin's favorite hobby, since he was a child, is playing video games. In high school, he took computer programming classes and fell in love with programming. This sparked his interest in learning how to create video games, which is why he decided to pursue the game degrees at UAT.
Collin chose UAT because he liked how focused the curriculum is on major-specific studies.
"I get to focus more on what I came to UAT for, learning about game design and programming. Because of how focused UAT is on its majors, I have been able to learn a lot about game design ever since I enrolled here. And by a lot, I mean A LOT. I feel like I could go out into the industry and start working now."
While attending UAT, Collin has found community. Because of the inclusive, tight-knit community and small campus, UAT feels like the kind of school where everybody knows everybody, and because of this he's been able to develop many friendships from day one.
Collin's role models and biggest inspiration are his parents. His mom taught him morals, discipline and how to deal with hard situations, while his dad imparted common sense, a sense of humor, how to handle responsibilities such as finances and how to formally talk to strangers. "I deeply respect both of them, and I'm thankful for all their hard work helping me grow up and become a good person."
Some of Collin's other hobbies include watching American football, anime and finding unusual activities to do, like playing with yo-yos or coin tricks.