This Mother's Day weekend we want to celebrate all mothers and highlight one of our own, University of Advancing Technology (UAT) student and mother to two young boys ages 3 and 1, Sanyerlis Vanessa Camacaro. Vanessa is an online student majoring in Artificial Intelligence (AI) and we recently caught up with her about her successes and artwork that was featured in Times Square in New York City.
What do you find most valuable about your education?
As an AI Engineering student, I have come to appreciate the practical and hands-on nature of education. For me, the most valuable aspect of learning is being able to apply my knowledge and skills to real-life situations. Through my coursework, I have had the opportunity to gain hands-on experience with building and testing different programming language models. This involves working on programming projects, collaborating with classmates, and receiving feedback from experienced instructors.
Overall, I believe that the practical application of education is key to preparing students for success in their future careers.
How well do you think UAT is preparing you for your career?
I strongly believe that my experience as a student at UAT has been truly exceptional. The wealth of knowledge that I have gained during my time here has been invaluable, and I have been able to apply this knowledge to various aspects of my real-life activities. Every class is shaped for your future dream career.
Thanks to the practical approach to learning at UAT, I have been able to grow professionally and gain a deeper understanding of programming languages.
Overall, being a student at UAT has been an enriching and fulfilling experience that has equipped me with the tools and knowledge to succeed in the tech industry. I am confident that the skills I have gained here will serve me well in my future endeavors, and I am grateful for the opportunities and experiences that UAT has provided me.
What are your favorite/most useful classes at UAT?
Throughout my time at UAT, I have had the opportunity to explore various programming languages such as Java, C#, C/C++, and Python, and I have found them to be my favorite classes.
However, beyond just programming languages, I have also taken some incredibly useful courses that have helped me develop a well-rounded skill set. These courses include Entrepreneurship to Market, which has given me valuable insights into starting and running a successful business; Communication in Technology, which has helped me improve my communication skills, especially when it comes to public speaking and writing; and Human Computer Interaction, which has taught me how to design user-friendly interfaces and applications that prioritize the needs of the user.
Which UAT professor(s) made the biggest impact on your time at UAT?
Professor Tony Hinton - Java Programming I.

Dr. Coddington - Introduction to Programming and C# Programming.

Dr. Mark Smith - Entrepreneurship to Market.

Professor Elle Wolterbeek - Communication in Technology.

Professor Bob Marberry - Introduction to Human Computer Interaction.
The impact that these professors have had on my learning journey has been enormous, and I am incredibly grateful for the knowledge and skills that I have been able to acquire from them. Their teachings have been instrumental in shaping my professional career, and I have been able to successfully implement what I learned from them in my day-to-day work.
If you are already employed, what is your current position and what does that job entail?
I'm a multi-talented individual with a diverse range of professional experiences. As a freelancer and business owner, I bring my unique set of skills as a Digital-AI Artist, Photographer, Web3 Event Planner, and Curator to the table. My passion for art and technology has led me to create groundbreaking experiences for my community, digital artists, and collaborations.
In addition to my entrepreneurial pursuits, I am also deeply involved in several exciting projects in the Web3 space. As the Founder of the Women in Tech Museum in Spatial.io, I'm committed to creating an inclusive space for women in the technology industry. I'm also proud to be a member of the CreativeOwls.io Metaverse team, where I work with a talented group of individuals to push the boundaries of creativity and innovation.
Beyond my creative endeavors, I am also actively involved in the Polygon Alliance in Web3 as a Mental Health Advocate. This role allows me to use my platform to raise awareness of mental health issues and advocate for the importance of mental wellness in the workplace and web3 community.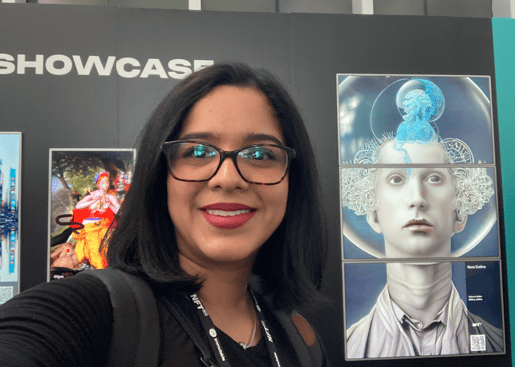 Vanessa posing with "Voices" at the NFT NYC Conference
What project(s) are you most proud of?
The projects I've completed at UAT have been some of my proudest achievements to date. Among these projects, I am particularly proud of my ability to create programming applications in multiple languages, which has been an excellent opportunity for me to expand my skills and knowledge.
Moreover, I have also gained valuable experience in business planning and human-computer interaction design by developing a web and mobile prototype in a human-computer interaction class. This project has allowed me to explore the intricacies of user interface design, as well as the importance of creating an engaging and intuitive user experience.
In my professional life, however, I am most proud of my role in founding the Women in Tech Museum in Spatial.io. This project has been a truly fulfilling experience for me, as I have been able to contribute to a cause that I am passionate about while utilizing my skills in a meaningful way. Creating a space where women can feel empowered and recognized in the tech industry has been a dream come true, and I am thrilled to have been a part of it.
What are your career aspirations or next steps?
My career aspirations are focused on graduating as an AI Engineer and pursuing job opportunities within the web3 industry. My goal is to use my skills and knowledge to create innovative applications that serve the needs of artists and their fields. Additionally, I am passionate about continuously working on my current projects and creating more art that I can physically display and showcase. My ultimate vision is to combine my technical abilities with my creative passions to make a positive impact on the world of art and technology.
How did you get your art displayed in Times Square?
Over the past two years, I have been actively engaged in the creation and sale of Digital art as NFT, as well as networking and building within the web3 community. Through this pursuit, I have had the privilege of showcasing my artwork in over 20 virtual and physical exhibitions in cities and countries including Denver, Los Angeles, Miami, New York, Rome, Spain, and Estonia.
My work has garnered recognition and attention, leading to my acceptance into the prestigious NFT NYC Conference in April 11-14th, 2023. Two of my pieces, "Bubbles Dreams" and "Voices," were selected to be featured in the event. "Bubbles Dreams" was even chosen as the Commemorative Ticket for the conference, and "Voices" was displayed on a Times Square billboard and at the Artists Village at Hudson Yards.
I am proud to say that my art was also a part of the groundbreaking first-ever AI Fashion Week in NYC in April. These experiences have helped me to forge valuable connections and expand my reach as an artist, and I am eager to see what the future holds.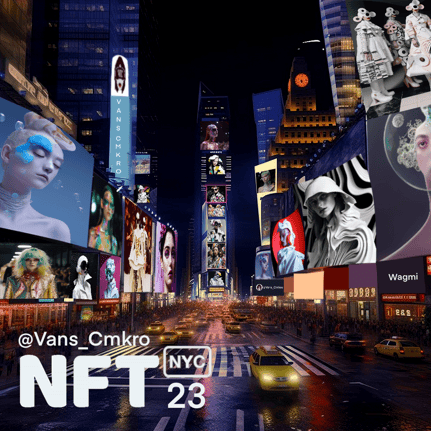 "Bubbles Dreams" on the NFT Commemorative ticket, first art piece on the left.
What is the background of the art that was displayed?
The inspiration behind my art piece, "Voices," was primarily driven by a desire to connect it with my other piece, "Bubbles Dreams," and its underlying poetic themes. Both pieces feature dreamers who are striving to keep moving forward despite the challenges they may face.
In "Voices," I wanted to capture the idea of perseverance in the face of adversity, highlighting the voices of those who refuse to give up on their dreams.
At the same time, I aimed to create a sense of connection between "Voices" and "Bubbles Dreams" through similar thematic elements. This connection helps to tie the pieces together into a cohesive artistic narrative, showcasing the power of dreams and the human spirit to overcome obstacles and push forward towards success.
Overall, my goal with "Voices" was to create a work of art that inspires and uplifts the viewer, reminding them of the importance of perseverance and determination in achieving their goals.
How long did the artwork take to complete?
Creating this artwork was a two-day journey that involved several tasks. Firstly, I had to delve into writing ideas and poetry. Then, I prompted the idea in AI until I got results that matched the idea. Finally, I spent time refining the details of the artwork using Procreate, a digital illustration software.
What medium(s) were used to create the artwork?
The primary tools utilized in the creation of this artwork were the art forms of poetry and AI, specifically the AI program Midjourney, as well as the digital art software Procreate.
What were your initial thoughts and feelings about having your art displayed in Times Square?
My initial thoughts and feelings about being accepted and having my art showcased in Times Square felt like a dream come true. I could hardly believe that my artwork was being featured in one of the most iconic and recognizable locations in the world. It was a huge milestone in my career as an artist, and I was filled with excitement and anticipation about the opportunities that would come my way.
After my showcase in April, I received a lot of positive feedback from people who had seen my work in Times Square, which was incredibly encouraging. The exposure also opened doors for me to participate in other exhibitions around the world, such as in Barcelona, Spain, and Tallinn, Estonia. Being able to showcase my art in different countries and to a diverse range of audiences has been an incredible experience.
I was especially proud to be featured in the Women in Tech Museum and Polygon Showcase #6 in Spatial.io, which are both dedicated to showcasing the work of talented women in the arts, emerging artists, and technology industries.
Overall, the experience has been surreal and transformative, and I am excited to see where my art will take me next.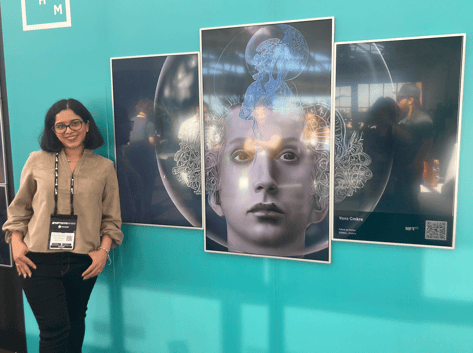 Vanessa with "Voices" at the NFT NYC Conference