A Colorful Campus
The University of Advancing Technology (UAT) campus is a colorful place, but we kick it up a notch during our tie-dye parties! Students let their creativity shine with one-of-a-kind designs. Some shirts are strategically made, while others take a more go-with-the-flow approach, all resulting is a great new addition to their closets.
Consisting of folding, twisting, pleating or crumpling, tie-dye creates a multitude of designs through binding the fabric with string or rubber bands and applying a rainbow array of dyes. Did you know that this type of fabric dying is considered resist dyeing? This is because the fabric is manipulated before the application of dye, enabling the folds to partially prevent the dye from fully coloring the fabric.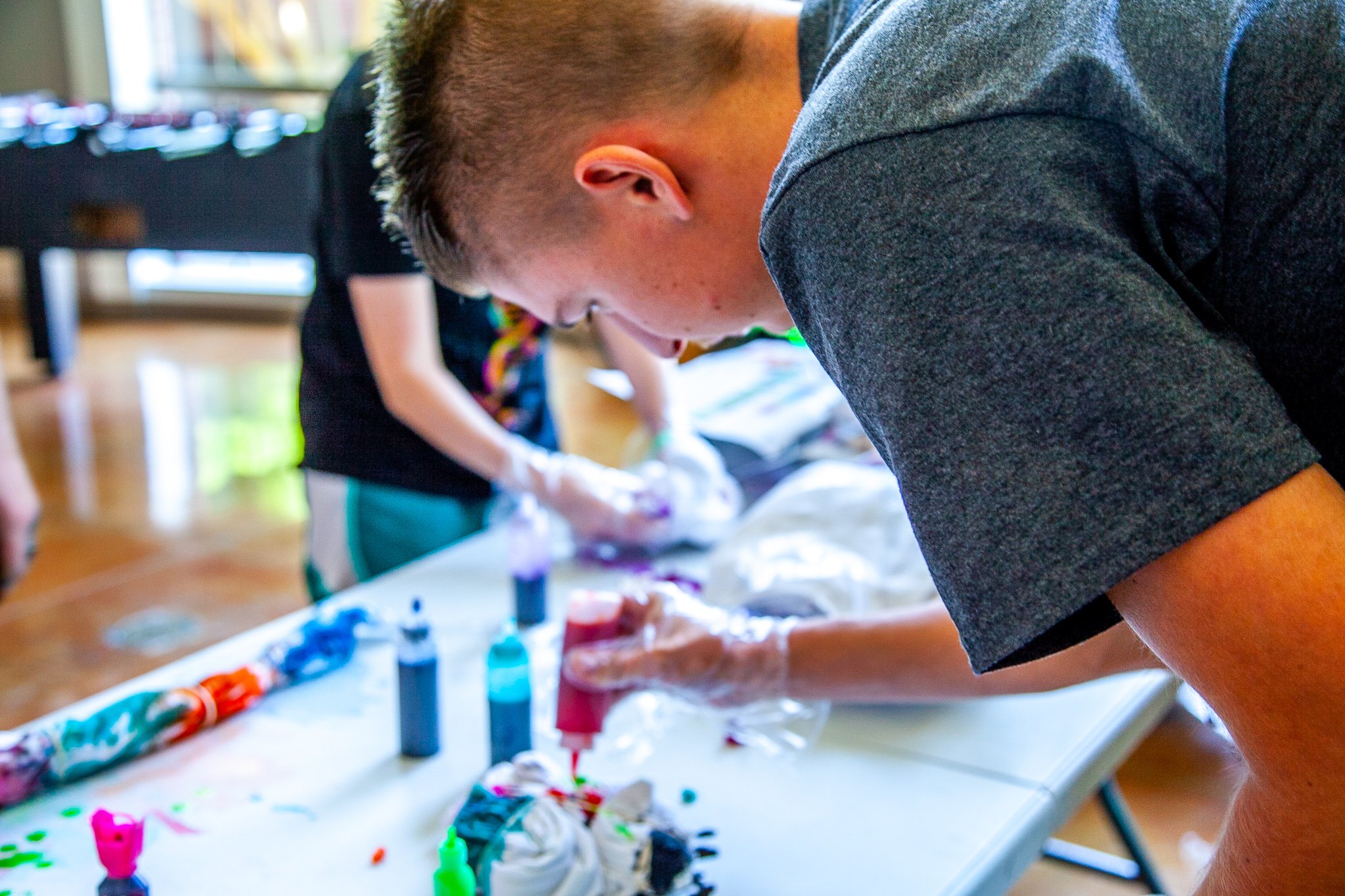 Are you wondering how students created all the different designs? Here are a few classic patterns to help get you started:
Bullseye

Beginning in the center, pinch the t-shirt and pull upwards to create a bullseye. Add the first rubber band a couple inches below where you're pinching and add additional rubber bands every few inches until you run out of fabric. Add different colors to each section.
Crumple

Starting at one end of the t-shirt, slowly and messily gather the fabric into a flat pancake shape. Add rubber bands to hold the crumple in place. Then, lightly apply color to both sides of the t-shirt, making sure to not add too much dye or risk losing the tie-dye texture.
Spiral

Start in the middle of the t-shirt and tightly twist the fabric into a spiral shape. Place rubber bands around the twisted fabric to create pie shapes of equal sizes. Add different dyes to each section of the shirt on both sides.
Sunburst
Starting with the shirt flat, pinch a small bit of fabric and pull up to create a cone shape. Place a rubber band around the cone shape about an inch down from the center of the cone. Repeat this to create as many sunbursts as you like. Add different dyes to the shirt.
But remember, part of the fun with tie-dying is experimenting with colors and patterns. Go a little crazy, add more rubber bands, fold your shirt in a wild way, and mix colors together!