At UAT, our students not only stay ahead of the trends—sometimes they're one of the firsts to it!
Seven years ago, our very first Digital Maker & Fabrication graduate created a mind controlled robotic arm. Today, we read about this "new" trend on DigitalTrends.com:
Man uses brain-controlled prosthetic robot arms to eat a Twinkie.
Yeah, it's a little petty, but we feel the need to point out page 66, in UAT's Behind the Bits magazine, published in—2014: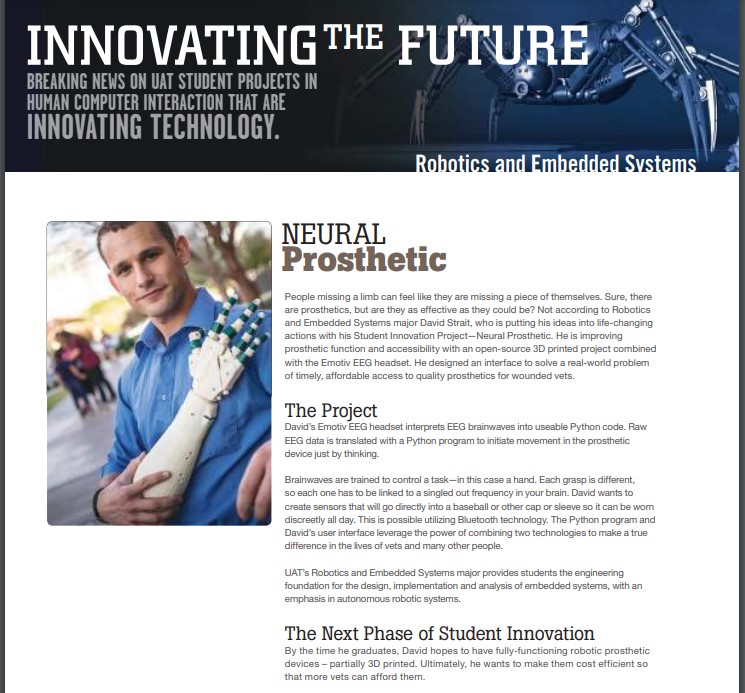 copy of page 66, Behind the Bits article
Former UAT student, military veteran, and alumni David Strait, worked on a neural prosthetic for his Student Innovation Project, which is UAT's equivalent of a master's thesis, and the leading project in a student's portfolio. His goal was to improve prosthetic function and accessibility for wounded vets with an open-source 3D printed hand, combined with the Emotiv EEG headset.
The headset interpreted EEG brainwaves into useable Python code, and raw EEG data was then translated with a Python program to initiate movement in the prosthetic device, so in layman's terms, you can move the robotic hand with your thoughts!
David's project is just one example of how UAT students are quietly creating ahead of their time, with technology that puts them ahead of the curve. In fact, that's the vision of UAT, to lead higher education by re-imagining the future of learning, intellectual property and talent cultivation to accelerate Arizona and national tech-entrepreneurship.
Find out about our technology degrees, synchronic learning, and tech-filled campus on UAT's website.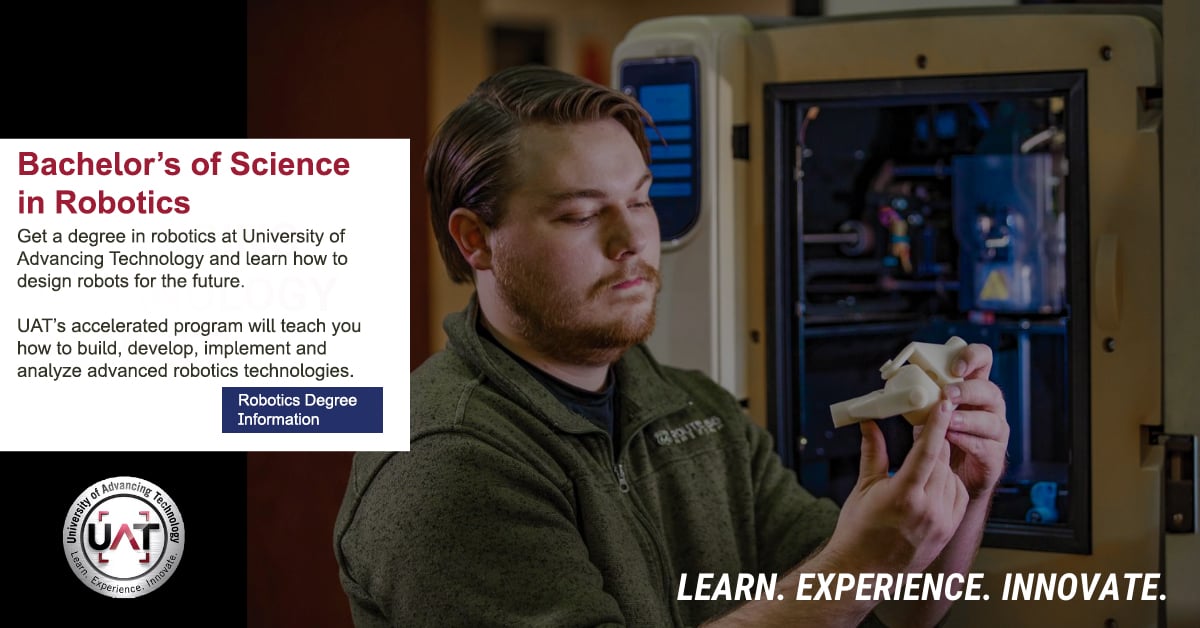 Interested in robotics?
At UAT, students will learn to optimize robotics technology using digital hardware design, software programming, and digital and analog circuit design analysis. Students will apply knowledge of transducers, actuators, and advanced software development to design, engineer, and analyze advanced robotics technology and embedded systems. Learn more at about UAT's Robotics and Embedded Systems major.