CAD Institute to UAT - A Time of Transformation
A long, long time ago... in 1983, the same year the Internet was born, in a place not so far away (Phoenix, Arizona), Dominic and Ann Pistillo founded the CAD Institute, which we now know today as University of Advancing Technology (UAT). Before the University (UAT) was one of the nation's best rising technology-exclusive institutions, it started as a small class of ten people. It didn't take long for the CAD Institute to tactfully expand it into an official University. Today, while UAT remains an elite intimate private college, it has significantly grown its student body as it continues to pioneer advancing technology education.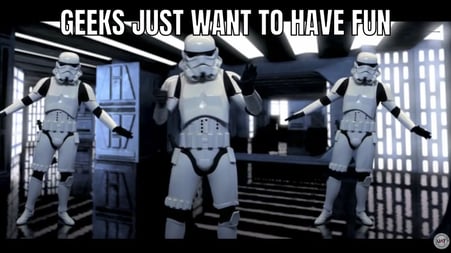 A UAT Digital Video Production: "Bohemian Rapsody: Star Wars Edition"
"Turn Around" To 1983
If you bring your nostalgia back to the year when Motorola released the first cellular phone, that's when the Pistillos opened CAD Institute, a highly acclaimed computer-aided design training facility. The Institute was a place for engineering and architect students to receive professional technology development to help them advance in their careers. And, unlike what Bonnie Tyler sings in her 1983 hit, "Total Eclipse of the Heart", it did not fall apart.
Marla Gerome, a Business Administrator who has held several positions throughout her time with UAT, remembers the rapid growth of CAD Institute from the beginning. "It was always packed... We were out of space quickly," she stated.
CAD Institute's first campus had been running classes from 4:30am–12:30am the following day to keep up with the local demand for emerging technology education. "You would barely shut the door for the day and someone was already there to open it again. We would fight to get there first just to get a parking space, Marla shared.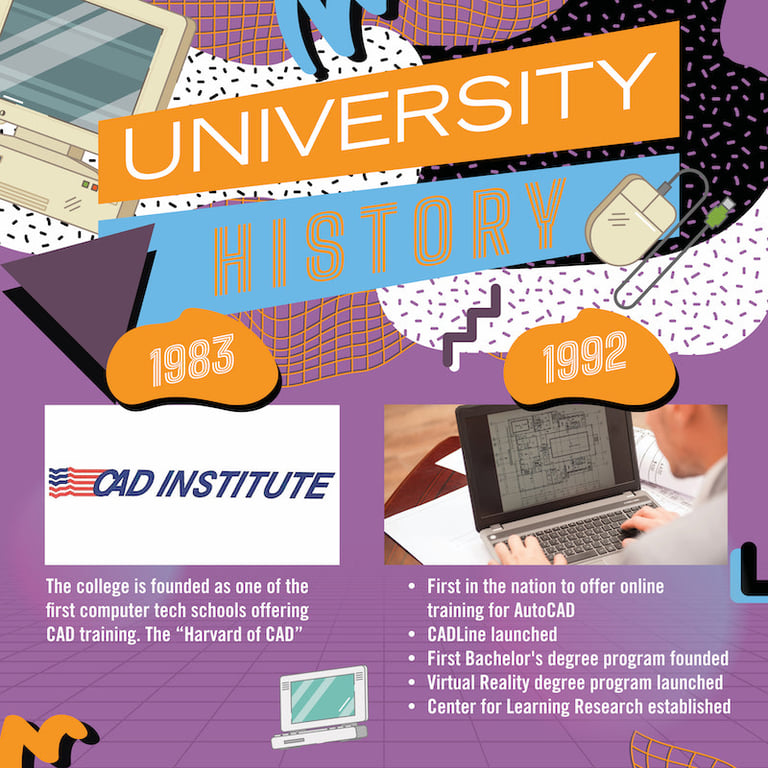 In 1987, CAD Institute was accredited by the Accrediting Council for Continuing Education and Training (ACCET). The ACCET is continuously recognized by the U.S. Department of Education as a reliable accreditation council for education. This accreditation was at the diploma and occupational associate's level, meaning it was meant for people ready to work who needed more training and certificates.
Marla recalled, "I remember our first accreditation visit, they couldn't get enough of us... It was our first time doing financial aid and other things, you know. It was nerve-wracking... When we got our accreditation, it was a big deal!"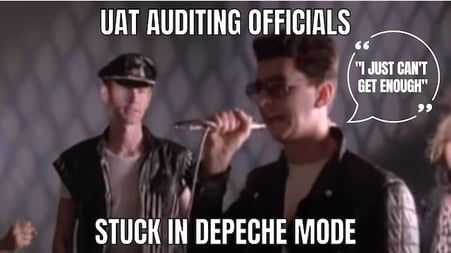 photo: Depeche Mode
Nobody Puts CAD in the Corner
Nearing the end of the 80's, when big hair, shoulder pads and parachute pants were famous in fashion, the CAD Institute was growing in popularity. However, there were still concerns regarding the number of businesses that were reluctant to integrate technology and technology training into their process.
With the success of CAD Institute, the Pistillos recognized the opportunity to offer a more advanced resource for working professionals. They also wanted to reach those passionate about technology earlier in their life. That's when the idea for University of Advancing Computer Technology was born and began seeking a complimentary accreditation.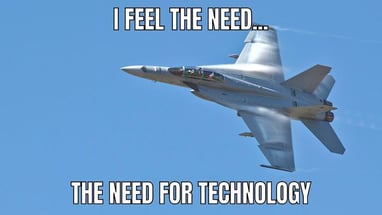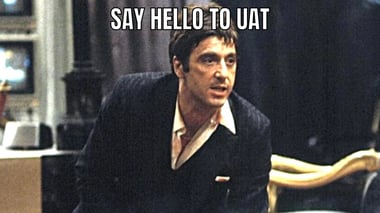 Photos: pexels.com and eightieskids.com
In 1990, the same year NASA sent the Hubble telescope to orbit, CAD Institute officially converted accreditation to Accrediting Council for Independent Colleges and Schools (ACICS) and was transitioned into the University of Advancing Computer Technology. "We went from granting certificates to degrees... calling on those to reapply for their degree after they had graduated," Marla stated.
In 1992, when Direct Loans began offering financial aid, Marla shared, "We [UAT] were sort of a test case for them...the Attorney General even audited us. They were here for weeks, one person even sitting in my office the whole time... they couldn't find anything wrong. We became friends with the inspectors," she said.
Taking Lessons of the Past to Progress Into the Future
"If you don't stop and look around once in a while, you could miss it." — Ferris Bueller in Ferris Bueller's Day Off
At the start of the 90's, CAD Institute took a note from its past success and made further advances in technology education. It continued to unveil specialization opportunities in new emerging disciplines, such as virtual reality.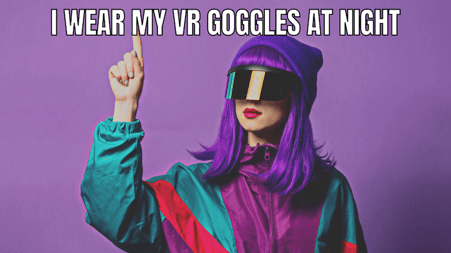 Photos: pexels.com
In 1992, CAD Institute also founded the Computer Reality Center that specialized in conducting research within the computer graphics industry with priority on the virtual reality field. Since computers were becoming mainstream for many to own at home, UAT was also the first in the nation to adopt the first online-packaged training for AutoCAD through CADLine, also founded by Dominic and Ann Pistillo.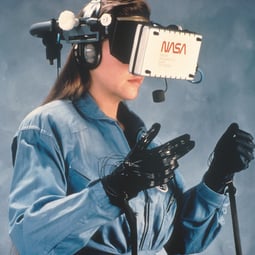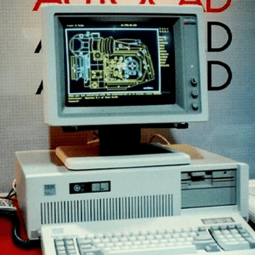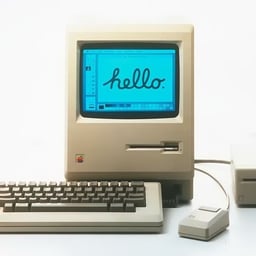 Technology of the time photos: 1990 Virtual Reality from NASA (left), 1985 AutoCAD software from Scan2CAD (middle), and the 1984 Apple Macintosh computer from Computer History Museum (right).
Synchronic Learning at University of Advancing Technology
Mr. Pistillo knew that technology education needed to be tailored to both undergraduate and graduate students. Therefore, UAT established the Synchronic Learning model that provides the education framework to prepare tomorrow's innovators. As an integral part, SyncFlex™ allows students to learn virtually (live), online and on campus to maximize convenience while achieving the same level of educational and mentorship quality. It was a revolutionary learning model that has continued to be successful throughout the years, especially during the COVID-19 pandemic, when virtual accessibility became essential.
Synchronic Learning provides an education framework that prepares University of Advancing Technology graduates to become tomorrow's innovators.
Just like the Pistillos believed back in 1983, UAT continues to exercise its mission to integrate advancing technology and stay ahead of revolutionary technological discoveries. UAT understands the continuing need for technological advancements, and how to offer the tools and education students need to make the world around us a better place. UAT is an immersive experience for technologists, geeks, artists, creators, mavens and more who believe they can change the world through innovation.
UAT offers degree programs that result in associate, bachelor's and master's degrees and post-baccalaureate certificates for those who desire to innovate. If you're interested in learning more about UAT, check out our website or request information.
Well, I've had the time of my life recapping the nostalgic times from the humble beginnings of UAT. Stay tuned for our next posts covering the next decades!
"Hasta la vista, baby." — Terminator