Professor Craig Belanger began at the University of Advancing Technology (UAT) in November 2004 as a copywriter but quickly found more ways to use his skillset around campus. He made an impact on the Journal of Advancing Technology, a ten-issue journal published by UAT, and once he finished his master's degree, he was able to transition from the marketing side of UAT to a full time member of faculty. Since making that transition Professor Belanger has become an irreplaceable part of UAT's faculty eventually earning his current title of Regent, General Education & Core.
Having been with UAT for almost 20 years Professor Belanger has seen his fair share of UAT milestones. While the building of the dorms in 2007 stands out, UAT being designated by the NSA (National Security Agency) as a Center of Academic Excellence was a big highlight for Professor Belanger. He said "I seem to recall the year that we got designated in 2007, but we'd been working on that like our accreditation with the HLC for a couple years beforehand. I think one of the very first things that I wrote here as a copywriter was the press release related to the Centers for Academic Excellence designation."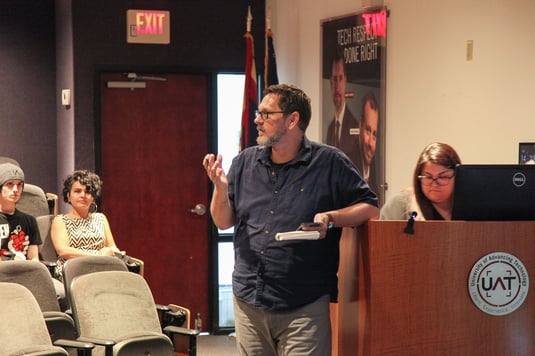 Professor Belanger talking to students in the UAT Theater
Another big moment for Professor Belanger was the transition to fully online classes during the beginning of the COVID-19 pandemic. While UAT had been perfecting the Synchronic Learning model, when COVID hit it in March of 2020 UAT was pushed to put that learning model to the test. Professor Belanger recalled "Probably the biggest thing that I've seen change over my teaching years is the move using Synchronic during COVID. When COVID hit and we went on spring break and then didn't come back for six months, much longer in a lot of other cases. It was an interesting week because when spring break started, there was no indication that eight days later we wouldn't be remaining on campus. So when we made that switch, there were some announcements made saying we probably won't be on campus for a couple weeks, without knowing what was ahead of us. Prior to that, I'd been a little annoyed that I had to get used to all this, these new tools, but then it became very evident that they were the only things that were keeping us in close communication with the students. The experience was seamless because everyone was very comfortable with the tools because we had already been using them for some time."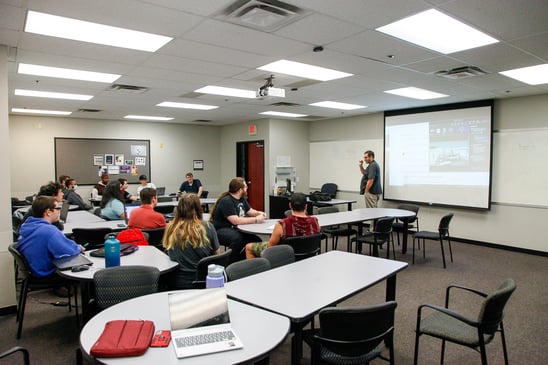 Professor Belanger lecturing to one of his classes
Over the last 18 years Professor Belanger has not only become a crucial part of UAT faculty, but he has made an impact on the UAT family and community. Professor Belanger explained the impact UAT has had on him. "UAT has given me a family. I saw this ad that looked like it was a promising job, that I could continue writing and editing and do something interesting. So I answered it, and a couple of weeks later I showed up here on my very first day and met Alan and a few other weirdos and it's just grown into a family around me. I didn't know that it was happening, but here I am 18 years later and when I walk onto this campus it's a second home, and it's been my second home for 18 years. It's hard to describe that other than it's just a massive part of my life."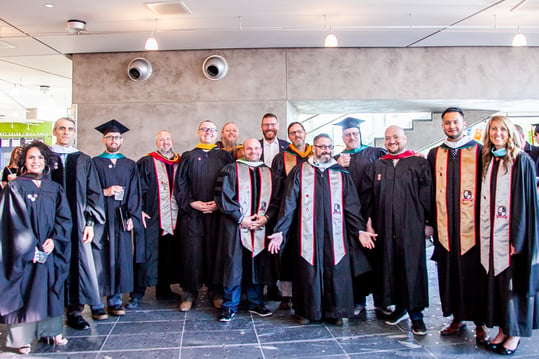 Professor Belanger with part of the UAT Family at Commencement 2021
Click here to read more on UAT through the years and the history of UAT.