For students at the University of Advancing Technology (UAT), completing their Student Innovation Project (SIP) is the culmination of their hard work and dedication to their degree program. These projects are not only exciting for the students, but also to their professors who witness their progression and development.
One such SIP is Mark Montenieri's Updatable Interior Mapping project. According to Professor Hue Henry, "It is a brilliant use of a cutting-edge technology to solve the problem of how to provide one of the most heavily-requested features in the MMORPG genre."
Professor Henry continued, "The use of cubemaps as a way to display interior spaces is a relatively new innovation in the game industry. Mark's project takes that to the next level by applying it to user-created spaces, such a player housing in a massively multiplayer online role-playing game (MMORPG). However, these features are often prohibitively expensive. Mark's innovation makes it possible for many thousands, even millions of players to decorate and display their in-game homes in a way that is feasible with current MMO technologies and bandwidth limitations."
Read on to learn about how Mark arrived at the idea and his future plans.
What is the purpose of your SIP and your claim to innovation?
My SIP aims to make in-game cities and towns appear more alive by offering updatable images instead of static pictures on storefront windows and doorways. It also benefits densely packed player housing, such as an apartment building, by removing the actual housing to another part of the map and only showing recently updated images overlaid on windows and open doorways. Players would approach the doorways and enter the associated room or apartment via a portal method, which teleports them to the actual room, far away. This helps game performance by only rendering the room for players inside it and not to everyone who walks by. Anyone who's played a multiplayer game and entered an extremely busy arena or town has experienced lag from the game having to render the space for every player simultaneously and my SIP aims to improve that aspect of multiplayer gaming.
Watch his final presentation:
What inspired your project?
My wife and I used to play a game called Ultima Online (late 90s?), and we loved the player housing feature. As the game fell out of favor and changed to the point it was unrecognizable, we moved on, looking for a new game to play that still offered great player housing. Here we are, 20 years later and still haven't found what we're looking for, so I wanted to come up with an idea that would allow game-makers to offer housing while keeping lag to a minimum, since the number of people playing online games has skyrocketed.
What part of your SIP are you most proud of?
The fact that this has never been done at scale in an MMO, at least to my knowledge, is what I'm most proud of and hope it's something that may be incorporated into a shipping game one day.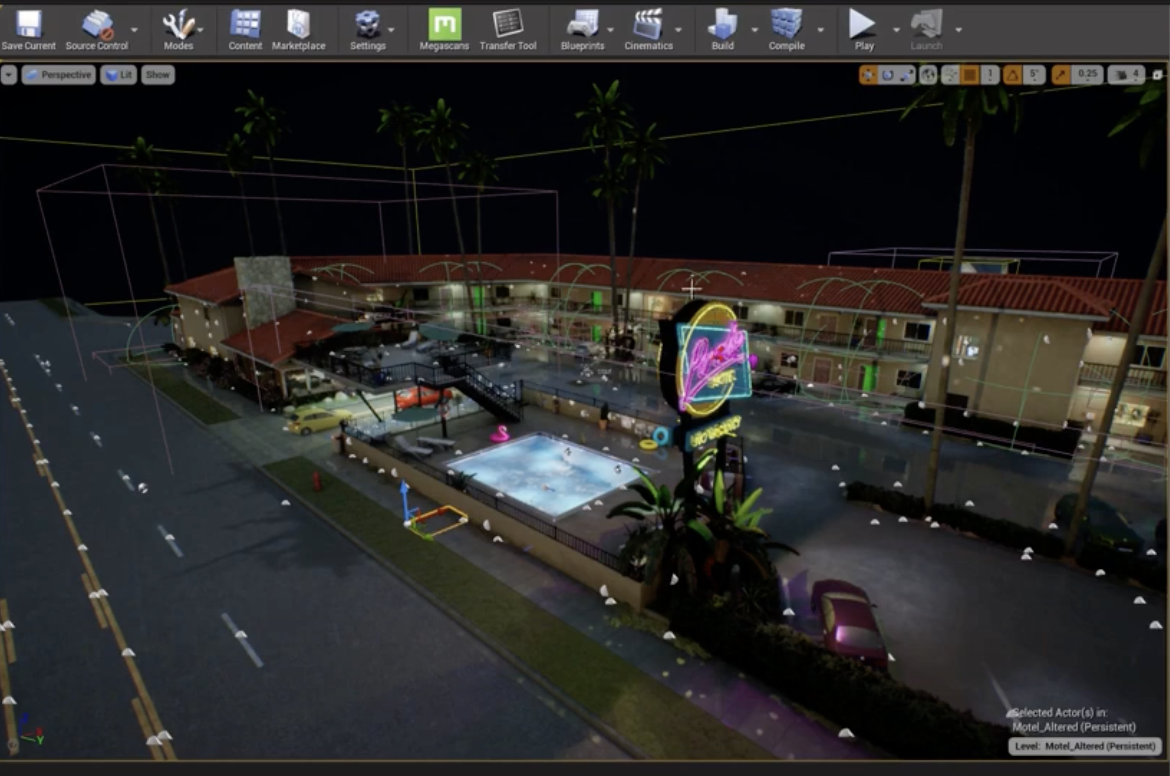 What parts have been difficult and how did you solve the problems?
I suppose the most difficult part is that my SIP uses the Unreal Engine. Since I started using/learning Unreal in 2017, I've been what I call a 'Hobby-level programmer', never rising to the point where I felt comfortable calling myself a game programmer. Learning Unreal Engine is difficult because it's so complex, but being a student at UAT and having used the engine in multiple classes to create complete or near-complete games has helped my confidence and increased my proficiency quite a bit.
What are your future plans for the project?
For now, I'll be sitting on the idea while I work on a larger project but may incorporate it as a feature before I ship. If it turns out that it's not a good fit, I may create my own game that utilizes my SIP concept.
What are your plans after graduation?
Ah, the million-dollar question. Honestly, I'm not sure where my path leads, but having degree in hand should surely open doors previously unavailable to me. I look forward to exploring options and opportunities once my journey at UAT is complete.
Mark is graduating with his Bachelor Degree in Game Programming in Fall 2022. We're excited to see where he lands and his continued innovation after he leaves UAT!
---
Considering a career in gaming? Check out the following for more information about UAT gaming degrees.