On May 2nd, President Trump signed the Executive Order on America's Cybersecurity Workforce, recognizing the country's information security professionals as a "strategic asset that protects the American people, the homeland, and the American way of life" and recognizing the need to enhance the mobility and professional development of the cyber workforce across the United States.
"With the right kinds of protections and the correct ability to respond when things do go wrong, a strong cybersecurity workforce reduces risk, fear and uncertainty in the world allowing for better global interaction and business expansion," said Dr. Greg, Miles, University of Advancing Technology Cybersecurity Program Champion and Peak Security Principal.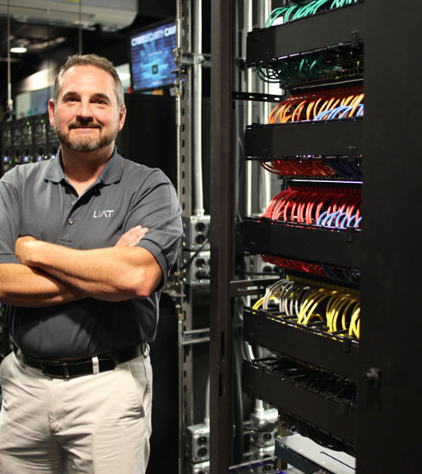 UAT Cybersecurity Professor Dr. Greg Miles
The cybersecurity workforce protects the critical infrastructure of worldwide assets in important industries such as power, water, transportation and defense. Furthermore, a strong economy occurs when citizens feel like things are moving in the right direction. "If the organizations that are protecting our critical data and access are successful in doing that, there is a better sense of peace and prosperity," Dr. Miles said.
To strengthen the federal cybersecurity workforce, the Executive Order tasks the Secretary of Homeland Security, the Director of the Office of Management and Budget (OMB) and the Director of the Office of Personnel Management (OPM) to establish a cybersecurity rotational assignment program to "serve as a mechanism for knowledge transfer and a development program for cybersecurity practitioners."
"The key for success of this program will be a well-defined set of criteria and training that personnel passing through the program will experience, plus resources to continue to develop after the individuals have gone back to their own agencies," Dr. Miles said. Since many organizations rely on contract employees to support their cyber programs, DHS will also have to consider how contract personnel will be integrated in the program.
The program will use the National Initiative for Cybersecurity Education Cybersecurity Workforce Framework (NICE Framework) as the basis for cyber skill requirements of program participants. To ensure consistency, the program will also "incorporate the NICE Framework lexicon and taxonomy into workforce knowledge and skill requirements used in contracts for information technology and cybersecurity services."
"The NICE Framework is a 'nice' way to visualize an educational program that supports the goal of creating a skilled cybersecurity workforce," Dr. Miles said. "UAT's goals go beyond those requirements, by producing superior graduates that have shown demonstrated mastery, innovation and career readiness," he added.
UAT cybersecurity faculty and curriculum developers map course content to match the NSA/DHS Center of Academic Excellence – Cyber Defense (CAE-CD) and NICE Framework requirements to show support and alignment with federal and industry needs and standards.
Do you want to join America's cybersecurity workforce? Check out our cyber degree programs in Network Security, Network Engineering or Technology Forensics.