What to Consider Before Earning a Network Security Degree
Threats to network security only grow as technology advances. While network security professionals are staying up to date on the latest cyber threats, cybercriminals are working on new ways to stump professionals. This means that the need for network security professionals is expanding daily. Not only are network security professionals needed to create the most secure network possible, but they must also be prepared to counterattack any unauthorized users.
A degree in Network Security could help you protect other people's information in a world where it's normal to entrust data to online networks. University of Advancing Technology (UAT) explains, "Network security utilizes proactive techniques, including defense-in-depth and layered security, to mitigate or eliminate vulnerabilities in information systems and to protect against potential exploitation."
This means that network security is important for corporations that store company and personal data online. It's more efficient to store information digitally, but digital data can be breached, which is why network security is so important. It puts up cyber walls to impede cyber criminals from accessing people's information.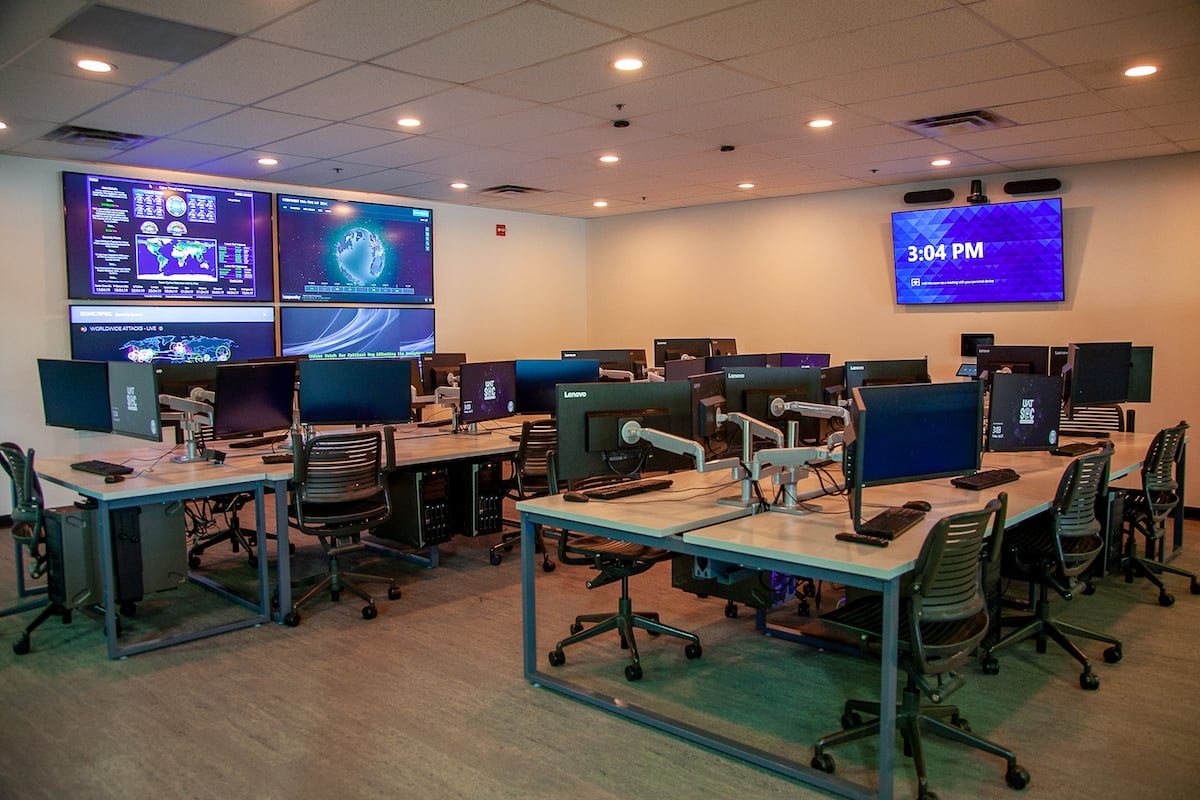 UAT's Security Operations Center (SOC) where various Cyber Security courses are held and students can utilize it as a workspace.
Here are six questions you may be wondering as you decide whether or not a Network Security degree is right for you.
1. What is a Network Security Degree?
A degree in Network Security is a specific Bachelor of Science degree within the Cyber Security curriculum that prepares you for a career in the network and information security field. At UAT, this degree offers the student real world experience and invaluable problem-solving skills training.
To appropriately prepare students for the ever-growing world of cyber security, this degree is one of UAT's more rigorous and sought after degree options. Fortunately, careers in network security can also be lucrative for those with a degree.
2. Is a Network Security Degree Worth It?
An undergraduate degree in Network Security from UAT offers graduates the opportunity for a career in a potentially lucrative field that is exponentially growing in demand for cyber security talent. There are several career opportunities to choose from, making this degree versatile and consistently necessary. Currently on LinkedIn in 2022, there are over 170,000 jobs listed for network security in the United States. So, a degree in Network Security is worth it in the sense of opportunity and potential growth outlook.
At UAT, courses are offered year-round. Therefore, full-time students can graduate in 2.8 years. You can also earn your master's degree in Cyber Security in less time. A master's degree in Cyber Security will potentially set you up for better job opportunities within leadership and management careers, and potentially a higher salary. While a master's degree is not required for a successful career in network security, it can provide even more opportunities for graduates.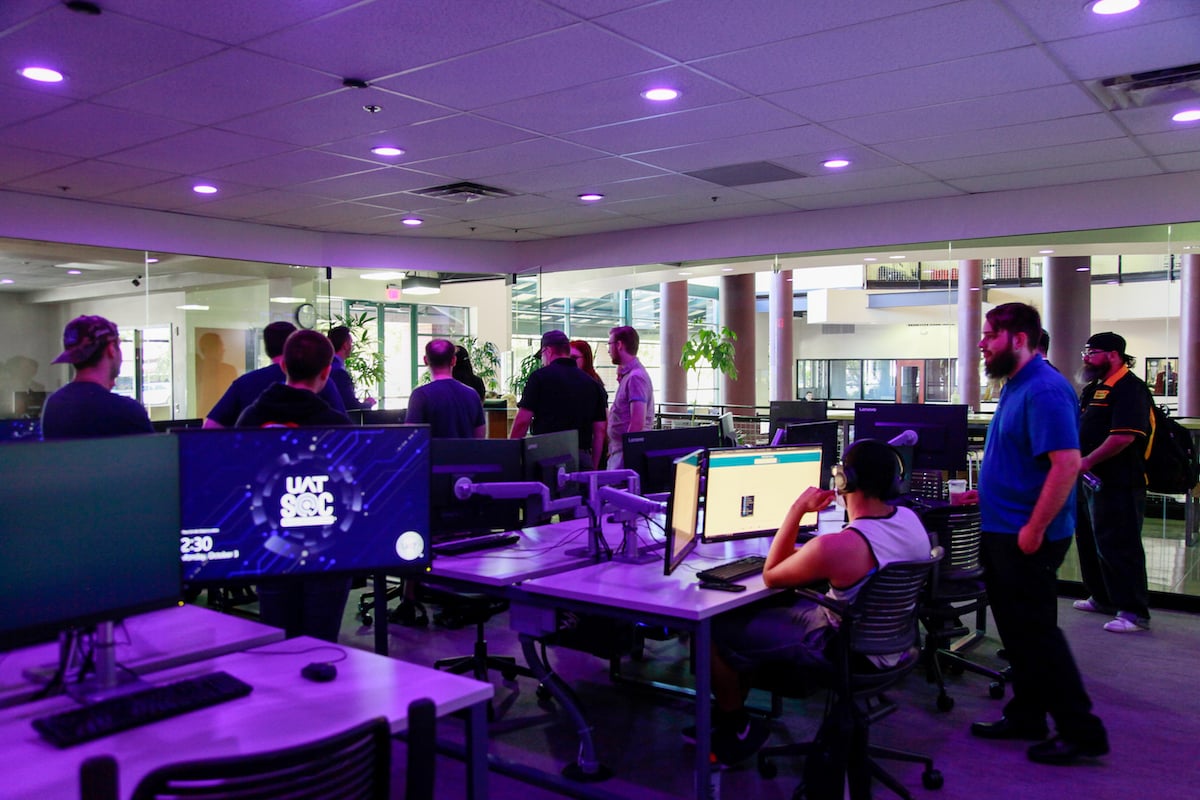 UAT students and professors meeting in the Security Operations Center.
3

. Does a Network Security Career Path Have Job Security?
Everyone providing online data needs network security. In 2022, cyber threats are more prevalent than ever, and they will only continue to grow. Strong network security can protect data from being breached. Data can come from many different places, and most of the time, releasing it is unintentional. Network security protects even the most unintentional actions from being exploited. Strong network security professionals can also fight back against these attacks, should they occur. The goal is prevention, but the job is protection. A degree in network security gives a graduate both of these skills.
4. Do I Need a Network Security Degree to Get a Job in Network Security?
While it is possible to earn a career in network security without a degree, your chances of gaining the most up-to-date and valuable information are severally threatened. You are also less likely to receive the higher salaries that network security professionals with a degree receive. Thanks to the internet, there's a wealth of free information out there to take advantage of, but that information will only take someone so far. You also run the risk of receiving inaccurate information if it's from an outdated or non-accredited source. A degree is the most surefire way to get the skills, mentorships and connections you need in order to achieve the career you want.
Industry expert and UAT's Program Chair of Cyber Security, Aaron Jones says, "The Network Security degree is valuable because it functions as the litmus test necessary to enter the job market."
Professor Jones goes on to explain, "It is common for influencers and even news organizations to make wild claims about how technology is an open career path that requires little or no education. The truth is that many jobs do and will continue to require a degree to enter, and some of the most lucrative career paths will continue to require higher education for admittance."
The job market for cyber and network security is extremely competitive as everyone wants to have the best protection for their private data. A degree in Network Security will give a graduate the chance to properly compete for a network security career of their choosing.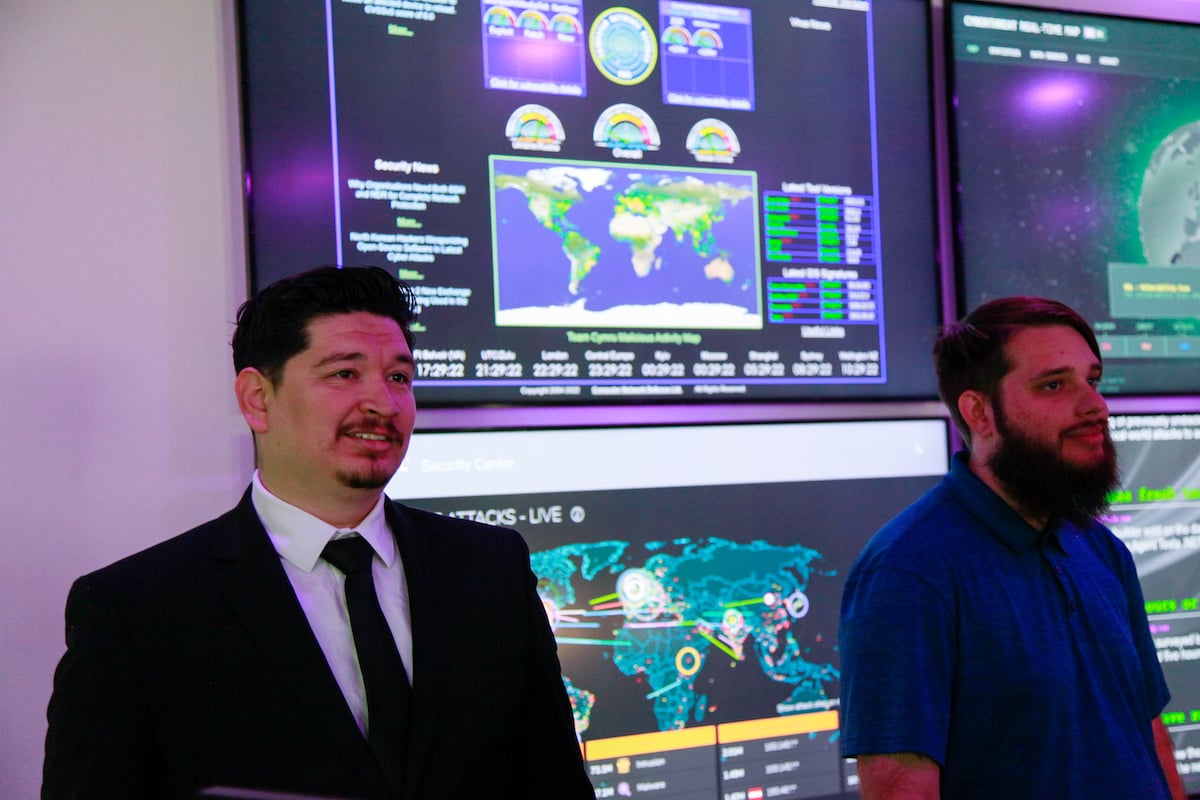 UAT Cyber Security Professors, Aaron Rodriguez and Jeremy Bunce observing students meeting in the UAT Security Operations Center.
5. Career Outlook for Network Security?
According to the U.S. Bureau of Labor Statistics, the job outlook for information security in 2022 is projected to be around 33%. The average job outlook for most careers is only 8%, making network security one of the fastest-growing job markets.
Every time a company is created, they need some level of network security to protect data. Whether it's a customer's data, their own, or important financial information, it's invaluable to make sure it's protected.
6. How to Choose a University with a Network Security Degree
If you're asking yourself where to earn a Network Security degree, you've come to the right place!
UAT is accredited by the Higher Learning Commission, an institutional accreditation agency recognized by the U.S. Department of Education.
Also, University of Advancing Technology is a designated Center of Academic Excellence - Cyber Defense Education (CAE-CDE) institution through the National Information Assurance Education Training Program (NIETP). Sponsored by the National Security Agency (NSA) and the Department of Homeland Security (DHS), NIETP operates under national authority as the national manager for cyber defense education and training relating to national security systems.
This means that the most valuable and up-to-date technology and teaching methods are provided to UAT Network Security degree students. Students also get the opportunity to synergize their work and apply it, so they go into their chosen careers with experience already under their belt. UAT places a high value on demonstrated mastery and workplace readiness throughout its curriculum to ensure graduates are prepared for their technology careers.
If you think a Network Security degree sounds exciting, or you simply want to know more about it, request information or apply today.