When students leave UAT, they typically aren't heading out to search for an entry-level opportunity. Our grads have invested their time here creating and innovating (on their own and through internships) to such a degree that a great job or entrepreneurship venture is a natural next step.
Such is true for Randall Tatum, UAT alumni and Founder & CEO of Titanomachy Studios, LLC. Randall is an excellent example of how our students take what they learn and really go for it in the "real world". With a Bachelor's of Art Game Design as well as a Master of Science in Production Management, Randall is not only achieving his dream, he is also helping others by advocating for independent developers in the game industry.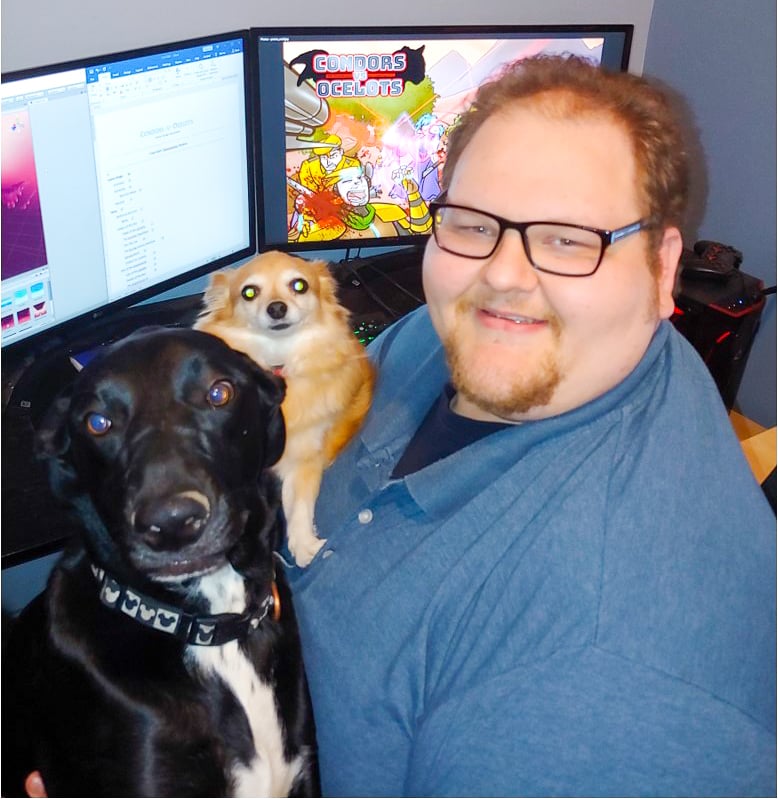 Randall Tatum, CEO of Titanomachy Studios
We caught up with Randall to ask what it's like owning his gaming company, plus to find out why he feels getting an education in an often do-it-yourself field helped him get to where he is now.
Tell me about Titanomachy Studios.
Titanomachy Studios is a fully remote indie studio based out of Avondale, AZ and Stroudsburg, PA but with a team from around the globe. We are made up of people from all walks of life and backgrounds from Canadian pixel artists to English writers to UAT alumni programmers. We focus on creating game development. Our focuses are creating our own titles, like the upcoming SRPG, Condors Vs Ocelots, and Indie Publishing. We strive to make games that are fun and memorable experiences for everyone.
Who are the different people/positions who make up the
Titanomachy Studios team
?
Titanomachy Studios has a very diverse team from all walks of life and experiences. From the top: Ben S. – Web Developer; Tyler S. – Programming Lead; Tyler T. – Programming; Garrett H. – Programming; Merlin C. – Programming; Hunter D. – Programming; Michael M. – Art Lead; Alethea H. – Artist; Peter G. – Artist; Yoorina S. – Artist; Ibrahim A. – Writer; Max S. – Assoc. Producer/Game Design; Jeremiah B. – Level Design; Colt B. – Level Design; Box Monkey Studios – Audio and SFX; Wayne D. – Finance/Legal; Randall T. – Project Lead/Producer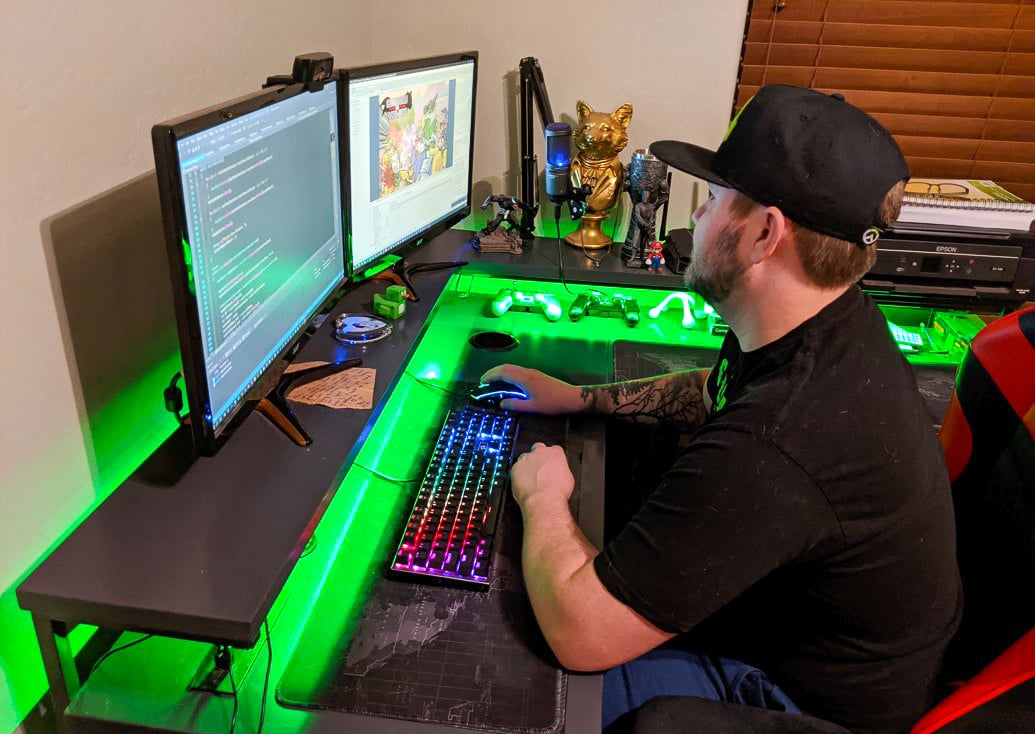 Hunter Derrick, Programmer at Titanomachy Studios
How did your education get you started on the path to your own company?
My education has simply enabled me to not only think in new ways, but also to give me a baseline on how things should or should not go based on my resources and effort. I used my degree to work in the field, but it wasn't until I pursued my Master's at UAT that I began to think about disrupting markets and being an entrepreneur and really just making my own path instead of following others. If it was not for the things I learned in my education, I would have been sorely prepared and educated on how to start and operate a business.
From your personal experience, why is having an education in tech important?
I think that, an education is important for many reasons. Obviously the technical instruction in your desired field is possible, but more than that, learning new ways to think about and solve problems and situations has helped me immensely. Videogames, like any other technical field, is just that--technical. Having an education not only facilitates learning new ways of thinking, but it also instructs on at the very least the basics, so that doing your own skill polishing and "leveling up" is possible.
Specifically, why is having a degree important in the game industry?
A degree in the game industry is important for the same reasons a degree in the medical field is necessary. Not to say that making video games is on par with saving lives; however, I certainly wouldn't hire a career plumber to be my lead game designer when his education is in plumbing. It applies here. When I interview people to work with us at Titanomachy, a degree doesn't get you the job. Merit does, however, when two applicants are equal, the game degree wins out in most cases. I know that that person is instructed and SHOULD know what I'm saying when I say it.
If you have a dream, follow it. No one is waiting for you to pursue them so follow your heart and use your head to navigate. Otherwise, stay organized. School is hard work and preparedness cannot be underrated.
What advice do you have for graduating students looking to start their careers?
Your portfolio is the single most useful thing you can offer any place you apply to. Make it big, make it varied and make it good.
What is one of the most exciting moments of your career thus far?
Five years ago, we released our first ever title, Stacker. It was an abysmal mess of spaghetti code and disorganization. It was also the proudest moment of my career, because I had a dream, I took the steps, and I achieved it. That feeling is irreplaceable.
I had a dream, I took the steps, and I achieved it. That feeling is irreplaceable.
How has your experience been operating your business fully remote?
We started out remote, if for no other reason than to keep our overhead costs down. There are a lot of learning curves and communication barriers that are easy to forget, but critical issues arise from them often. There was a learning curve that I think would give most people a shiver or two, but after 5 years, when Covid came around, we were ready to stay safe, healthy and developing.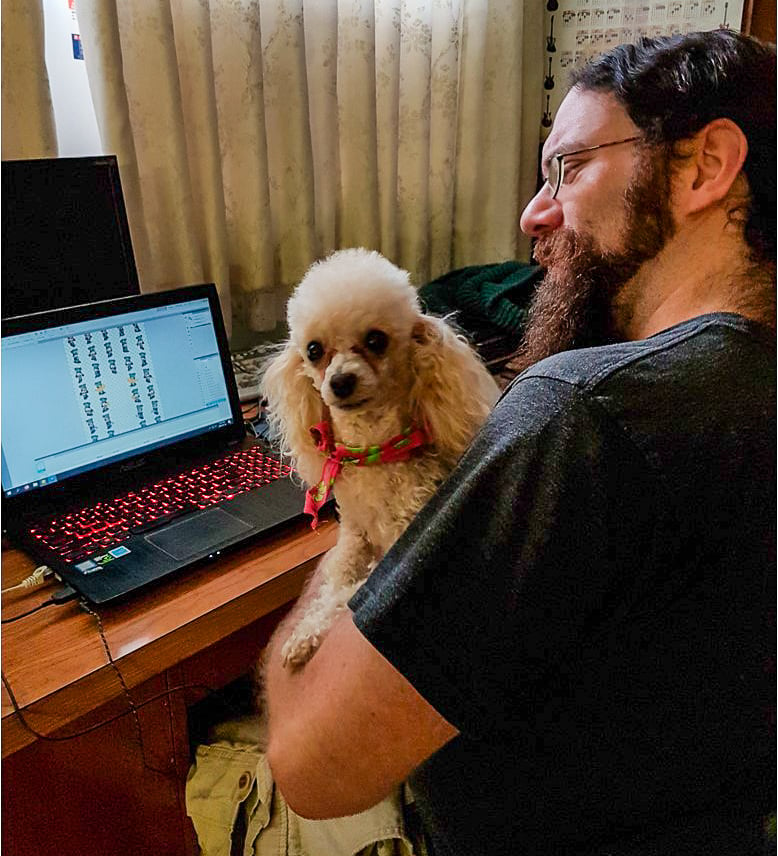 Michael Monchamp, ORU lead sprite artist at Titanomachy Studios
What is currently your favorite game?
​I am biased here because I think Condors Vs Ocelots is my favorite, but I have been enjoying Terraria, Legends of Runeterra, and Valorant.
What do you look for in games?
I think what I look for the most in games is a compelling story and interesting mechanics. I come for the narrative, but stay for the awesome gameplay.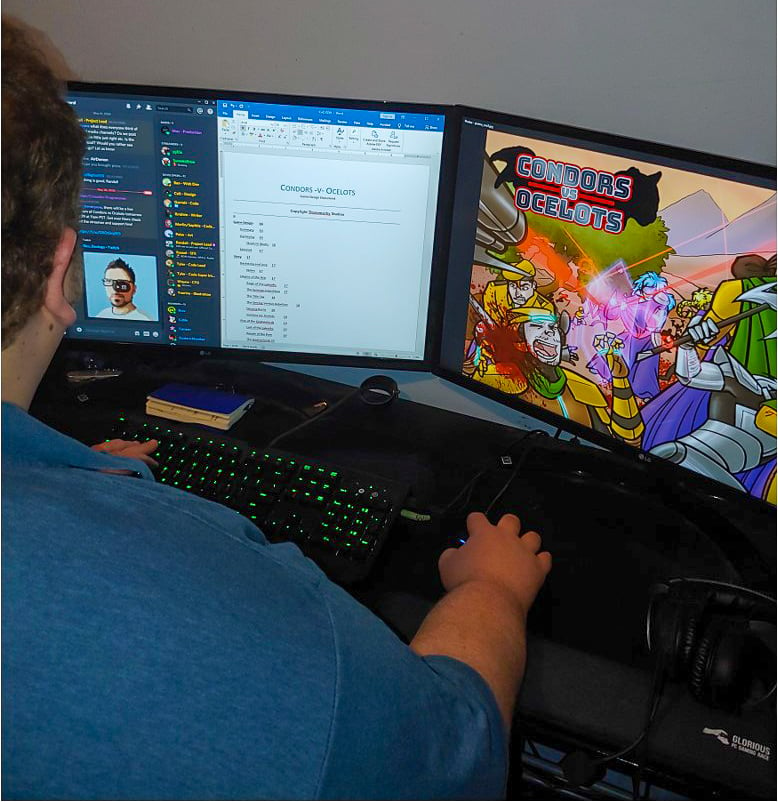 To find out more about Randall and Titanomachy Studios, visit their Facebook and Twitter.
Thank you Randall for your inspirational words! If you are a student or alumi and would like to share more about your experience, comment and let us know!
---
Want to know more about our Game Studies Degrees? Email admissions@uat.edu to get started!