University of Advancing Technology (UAT) prides itself on its ability to adapt to modern technology. In order to do this, the University (UAT) has had some integral changes throughout the years. We wanted to create a blog series that highlights our major milestones and finish up our decade recap covering the most recent years: 2013-2022.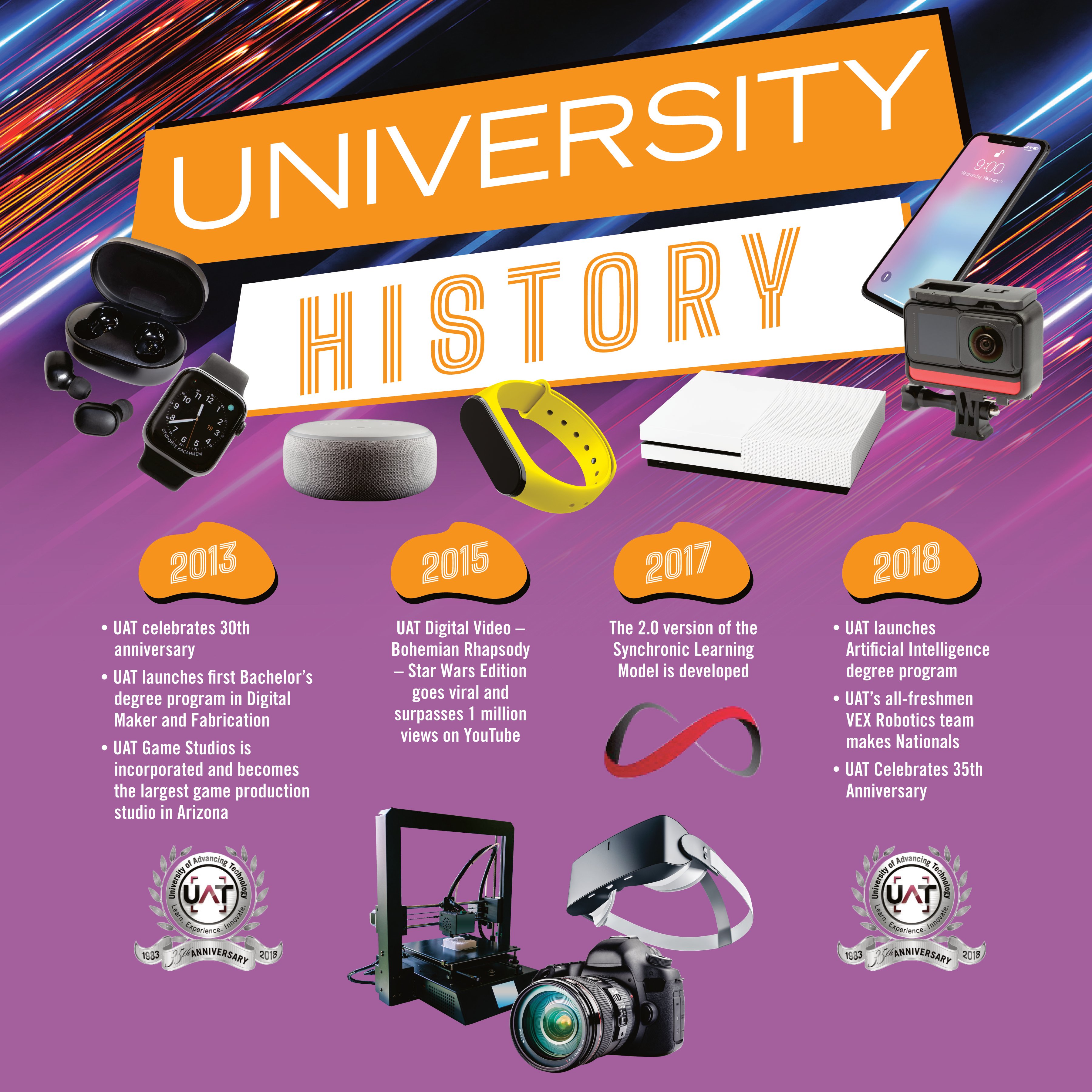 UAT Game Studios Gets Incorporated
2013 was a milestone year for University of Advancing Technology for many reasons. It was the university's 30th anniversary, and the year UAT launched its first bachelor's degree in Digital Maker and Fabrication. Students in this major practice taking design concepts and then modeling, designing, and building these objects using 3D design software. This was also the year UAT incorporated UAT Game Studios, which became the largest game production studio in Arizona. You can keep up with them on social media @UATGameStudios, Twitter, Facebook, and Instagram. This incorporation of the Game Studios was imperative during this time, as two of the most popular pieces of innovative technology that year were the Sony Playstation 4 and Microsoft Xbox One.
Professor Lynn Understiller with over 30 years of industry experience helped to launch UAT Game Studios explains "UAT Game Studios was a necessary addition to the game degree to fully prepare students for industry jobs, evidenced by the thousands of alumni who hold industry jobs today and projects such as COD, Halo, Avatar, and more. With the assistance of qualified partners over the years, UAT Game Studios has led students through the job process beginning each semester with the Game Job Fair where students are recruited onto Greenlighted team projects and take on owning and managing their teams on their own while working with professional outside stakeholders. UAT Studios has become one of the University's greatest assets and has been adopted by all degrees of study."
UAT Digital Video Goes Viral
In 2015, UAT had its hand in the viral video trend in classic UAT fashion, with a Bohemian Rhapsody remix based on Star Wars. Watch the video on YouTube: it includes original, Star Wars-themed lyrics for all six and a half minutes of the song. The video surpassed 1 million views and today has nearly 5 million views. Two UAT alumni, Stephen Panagiotis, Jamall Richards, and Professor Paul DeNigris wrote the lyrics for the video. This was the same year Silento's record-breaking single "Watch Me (Whip/Nae Nae)" was one of the most viral videos on YouTube if that gives you any sense of the competition UAT Digital Video was up against.
Synchronic Learning 2.0
UAT developed version 2.0 of its Synchronic Learning Model in 2017, just five years after its inception. Now referred to as SyncFlex, the model allows students to shift between being an on-campus student or an online student. It is designed to be extraordinarily modern in not requiring students to label themselves as a wholly on-campus or online student.
AI as We Know It
The 35th anniversary of UAT was celebrated in 2018 which was also the year the Artificial Intelligence degree was launched. The Artificial Intelligence degree covers the fundamentals of general and applied AI, including core programming languages and platforms used in computer science. This was at the peak of a controversial yet popular AI technology called Face Recognition which is now commonly used to unlock cellphones by scanning one's facial features. The same year, Hong Kong's Hanson Robotics humanoid robot, Sophia, made the mainstream news. Sophia is powered by Google and is still one of the most extraordinary displays of artificial intelligence.
UAT Takes on the World
UAT celebrated another accomplishment in 2018 when its all-freshman VEX Robotics team made nationals at the VEX Robotics World Championship (Worlds). This competition is recognized by the Guinness Book of World Records as the largest robotics competition in the world. This was the first year UAT entered the collegiate-level competition (VEX U), which made their trip to nationals all the more impressive. In the end, the team placed 23rd out of 43 teams. The competition is extremely difficult and involves two teams facing off at a time. Each team controls its robot for a little under two minutes. The robot earns the team points depending on how well it stacks cones, toggles flags, and parks. You can read more about UAT's Robotics Team and their trip to Worlds here.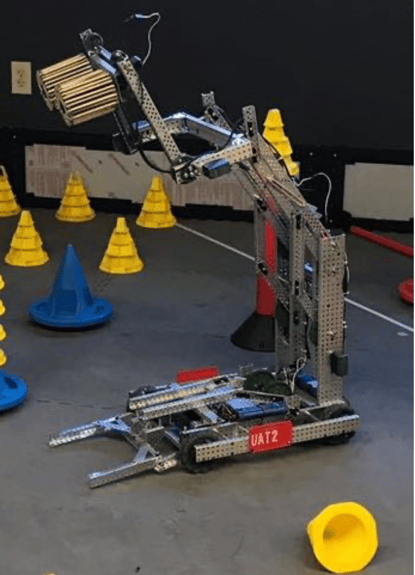 UAT's Flexible Learning Model Put to the Test
While 2020 was an impactful year for the entire world, UAT was able to really lean on the Synchronic Learning model in the middle of a term and pivot swiftly to allow all students to safely continue classes in quarantine and not miss any class time.
Professor Craig Belanger remembers, "When COVID hit we went on spring break there was no indication that eight days later we wouldn't be remaining on campus. There were some announcements made and we all just sort of flipped a switch and alerted our students that were going to be staying home, and it was very easy for us to do because we'd already been practicing on this for a long time."

Security Operations Center
The UAT Security Operations Center (SOC) was debuted in August of 2021, and after 10 years the UAT Cyber Warfare Range was retired. Having the SOC on campus allows the student to gain hands-on experience and training similar to what they would work on after graduation.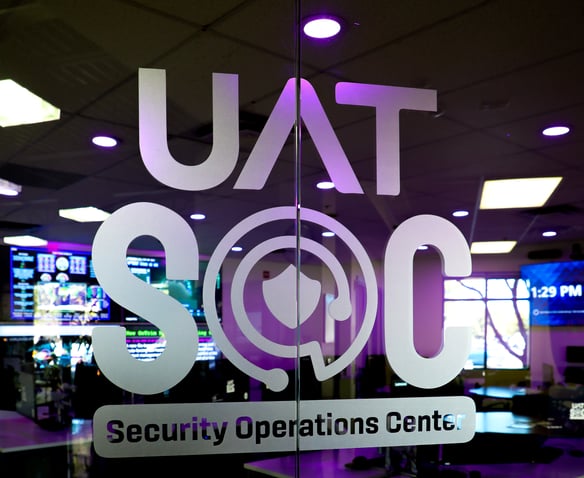 Looking Ahead at UAT
In 2022, UAT continues to make effervescent strides in the world of advancing technology. For the past 38 years, U.S. News has been collecting data on universities to make it easier for people to choose their future schools. For 2022-2023, University of Advancing Technology was ranked #32 out of 102 Best Regional Colleges West universities. This is an accolade that represents UAT's stellar academic preparation and performance. UAT also ranked #7 out of 46 universities for Social Mobility. This means that UAT is dedicated to delivering education to a broad spectrum of economic classes.
U.S. News conducts its ratings by using academic data from surveys and reliable third parties. Nonacademic aspects of the universities are not charted. Non-scientific polls are also excluded from their calculations. They calculate the nation's universities into ten categories, then measure based on seventeen different aspects of academic quality and take the weighted sum to devise the rankings. UAT is proud to receive these rankings and plans on rising through them in the future. They accurately represent the hard work, and dedication UAT staff and students apply to their daily academic lives.
UAT plans to remain ahead of the curve when it comes to advancing technologies, and we are so excited about continuing to achieve and reach milestones every year. President Jason Pistillo envisions, "Our goal in the next decade is to prove to the world UAT is one of the very best technology universities around. Student teams will regularly be recognized for their ability to compete and win in every available technology competition, build festival, hackathon and challenge. Our students will be contributing at the highest levels in entrepreneurship and industry. The recognized work students produce, be it a life saving VR med-technology program, or a new world-changing technology startup, contributes to the UAT ecosystem ensuring alumni are recognized as world class and making UAT's education more accessible for the next generation."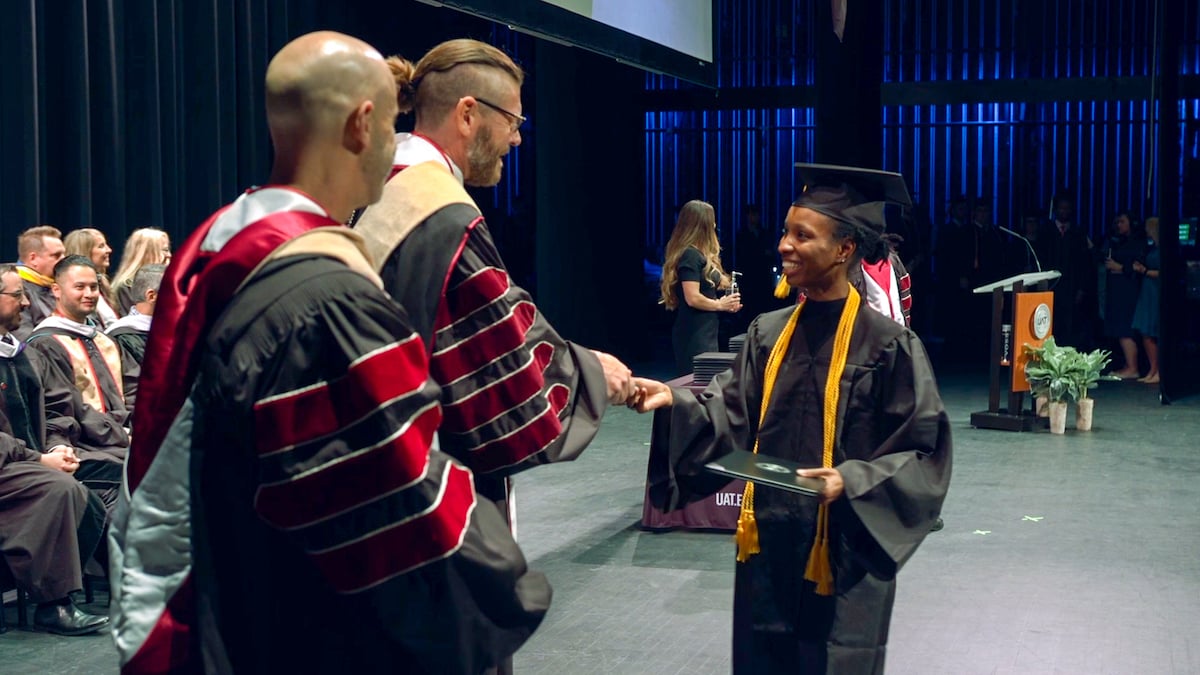 To read more about the history of UAT, check out more information here. To keep up and stay in the know with UAT Blogs, you can go to https://www.uattech.com/.
Ready to take the next step and become part of the UAT family? Request information or apply today and a friendly Academic Advisor will reach out to help you with your enrollment process.