by Nathan Glover, M.S., M.Ed. UAT Professor of Science
It's the holiday season, and as such, the universe is going to put on a little show for you this month. On December 21, the planets Jupiter and Saturn will align in their orbit—from the Earth's perspective—and create an event known in astronomy as a conjunction. The two planets will overlap one another from Earth's viewpoint so closely that they will appear as one very bright singular object. When these types of planetary conjunctions occur, they are often referred to as the 'Christmas Star'.
Astronomical modeling has shown that two major conjunctions occurred around the time of Christ. In 7 B.C.E. (Before the Common Era), Jupiter and Saturn aligned in the month of May (the more historically correct timeframe of the birth of Jesus) and then in February of 6 B.C.E., Mars, Jupiter, and Saturn aligned, creating another singular bright object.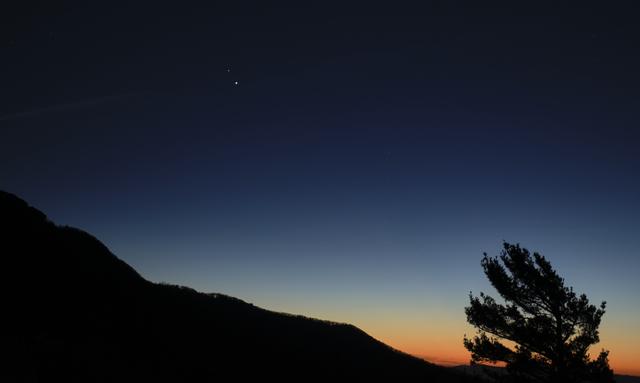 Saturn, top, and Jupiter, below, are seen after sunset from Shenandoah National Park, Sunday, Dec. 13, 2020, in Luray, Virginia. The two planets are drawing closer to each other in the sky as they head towards a "great conjunction" on December 21, where the two giant planets will appear a tenth of a degree apart. Photo Credit: (NASA/Bill Ingalls)
Planetary conjunctions are traditionally exceedingly rare events, and another planetary conjunction will not occur until May of 2080. If you would like to see this historical and unique phenomenon, look up to the Southwest on December 21 around 30 to 45 minutes after sunset.
Want to know where exactly to find the 'star' in the night sky? Visit https://astronomy.com/news/2020/12/jupiter-and-saturn-will-form-rare-christmas-star-on-winter-solstice for a map and guide of where to look. You can even livestream, courtesy of Lowell Observatory in Flagstaff, AZ.
Learn more about planetary conjunctions with these resources:
https://blogs.nasa.gov/Watch_the_Skies/2015/06/30/jupiter-and-venus-conjunction/
https://youtu.be/sofRYcfaqy0
Merry Christmas and happy stargazing!
---
Have a love for science and thinking about a STEM degree? Find out more about UAT at www.uat.edu.