The University of Advancing Technology (UAT) community reveres an award that holds a profoundly sentimental significance. In the hearts of those unfamiliar, Brook Cayce remains an indelible memory—a UAT student whose untimely departure left a void. Her existence epitomized the quintessential UAT student: an embodiment of determination, affability, active engagement and an unwavering willingness to extend a helping hand to her peers in need.
To immortalize her legacy and commemorate her life, the Brook Cayce Legacy Leadership Award has become a cherished tradition. Its bestowal, once each academic term, serves as a beacon to students who mirror Brook's qualities, embodying the essence of an exemplary UAT community member.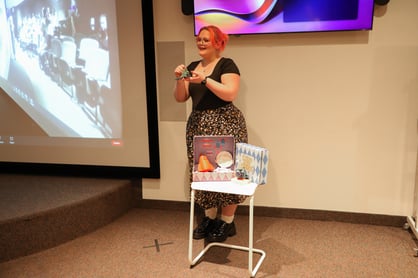 In the current semester, with great pride, we bestow the Brook Cayce Legacy Leadership Award upon Alexis Sloan. Alexis stands as a stellar exemplar within our UAT family, consistently transcending conventional limits within her academic pursuits and inspiring her fellow students to follow suit. Her benevolence knows no bounds, fostering an environment of kindness and support around her. Whether orchestrating GeekRho meetings or crafting visually appealing flyers for the Gardening Club, Alexis's presence radiates positivity and warmth. Her membership in our community is a privilege we treasure.
"Alexis Sloan embodies everything that it means to be a woman in technology. She is determined, smart, strong, confident, and motivated to take on new tasks and challenges. Alexis is someone who always volunteers to help others, and always has a good time in anything that she does. Even when things are tough, Alexis is positive and friendly. She always has a smile on her face and is always eager to learn and grow. I am thrilled to see what she tackles in the Cyber industry because I know that she does everything at 110%!"
- Ashley Fuentes, Student Services
"Alexis is creative and passionate in everything she does. It was a privilege seeing her creatively first hand with her SIP creation. She displayed the perfect evolution of a SIP starting with her idea, refining it, taking it to production studio, testing on her ideal demographic and finally presenting it as a market viable product. Alexis embodies what UAT is all about and is a shining example to her fellow students. We are lucky to have her here at UAT."
- Dr. Mark Smith, Senior Professor
As we project forward, it's evident that Alexis Sloan is destined for remarkable achievements. Her vivacious and enthusiastic spirit infuses life into all her endeavors, a trait that undoubtedly guarantees a future adorned with even greater accomplishments. With each step she takes, she leaves an indomitable mark, a mark that will continue to resonate within the tapestry of UAT's history.