UAT Celebrates 39 Years of Innovative Higher Education
Today — September 23rd, 2022 — University of Advancing Technology (UAT) enters its 40th year of providing leading-edge technology education to students and professionals who have an insatiable desire to innovate. To celebrate this tremendous occasion, we will countdown to the University's (UAT) 40th anniversary by featuring highlights of the most memorable milestones of the past four decades. From community impact and industry achievement to its superior alumni and student projects, join us as we reflect on all that has paved our way to the present and offered insight into the exciting future to come. We'll kick it off with a brief introduction of UAT.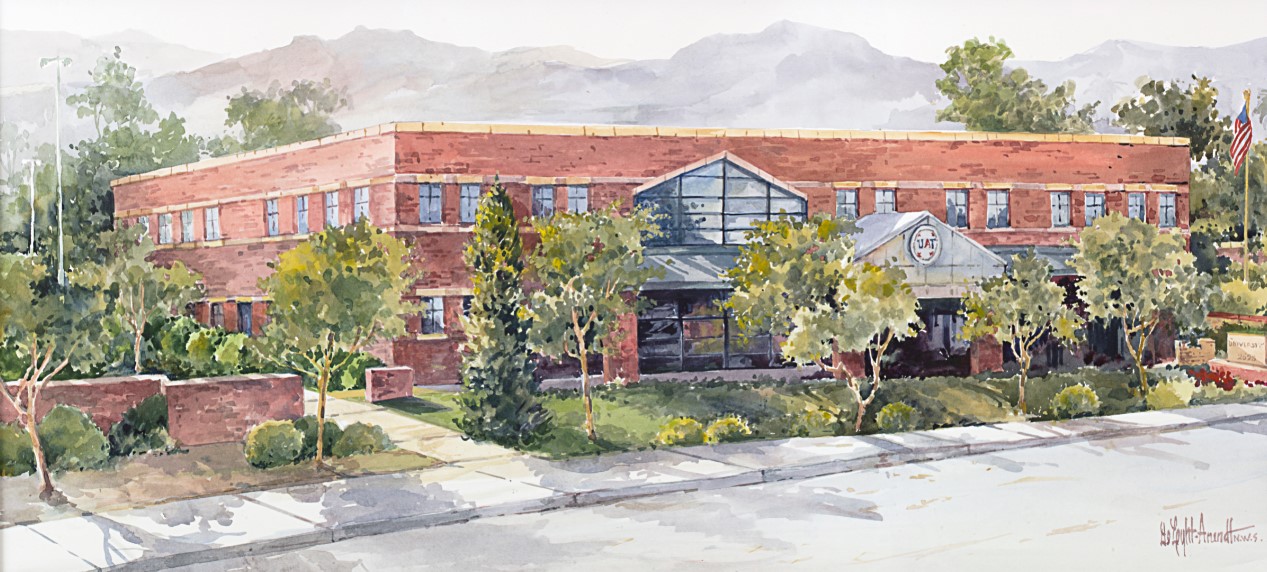 Before UAT was University of Advancing Technology
UAT was founded in 1983 by Dr. Dominic and Ann Pistillo. It wasn't an official university at the time, however, it began as The CAD Institute. CAD, which stands for Computer-Aided Design, is the use of computers to aid in the development of working and practical designs. Dominic recognized the gap of technology talent within the industry and developed an institution to fill it. The CAD Institute was designed to teach working professionals how to not only use the current CAD and engineering technology that was available to them at the time, but also how to create, innovate and adapt along with technology.
It took only four years for the CAD Institute to become accredited by the Accrediting Council for Continuing Education and Training (ACECT). In 1996, the CAD Institute became an official university. During that time, the CAD Institute expanded their focus to accommodate changing and advancing technologies. Because of this shift, the institution was renamed University of Advancing Computer Technology; a name meant to encompass the university's devotion to ever-changing and advancing technology.
The final name change the university made was in 2002 when it became University of Advancing Technology. This name change reflected how computers and technology evolved to a point where having "computer" in the name became limiting as technology advanced into a broader scope.
"As The Technology Shifted, UAT Moved With It"
UAT Provost, Dr. Dave Bolman has been with the University for 30 years and has been an integral part of the university's curriculum development and evolution. He proudly represents one of the most unique 100% STEM Universities in the nation, saying that, "As the technology shifted, we moved with it."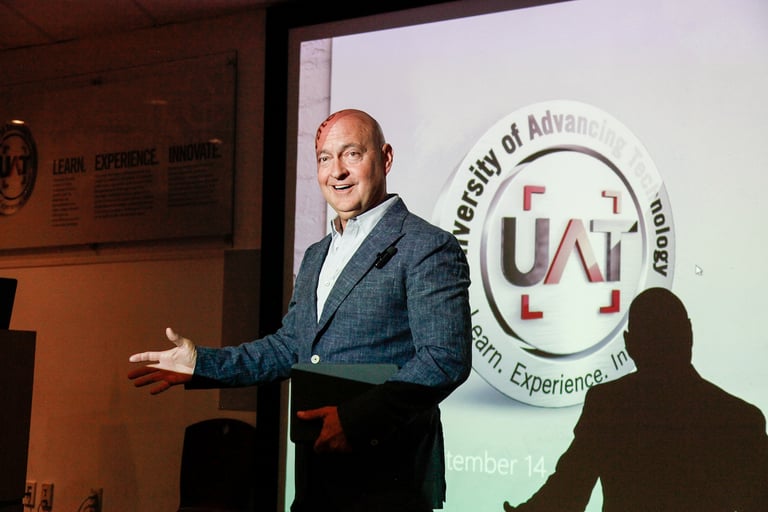 UAT Provost, Dr. Dave Bolman presenting to new students at The Fall 2022 Provost Challenge.
"We've become a model for the conversation that other schools really haven't been able to keep up with. Fundamentally, we do this better than anybody," he shared.
Whether releasing a handful of cool new courses each semester or unveiling new innovative degree programs every few years to keep up with the latest industry innovations, UAT is at the forefront of advancing technology. UAT's ability to be so nimble is due to the fact that the university is private and small. Its tech-infused campus is intentionally designed to promote engagement and diversity of thought.
UAT's Synchronic Learning model features an open, project-based curriculum to encourage collaboration and innovation. Students can take classes on campus, asynchronously (live) or flexibly online. They can also select courses outside of their major which allows them to be frequently exposed to cross-discipline areas. This enables students to gain a more well-rounded education that enhances their job readiness.
"Nowhere else are you going to spend 24/7 immersed in technology with your peers building it. That's what you do the entire time you're here," says Dr. Bolman.
Christelle Cyprien, 2022 UAT graduate says that, "One of my favorite things about earning my degree at UAT was that I was able to create projects with the skills needed for my major and learn skills that weren't necessarily tied to it. The main focus was virtual reality (VR) with an emphasis on video games but I also gained experience in UI & UX for mobile apps, augmented reality (AR), board games, business management and graphic design."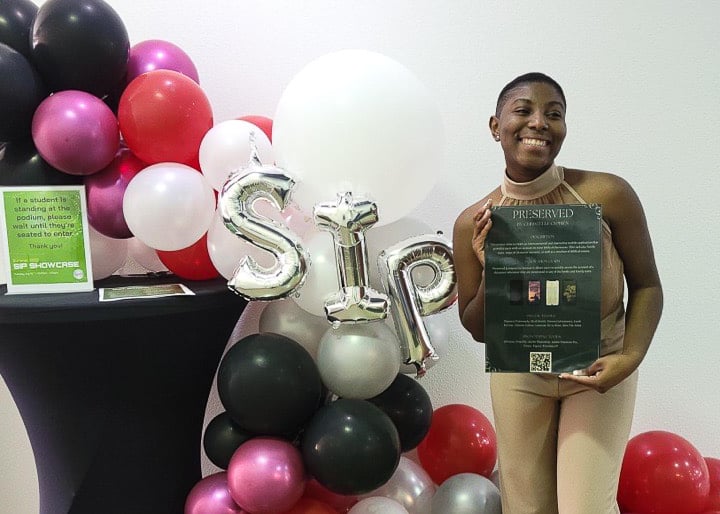 UAT student and now alum, Christelle Cyprien at the Summer 2022 Student Innovation Project Showcase.
Since its start, students have chosen UAT because they're excited to learn, create and become equipped with the tools to do so to the best of their ability. They journey toward tech respect with understanding that in order to graduate, they must develop a truly innovative idea that they could take directly to the market, and even patent. Through their Student Innovation Project (SIP)— similar to a state school's version of a Master's thesis — combined with Portfolio and Boards that are a culmination of their unique work, graduates begin their career prepared with the experience most people don't get until after graduation.
The UAT Community: A Place to Live, Learn and Grow
UAT President, Jason Pistillo who has also been with the university for 27 years, describes the UAT experience as "...you're going to go nights without sleep because you're so excited to build something to launch into the app store by Sunday morning."
His passion for technology as a self-proclaimed "techie" and his prior experience as a Network Engineer make him a relatable figure to students at UAT. He describes his experience here as being surrounded by people like him — a place where fellow technologists, geeks, artists and mavens can come together to find their affinity. UAT prides itself on fostering a sense of community within its engaging environment.
"Each day as I walk through the doors of UAT, I feel the energy of our community of bright, driven students and our dedicated faculty and staff. I am continually renewed by the distinct feeling of connection on campus," says President Pistillo.
UAT students from different majors working together in one of several challenges for the Fall 2022 CONNECT event.
Looking Forward to What's Next for UAT
The University of Advancing Technology has a long history of preparing students for technological careers and has evolved to accommodate the constant advancement of technology. UAT is passionate about giving students unique opportunities that prepare them for their innovative future beyond their time at the university.
UAT is proud to celebrate our 39th year of operation and look forward to our 40th! We are counting down the weeks until then with blog posts, so join us here every week for new posts. Thank you for allowing us to provide 39 years of higher education, and here's to many more!