Dr. Dave Bolman joined the University of Advancing Technology (UAT) family 35 years ago in 1988 teaching computers and building curriculum. As the University grew over the years, so did Dr. Bolman's position. He has held multiple titles including, Professor, Dean of Programs, Dean of Faculty and finally his current and most tenured position, Provost.
Over the last three and a half decades Dr. Bolman has seen the University through all its major milestones. When Dr. Bolman started UAT was called the CAD Institute located in a small office on Southern Avenue in Phoenix, AZ. He remembers the beginning "I interviewed at the old location with the founder in this tiny little office and I can remember going home and talking to Sharon and saying Well I've got a job. I don't know if this place is going to exist in three months, but I've got a job for now and we'll just see how it plays out."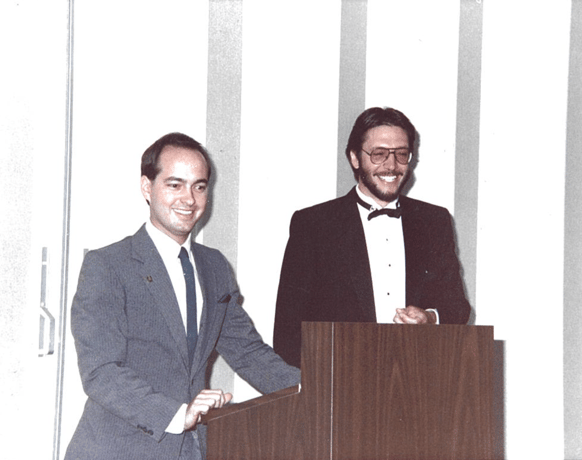 Dr. Bolman with UAT Founder Dominic Pistillo at one of UAT's first Commencement Ceremony's
Dr. Bolman also discussed the pride that comes with UAT building the dorm as well as the challenges that came along with it. "There was a moment that was very profound in terms of changing our campus culture. And that was when we built the dorms. Before the dorms we had this building and students would come here, drive here, spend time here and then they eventually go home. Once we built the dorms everything changed. And it was the craziest thing to notice how in the course from one year to the next, when you have a building full of students there there's all of these new things you've got to figure out. Everybody had such a great time. The students came in they were all so excited to be able to be here on site when this happened. Everybody on staff was just going crazy about the idea that they're going to be students here all the time. It was just a real moment where the whole campus culture changed."
Along with UAT major milestones he has seen the campus curriculum and technology advance over the years. He explained the beginning of Virtual Reality at UAT, "We got this system called Division System and it was the size of a desk. It could produce a blue 3D shark that you could swim with. And then we did it for our classes of virtual reality. We took our smartest programming students, and we would lock up the first semester and build content. And suddenly its was on the news and people were coming in with this VR thing." The advantage UAT had in the VR space, is there were no competitors teaching it at the time in the early 90's. Dr. Bolman stated "It took two years for people to get close to it and even then, it was more about when VR turned into the gaming industry."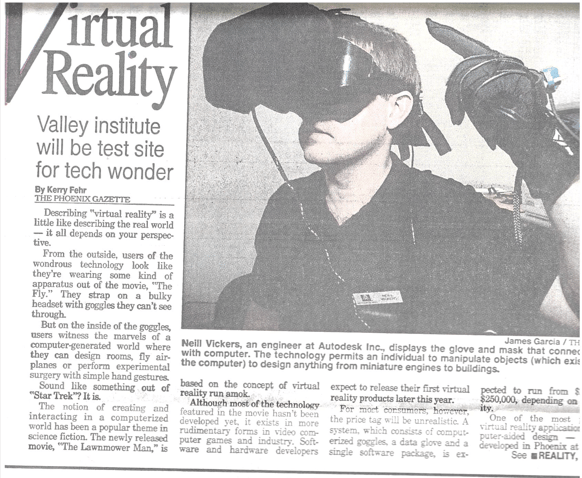 Virtual Reality news article from the March 26, 1992 issue of The Phoenix Gazette
With all of these milestones students thrive in the UAT environment, one student Dr Bolman praises is now UAT professor Derric Clark. He stated "One very memorable student to me is Derric Clark. He came to me for VR fresh out of high school. He ate it up, and we would do projects while he was a student. He did a simulation of BankOne Ballpark when it was being built, he did another project that was at the caves in France. It is fun watching his transformation from the farm kid with the mohawk to the elder Jedi master of our game program."
From the CAD Institute to becoming Provost of UAT Dr. Bolman reflected on his career stating "What's really fun for me is I started off just wanting to be a programmer because computers were cool and I was good at solving puzzles. What I wound up doing was working on creating something that is going to outlive me and will have this ripple effect of changing the lives of tens of thousands of people."