A Decade of Rapid Change and Evolution
Before University of Advancing Technology (UAT) became an official university, it began as CAD Institute in 1983. CAD Institute was a computer-aided design (CAD) training program for engineers and architects that eventually grew to result in professional certificates. Highly innovative for its time, CAD Institute won distinguished awards and maintained the largest CAD training center in the world for many years.
By 1992, after building a reputation of offering the best in CAD training through CAD Institute and other associated CAD design, computer or software businesses, the founders, Dominic and Ann Pistillo had let go of the other businesses to shift their full focus to education. They channeled Ace of Base and "saw the sign" that CAD Institute was meant for more.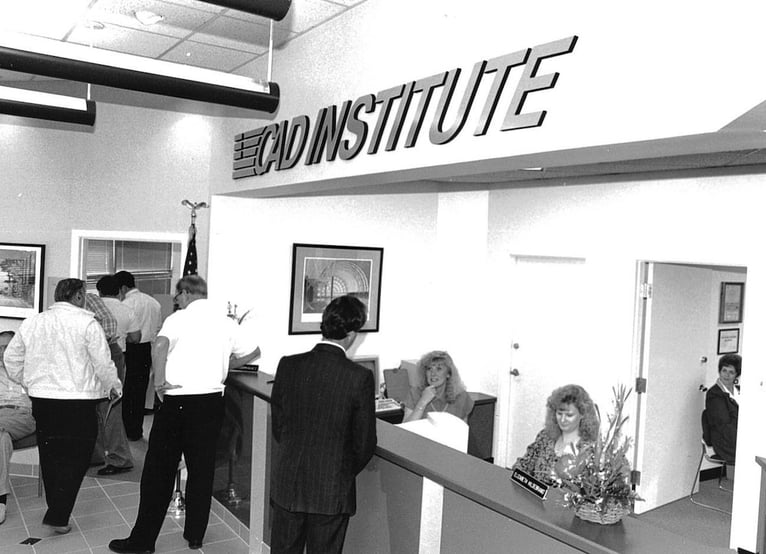 photos: CAD Institute in 1992 Campus Open House
The Pistillos recognized the growing demand from their students and the industry influencing them to evolve CAD Institute rapidly. After years in the manual process for an accreditation transition, the Institute achieved national accreditation from the ACICS (Accrediting Council for Independent Colleges and Schools) in 1992, and added on offerings of two to four-year bachelor's degrees.
Like the late Coolio sang, "we on a mission" in his "Fantastic Voyage" track, CAD Institute shifted fully into leveraging technology for learning. "We just kept lengthening the certificate program for a while, while we were obtaining levels of accreditation," UAT Co-Founder, Ann Pistillo explained.
"Nobody wanted to graduate," recalls UAT Co-Founder, Dominic Pistillo, "I remember the students, they didn't want to leave… Normally the progression would be to go to a two-year associate degree, then a bachelor's degree, right? We went right from the nine month certificate to a four-year bachelor's degree."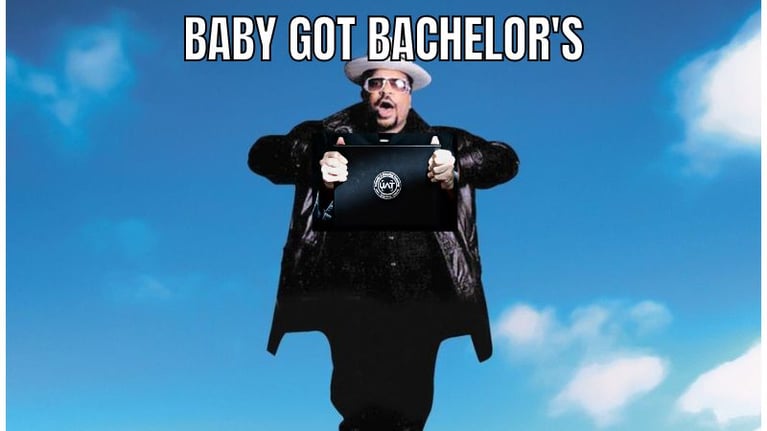 image: Sir Mix-A-Lot in his 1992 hit video, "Baby Got Back" from IMBD.com
It is a tremendous achievement to go from a training center to a university, but the Pistillos knew they needed to do more if they wanted to become the best at learning. They took a very intentional—and surprise—innovative approach to the development of the curriculum for UAT.
They knew that someone could attend UAT and graduate with all the technical skills, but they wanted to know, what were the critical elements within the design of the curriculum that will make someone successful after graduation?
Dominic shared his findings that, "What makes people successful is the ability to think and the ability to learn in a lifelong fashion, right? It's not the nuts and boltsy-stuff that becomes obsolete, especially in our field. It [technology] could become obsolete in two years."
So, the Pistillos continued moving at the speed of technology. They were metaphorically chasing "Waterfalls"—or a unique learning model that intersects the application of various thinking strategies (systems, design, strategic, critical, etc.) with the methodology focused on creating superior graduates through real-world learning and a mentored education, taught by the most innovative industry leaders.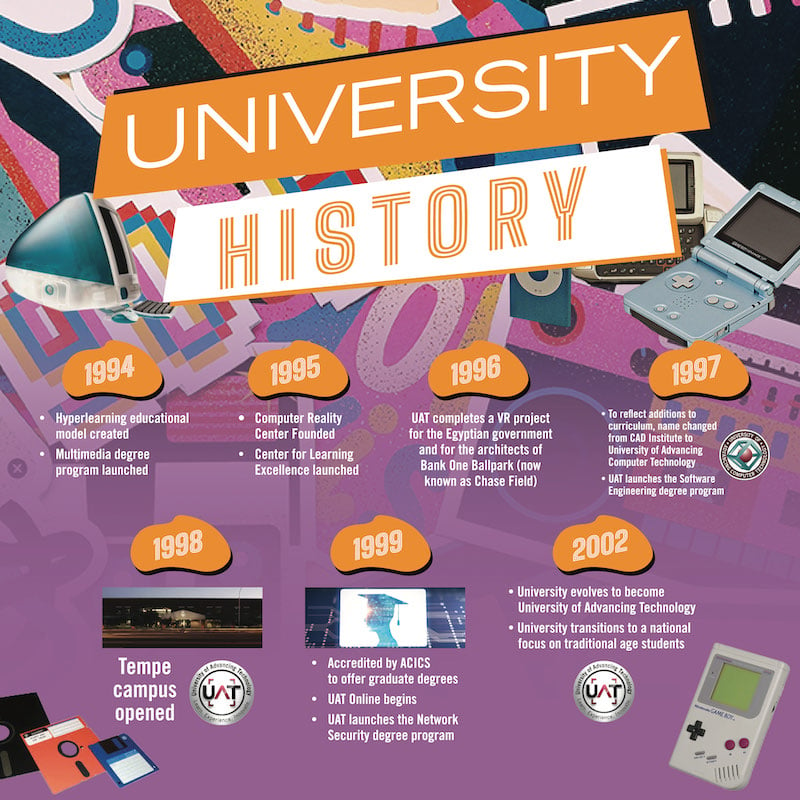 Hyper Focused on Hyperlearning
In 1994, the Pistillos established Hyperlearning at UAT, which is the first iteration of the Synchronic Learning model. They had discovered impactful research through their Center for Learning Research (established in 1992) and the partnership with the Stanford Learning Research Center, who was executing a similar approach to education research at the time.
"They did a lot of research that we shared back and forth, but they never applied any of it. We [UAT] applied it and created Hyperlearning," Dominic shared, "...Hyperlearning was about going from around 5% information retention, which you get from lectures, to around 50% information retention, which you get from the group learning, group recollection and other things we do currently...and it leveraged everybody's individual learning styles."
Ann further explained that its fundamental approach considers "the personality profiles, you know, you can pick up that from how a person is going to learn. And, if you don't address everybody's learning style, your success rate isn't as high."
Another advancement that was inspired by the Center for Learning Research was the Computer Reality Center (CRC) which began running for UAT students in 1995.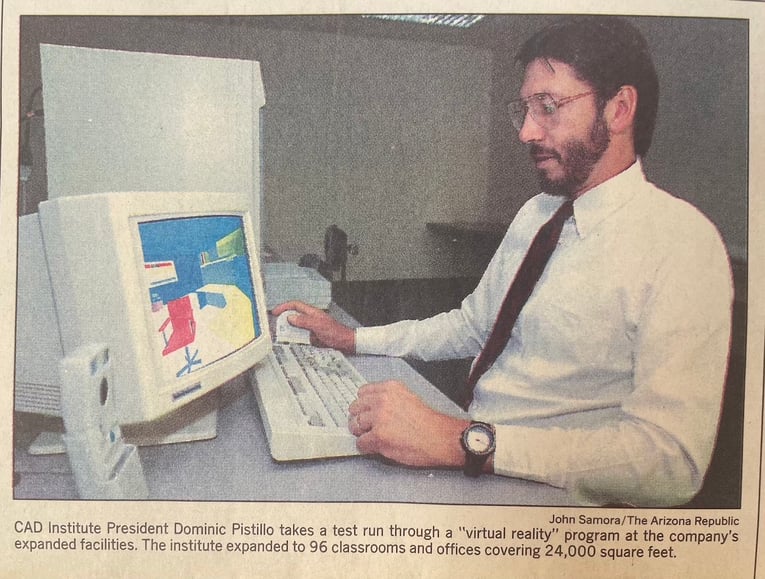 Dominic Pistillo's feature in The Arizona Republic publication, demonstrating a virtual reality program.
The Computer Reality Center (CRC)
The Computer Reality Center (CRC) was a UAT lab designated for students to explore industry computer graphics, with specific emphasis on virtual reality. UAT's current Game Studies Program Chair and Professor, Derric Clark, was an early alumni from the 90's and one of the first UAT CRC lab monitors. As a lab monitor, Derric maintained the lab, helped students with equipment and made significant impact to CRC technical initiatives. He shared that the CRC "included specialized Virtual Reality (VR) systems like the Division system and a beta system known as the Elysium system from Virtuality – one of the only two in the United States."
Compared to the timeline for the advancement of general technology, this was an amazing achievement that even predated Google. The CRC came around the same time that Interactive Voice Response was sweeping through business call centers throughout the nation, a precursor to the virtual reality we know today. This center opened a year after a NASA scientist, Antonio Medina, created a Virtual Reality program to drive the Mars Rover from Earth. Virtual reality was also getting its start among arcade games, revolutionizing video games for years to come.
"It was an amazing time in technology. The internet, VR, animation, etc. were all new and we were figuring things out as we went," Derric shared.
A section of the CRC—which was an early inspiration to what UAT today calls its Production Studio—would "bid on industry and client projects, allowing students to work on real world projects and get industry experience," Derric shared. Some of these industry projects included animations, websites and more for various organizations, as well as VR projects for Bank One Ball Park (now known as Chase Field) and the Ministry of Education in Egypt.
University of Advancing Computer Technology
Two years later, in 1997, CAD Institute officially changed its name to University of Advancing Computer Technology and opened its campus in 1998 at its current location in Tempe, Arizona, at the base of South Mountain.
UAT had come so far at that point and Dominic shared that "the first ten to 15 years, the school just grew really rapidly...We went from 1,000 square feet on Southern Avenue [Phoenix, Arizona] to then over 2000 on Broadway, and then expanded on that to double that."
Ann supported his sentiment, adding, "You know, and that was all in a relatively short amount of time. 12, 13 years... and going from nothing to getting financial aid, all the licensing, accreditation and then keeping that progression going until you got university status. That was all in that 15 years."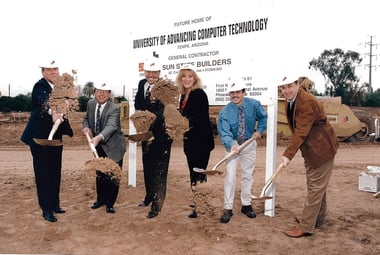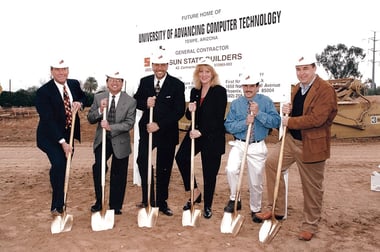 Dominic and Ann Pistillo (centered) with officials tossing dirt at the UAT Tempe campus groundbreaking event.
"The Most Auspicious Place" in Phoenix, Arizona
When UAT opened the 50,000-square-foot campus in 1998 in Tempe, Arizona, it was complete with classrooms, computer labs, innovating studios and about 300 computer workstations. But, "Hold On", let's rewind back to the planning process.
Have you ever wondered if there was any thought, purpose or intention behind where the UAT campus would be located? When it comes to anything the Pistillos do, the answer is: Absolutely! If you know the Pistillos, you know they didn't just pick the first available property and call it home for UAT.
"The location of UAT's campus is intentional," shares Dominic. "There are five of what they call Dragon Mountains in Phoenix... these mountains that have this so-called 'power' some believe. The largest dragon mountain in Phoenix Valley is South Mountain, and the tail of South Mountain wraps around right here [at UAT]. So this is one of the most auspicious places, you know."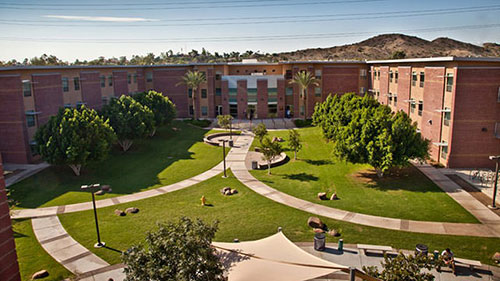 Fun fact: UAT sits on what was once an orange grove for the hotel next door at the time, The Pointe, now known as The Grand.
Continued throughout the design of UAT, everything from the layout of spaces, rooms and departments to the decor and furniture, had a reason for how it was constructed. It was all planned according to Feng Shui as the primary design principle. The Pistillos held a design competition for bidding architects in order to carefully select who would be the best to build the physical space that would help them fulfill the thoughtfully developed and research-backed curriculum they had created.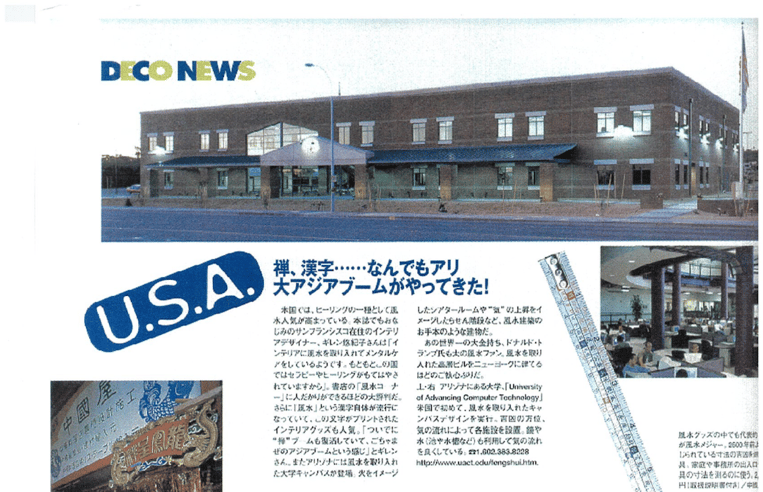 UAT campus featured in Elle Decor's December 1998 Japanese magazine, No.39 edition for the use of Feng Shui in its design.
Mastering the Art of Higher Education
A momentous year occurred after UAT's campus opened. In 1999, ACICS accredited the university at the graduate level and UAT began offering master's degrees. This accreditation was instrumental in officializing the university for a broad spectrum of students, and it inspired the university to seek regional accreditation by 2000. In addition, it was the same year the university launched UAT-Online and its first Network Security degree, one of the first in the Southwest.
The early 2000s were also the birth of camera phones, iPods, the video game revolution, USB flash drives and LinkedIn. Technology was exploding and UAT needed to adapt. In 2002, the university changed its name to the University of Advancing Technology. It was clearer than ever that technology had expanded far beyond the confines of computers, and it was time to change the university name to reflect that.
Today, University of Advancing Technology has continued to evolve with technological advancements to provide the most modern and efficient technology-based courses they can, as well as integrate technology into other general education requirements. As of 2022, UAT is ranked #32 overall and #7 for Social Mobility by US News and World Report for Regional Colleges West. As we enter our 40th year of operation, we plan to continue to evolve with and predict technological advances. We are excited to have come this far, but this is just the beginning for UAT.
Stay tuned for the next two decades of diving into UAT's history as we lead up to our 40th anniversary!
Missed our previous posts? Check out: