40 Years of UAT
Each year, around September 23rd, University of Advancing Technology (UAT) celebrates its founding. The 2023 edition of this celebration marks our university's 40th anniversary. Four decades ago, the world realized that computer technology was changing how we worked, communicated, transacted, and entertained ourselves in ways that would affect nearly every human, organization and business.
That was 1983, a year when I was an engineering undergraduate student. I remember attending an IEEE meeting (Institute of Electrical and Electronics Engineers) whose main agenda was how newly invented computer-aided design (CAD) tools would soon change how engineering ideas would be visualized and tested. I was captured and quickly withdrew from my aerospace program and enrolled in a new interdisciplinary study of computer graphics. I then spent the remainder of my undergraduate time with others who carried 5.25″ disks in backpacks, wishing to be able to afford hard drives. We applied linear algebra to algorithms that generated animations and renderings on humble systems that never had enough capacity to match what we were attempting.
A new and rapidly evolving landscape of computer technology was the backdrop driving the creation of UAT (then called CAD Institute). UAT's founders realized that an inexperienced world needed to quickly become comfortable and competent with new digital tools. Setting about this work, UAT's founders saw an opportunity to rethink what it means to be a master of technology. They realized that personal computing was accessible to anyone wanting to get involved and that building with these new tools wasn't theoretical or a series of mental exercises. Anyone could create, test, see their results, and then iterate and refine using these desktop boxes of silicon chips. With this new reality in front of them, UAT's founders looked for the best ideas about learning and molded what they found to match a new computing future. Every year, new ideas about technology education were inserted into UAT classrooms, learned from, and improved in a way that parallels how students learned about and practiced building their applications. There are lines of history connecting all current elements of UAT methods to these early explorations: production studio, SIP, Synchronic learning, small class sizes, boards, and a culture of 24/7 creating technology solutions.
Innovation Journey from Provost Challenge to SIP
For many UAT students, participating in the Provost Challenge is the starting place in their journey to becoming unmatched tech creators. UAT could not be prouder of the participants who built tech as a part of the Fall 2023 Provost Challenge. Of the 13 teams who started, 12 presented, and this number bests the completion rates of any prior year's challenge. The purpose of the Provost Challenge is to get new students into the mindset of what it is like to build things. Professionally, you rarely have as much time as you want, an optimal mix of talents, or all the tools you could hope for. Just the same, we build, get across the finish line, and honestly talk about the experience with the people in our communities. For 2023, the audience and judges saw board, card, computer, and hybrid games. Some games went beyond entertainment to also encompass teaching cyber awareness and safety. We saw a prototype with a market analysis of a tracking system for Max. There was even a Tamagotchi concept for micro desktop games that keep a virtual Max engaged and stimulated.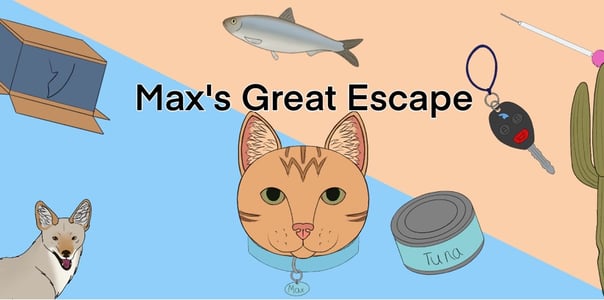 Several teams made up a close pack of prize contenders, and ultimately, Team Shark took the top prize with their card and board game Max's Great Escape. Team Shark demonstrated a balanced approach that engaged all their team's talents and the resources available to create a polished and game-tested product. Max's Great Escape allows two players to either be a vet trying to give Max a shot or Max doing all he can to avoid receiving a needle. The game squarely answered the criteria: "Is this fun and something people want to use?". The team's enthusiastic chant of "Team Shark, Team Shark, Team Shark" while using their hands to form fins overhead made the point that they had pulled together in short order to get their project MVP done.
If the Provost Challenge is the start, then its bookend is the Student Innovation Showcase. During August, soon-to-be alums presented to the UAT community technology solutions that had been considered, planned, attempted, broken, iterated, fixed, stressed about, rehearsed, and shared. Ideas, innovations, and solutions included tools that use VR/AR for improved event planning, the use of AR to visualize individual medical data, tools that help non-artists navigate color theory, embedded systems prototypes allowing hands-free raising and lowering of visors, novel game mechanics, systems to improve storage for sailors stationed on submarines, several projects aimed at communities who are less tech comfortable to help them securely use IoT and help youth identify companies embracing sustainability practices. On behalf of all your professors, advisors, and supporting team, I want each of you who took part in the August SIP Showcase to know and feel how proud we are of what you accomplished.
Access to Technology and Events
Today, UAT's approach to teaching how to be excellent and relevant as a tech builder is unmatched. CAD has evolved into tools like 3D printing, Studio Max, Maya, and Solidworks. The emerging computing landscape has evolved into AI, drones, cloud tech, IoT, immersive experiences, and cyber. Because UAT's founders were patient and persistent in the march to their vision, UAT students and alumni routinely create amazing tech to solve challenges with designs that factor in what people want and as a result, make lives and communities better.
One of the baked-in elements of the UAT experience is access to events that give insights into where technology is headed, what people are excited about, and insider knowledge needed by businesses attempting to be smart about these same techs. As a student, you want to do everything you can to use these moments because what you learn will inform your course selections, boards, and student innovation projects. The more tech-relevant you are as a graduate, the better the career opportunities will be as you graduate.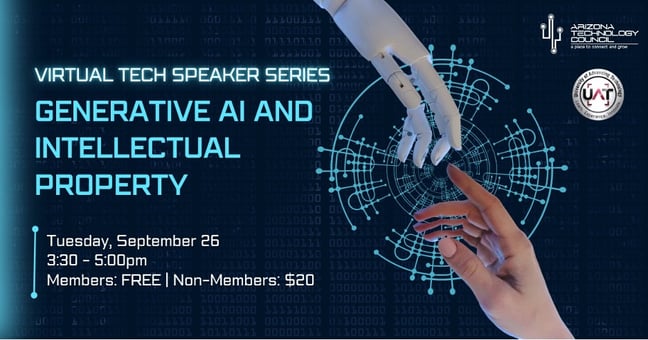 The next tech opportunity is on Tuesday, September 26th, from 3:30p to 5:00p when UAT is hosting a virtual speaker series panel on Generative AI and Intellectual Property. AI is important, valuable, not understood, and will drive changes in laws and tech norms. The community will look to UAT students to help navigate an AI-infused future. Attending this web session will help you be ready. Members of UAT can register for the session by following this link: https://www.aztechcouncil.org/events/. While registering, enter the promo code UAT to have your ticket fees waived.
And one more thing…
UAT's annual celebration of Founders Day includes marking the birthday of Max, our most excellent catscot. This year is Max's 7th birthday, and on Thursday, the cafe will be putting out a lunch that will be themed "Max's Catch of the Day." I expect to see feathers, bones, and some kind of fish in the mix. There will also be deserts befitting the occasion. If you are near campus on Thursday, stop in, grab a tabby orange desert, and give our Max a pat and belly rub.
Happy quadrennial (and yes, this is a real word) Founders Day!
Dr. Dave Bolman, Provost