University of Advancing Technology (UAT) has much to offer in terms of on-campus clubs, events and campus life — or, as we affectionately refer to it, Geek Life. There are a variety of clubs already available at the University (UAT) that prior students have started but students are also encouraged to start their own if one is not running for their desired interest. Current active clubs range in topics from robotics, anime, GSA, coding, gaming, gardening and more.
Geek RHO
Geek RHO is UAT's new student council. It welcomes all students by adding each one to a Student Activities Council Team's digital channel so students can stay up to date on Geek RHO events and cool happenings around campus. Additionally, Geek RHO highlights student success and collects input to provide a voice and speak on behalf of students, along with providing support to other campus clubs and helpful information for any student questions.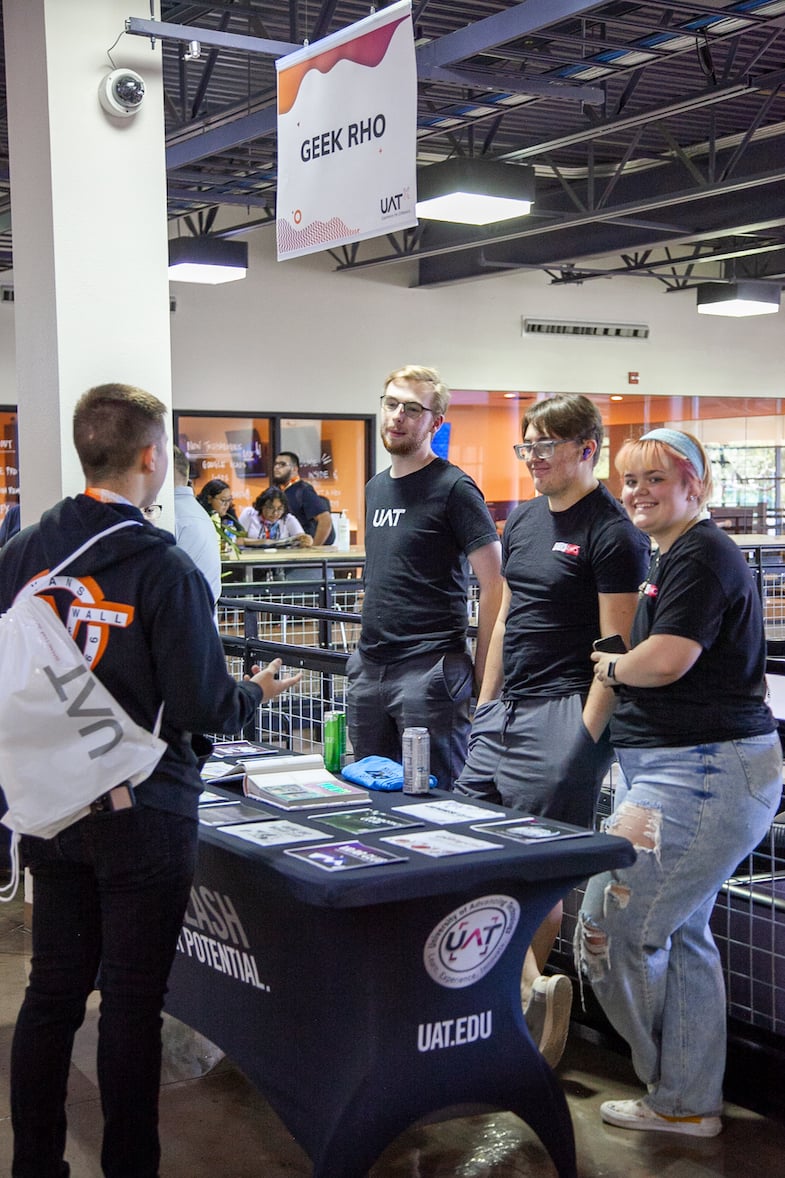 Geek RHO can be considered UAT's student club epicenter. It is a great way to get on campus and connect with other groups and clubs. Start with Geek RHO, and narrow your way down to whatever niche suits you! You can email geekrho@uat.edu with any questions for Geek RHO student leaders.
Wyverns eSports
The Wyverns eSports Club was formed in 2021. It is a community of competitive UAT gamers and anyone interested in Esports in general. Any student at UAT can join through their discord channel and others can follow their Twitter or Twitch accounts.

Current Wyverns eSports Club President and Network Security major, Tyler Prettyman, said the club's goal is to create community "from the grave to the moon." It appears Prettyman's goal continues to be met from a few of these quotes from Wyverns team members: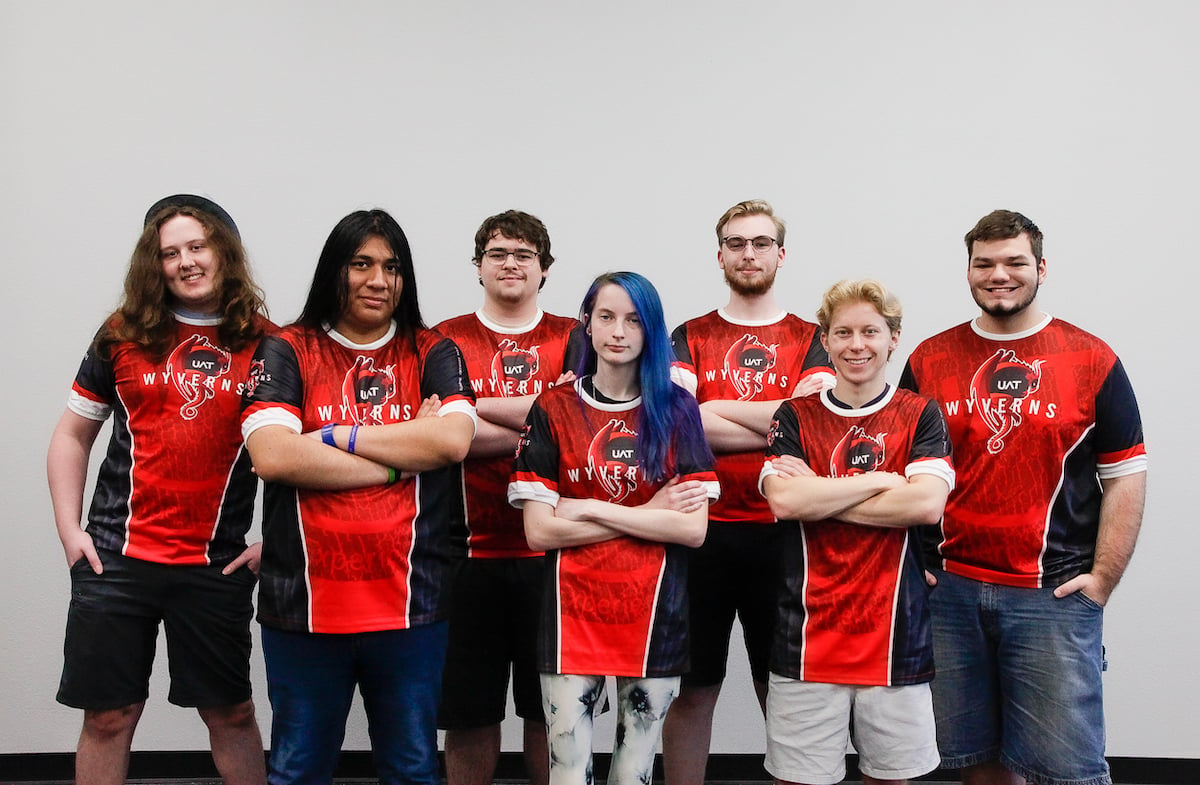 "The energy we all share for video games is amazing. You're not just playing the game, you're competing with the game. Instead of just playing to beat the game, you also need to worry about your team and everyone you're with. It's more than just the game; when you're playing competitively, you have to put more thought into it." - Donald Christensen, Robotics and Embedded Systems major

"We as a team and as a community want to get other people in the school involved in playing games… There's not a general club for people to come together and play games. We want people to come to this eSports team, you don't have to be competitive, you can come here casually, meet people from the campus, play a game with each other, have fun playing." - Nickolaus Grant, Network Security major

"The best part of Wyverns is the teammates in general. They're pretty good at the games and are looking to learn more about it, and we're good at working together." - Jessup Rolfs, Game Design major

Club meetings are on campus in Room 252, on Tuesdays (2 PM- 3 PM) and Fridays (1 PM- 3 PM).
UAT Broadcasting Club
The UAT Broadcasting Club is considered one of the most open clubs on campus. This is because it caters to a broad section of students, unlike most campus clubs that focus on narrow interests. The club's goal is to meet weekly to discuss what is new on campus or in the world. They are also currently recruiting specific club positions, such as data analysis, content creators, stream managers, chat administrators, scriptwriters, audience members and social media promoters.

Brandon Michelson, a previously dedicated club member and UAT Robotics and Embedded Systems degree alum, said, "One of my favorite parts about the UAT Broadcasting Club is the interesting topics we discuss. Everyone is really excited to talk about basically anything. I think the new technology we talk about in the club is really exciting!"
Gardening Club
Gardening Club at UAT joins students together to beautify the campus and sharpen their gardening skills. Gardening Club President, Alexis Sloan says "Gardening Club welcomes everyone even if you don't have a green thumb, as long as you don't mind getting your hands dirty here and there."
The Gardening Club meets Saturdays at 2:30pm in the quad.

GSA Club
Gay Straight Alliance (GSA) Club brings inclusivity and diversity to the UAT campus. On campus and online students come together to create a welcoming environment for everyone to express themselves in their own unique way. Any students are encouraged to join the club or take part in GSA Club hosted events.
UAT Robotics Club
This club is for students at UAT with an interest in Robotics. It is catered to all majors and skill levels and has a competitive team that builds and tests out robotics nationally.

Here is a video of the Robotics Club testing a UAT robot named Murphy: https://fb.watch/h4OU6Mcwqs/.
Art Club
In UAT's Art Club students let their creative juices flow. Students from all majors come together to create beautiful pieces of art using a multitude of artistic mediums. Club President Katherine "Kat" Ervin said, "Art club is a great place for artists and non-artists to get together and create! We meet every week for students to have a fun and peaceful environment to talk with fellow art peers and make awesome works of art."
Art club meets Saturdays at 8pm in room 245.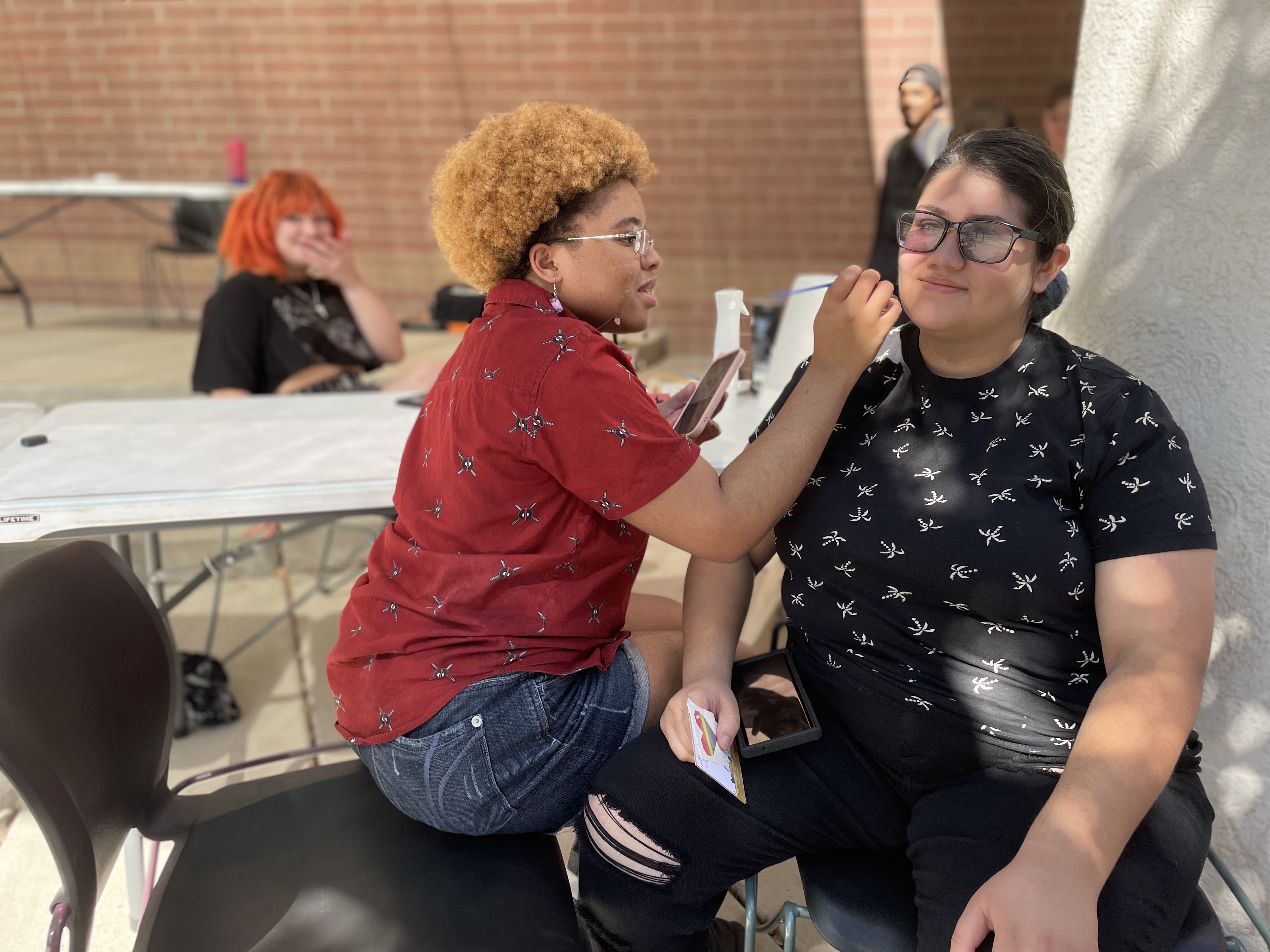 VR/AR Club
UAT's Virtual Reality and augmented reality club is for any students interested in VR/AR technology. The club is comprised of UAT students, professors and alumni who want to innovate in XR technology. The club's main goal is to become a recognizable brand in XR innovation.
Students can apply to join the club's Discord channel and meetings are streamed on Tuesday and Thursday evenings. You can also check out the UAT VR/AR Club website for more information.
UAT Space
UAT Space is a Club, Special Topics course and occasionally integrated throughout coursework for relative majors like Advancing Computer Science, Data Science or Robotics and Embedded Systems. Whether building your own UAT Space page using HTML, CSS and Javascript in an Introduction to Programming class, or taking a Special Topics class taught by Professor Jill Coddington (who is an actual Rocket Scientist), or even joining in for actual space launch missions, there are multiple ways students can get involved with UAT Space.
Several students over the years have also built space innovation projects for their Student Innovation Projects (SIP), which are a requirement for graduation. Check out some space-related SIPs students have developed at UAT:
Star Wars Club
Star Wars Club unites fans of the series at UAT. Club president Tyler Widener explained, "In UAT Star Wars Club, we stream new Star Wars content as it comes out like Andor and the Mandalorian, as well as re-watch some fan favorites. Starting now and this coming year will be our first armor contest, where members can create their own set of armor inspired from Star Wars!"
Meetings for Star Wars Club are in the UAT Theater on Fridays at 6pm.
Japanese Club
Japanese Club brings the love of Japanese culture to UAT. Students gather to learn and appreciate Japanese culture and customs. Laura Morning, Club President described the Japanese club as "a bunch of students who are learning and bonding over a language and culture. Some of the things that we do are learning days when I teach Japanese (language) and culture days where we learn about the culture."
You can join Japanese Club meetings on Mondays and Wednesdays at 9:30pm in room 204.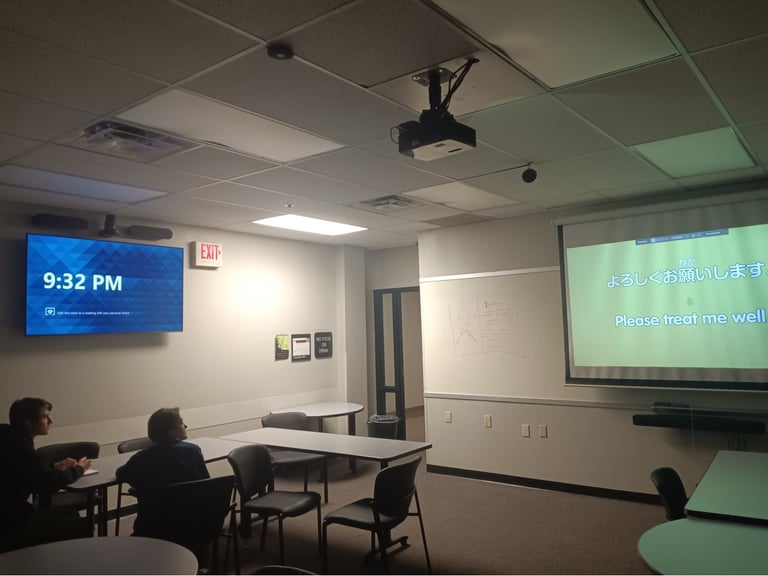 Nerf Warz Club
Nerf Warz club brings fun and activity to the UAT campus. Every other Friday this club gathers for games and fun.
Club President Isis Boone describes her experience as "I have made so many friends during the club and got to know so many people. It is a time to enjoy playing so many different mini games and make new friends. There will never be a night that is the same during Nerf Warz, some of the activities are holiday themed and sometimes we have raffles."
Get Involved in UAT Student Clubs From Anywhere
These are just a few of the remarkable student-led clubs at University of Advancing Technology. UAT is dedicated to student development and community building, so we pride ourselves on our broad selection of Geek Life groups on campus and available to off-campus and online students. For more information about Geek Life, check out UAT's official Student Clubs page and the UAT Student Blog.
Ready for the next step? Request more information or Apply today!