Continuing to Innovate Within Higher Education
Welcome to part three of our series detailing University of Advancing Technology's (UAT) history throughout the decades, now highlighting the years 2003-2012. As we move into the heart of the 2000's, UAT has undergone significant changes to become what it is today and how it delivers its innovative undergraduate and graduate education.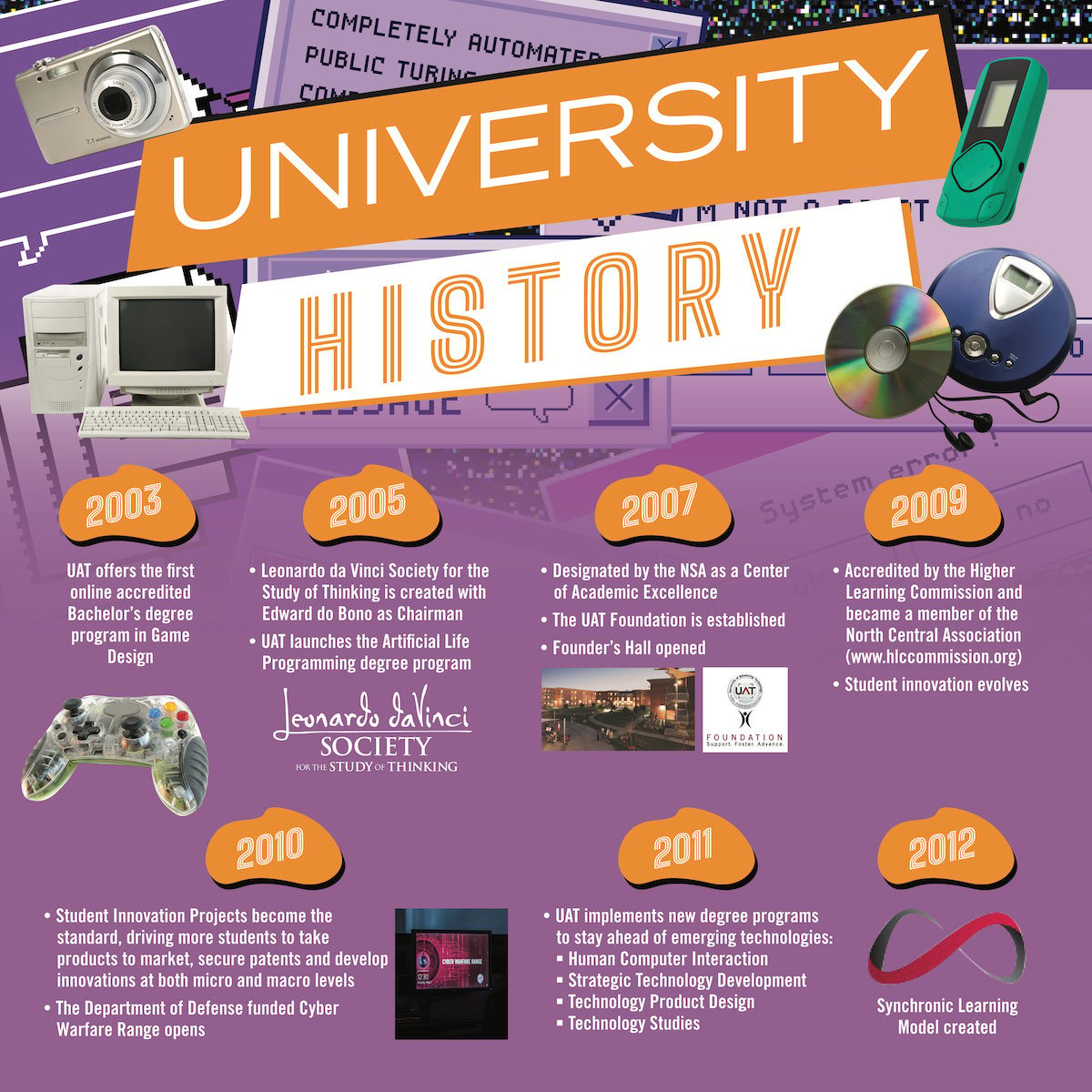 UAT Launches UAT-Online Game Design Degree
In 2003, just a year after UAT officially changed its name to University of Advancing Technology, UAT began offering the first accredited online Bachelor's of Arts degree in Game Design. Still today, UAT is home to one of the only fully accredited Game Design degree suites and is consistently named one of the best in the world since its debut in 1995. UAT's full continuum of game degrees include the Game Art and Animation degree, Game Programming degree and the Master of Science in Game Production and Management.
One of the many goals of the Game Design degree is to prototype and complete original games for multiple platforms in order to give students the experience necessary to go into a career in Game Design after graduation. Always paving the way for leading-edge technology education, UAT implemented this degree the same year Nintendo stopped production on the original Game Boy systems and moved forward with the Game Boy Advance and other newer gaming technology.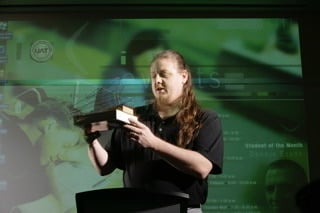 UAT alumnus to CRC lab monitor to Professor and Game Studies Program Chair, Derric Clark, presenting at a UAT event.
UAT Writes the First Curriculum for The Study of Thinking
By 2005, UAT had established its place in the technology community for its innovative approach to higher education. It had already launched the Center for Learning Research and a partnership with the Stanford Learning Research Center, and established Hyperlearning, a unique and flexible learning methodology designed for students of advancing technology. However, UAT Founders, Dominic and Ann Pistillo wanted to provide a truly innovative and life-changing education through their University.
In effort to graduate professionals who will be successful throughout their career, "they need to how to think...so, we started doing research but there was no curriculum for thinking. Other than critical thinking, we couldn't find any information on it," shared Dominic. "The whole concept was: let's find the most innovative, greatest thinkers in the world alive today, pick their brains, bring them to the University and start writing this curriculum," he said.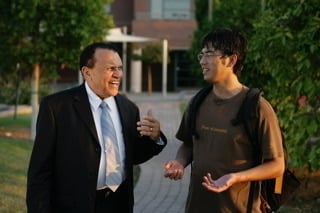 William Maxwell, Leonardo da Vinci Society for the Study of Thinking member and Professor of Thinking (2004-2009), with a UAT student.
That's when the Leonardo da Vinci Society for the Study of Thinking was established. Dominic identified other thinking experts and met with several, including the founder of the International Conference of Thinking, William Maxwell, who also became the Professor of Thinking at UAT. Edward do Bono, who developed the Six Thinking Hats concept that UAT still utilizes in its curriculum today, became Chairman of the Leonardo da Vinci Society on the Study of Thinking. Throughout its time, the society indicted many other notable figures, including Dr. Edgar Mitchell, a NASA astronaut who was the 6th man to walk on the moon.
The Leonardo da Vinci Society for the Study of Thinking was a society meant to improve and establish teaching and thinking skills. It brought broad thinkers to Tempe, AZ, to mentor faculty and students and develop new curriculum. The Society is known for awarding certain individuals (usually doctors) with the Gold Leonardo da Vinci Medallion of Honor. The Society also provided scholarships to extraordinary thinkers.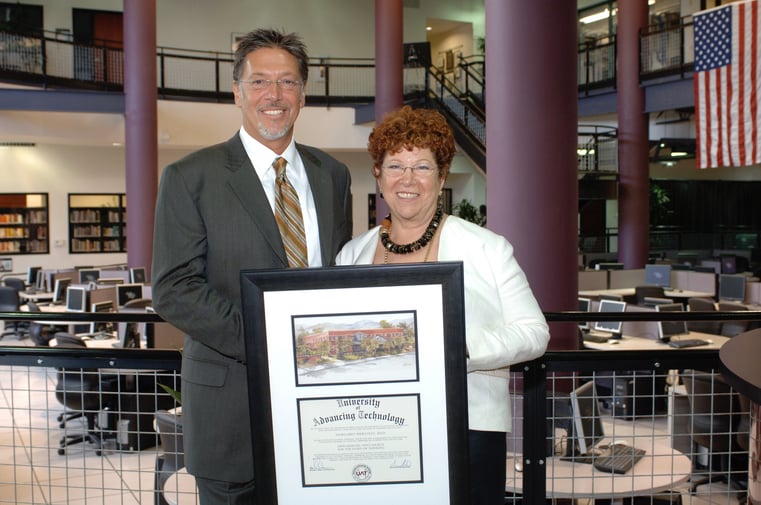 Dominic Pistillo with Margaret Wheatley at her Leonardo da Vinci Society for the Study of Thinking indictment ceremony.
From Human Intelligence to Artificial Intelligence
In 2005, UAT also launched the first Artificial Life Programming degree, which we know today as the Artificial Intelligence (AI) degree. In this major, students must create their own AI machine capable of learning and breaking down broad sets of data into smaller, original sets of data. AI algorithms run our entire social media and online consumption, making it a versatile and still necessary field of study 17 years later. UAT put this into its degree lineup the same year a computer scientist, Sebastian Thrun and team built a driverless car named Stanley, which became the first autonomous car to win the DARPA Grand Challenge.
Designated Center of Academic Excellence in Cyber Defense Education
One of the most outstanding years for UAT was 2007 when the University of Advancing Technology became a designated Center of Academic Excellence - Cyber Defense Education (CAE-CDE) institution through the National Information Assurance Education Training Program (NIETP). Sponsored by the National Security Agency (NSA) and the Department of Homeland Security (DHS), NIETP operates under national authority as the national manager for cyber defense education and training relating to national security systems.
The UAT Foundation
The UAT Foundation was also established in 2007. This non-profit foundation works to help promising students in their college journey. The overall goal of the UAT Foundation is to breed technical and capable creators of technology in order to advance the world as we currently know it.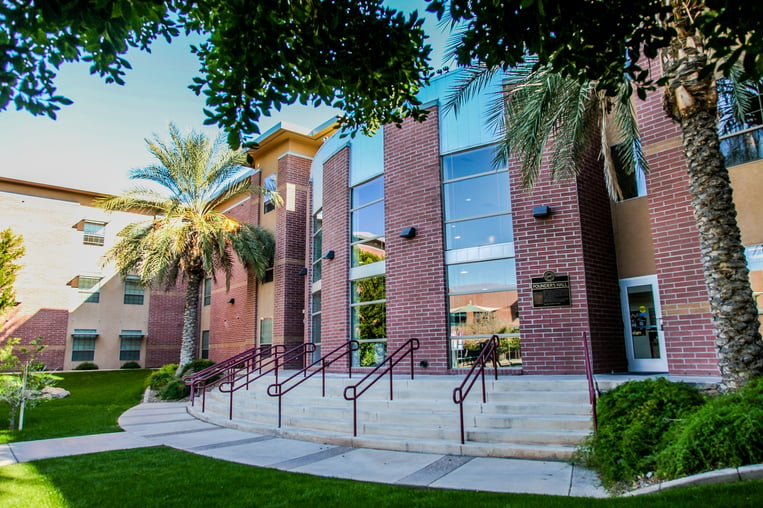 UAT's Student Housing Dormitory Building, Founder's Hall, opened in 2007.
UAT Adds Student Housing and "Everything Changed"
UAT opened up its on-campus dormitory called Founder's Hall that fall of 2007. UATs Provost, Dr. Dave Bolman stated, "Once we built the dorms, everything changed. And it was the craziest thing to notice how in the course of from one year to the next, when you have a building with students here, there's all of these new things you've got to figure out." Interestingly enough this was also the same year that Netflix, like UAT, was transforming and they began streaming services.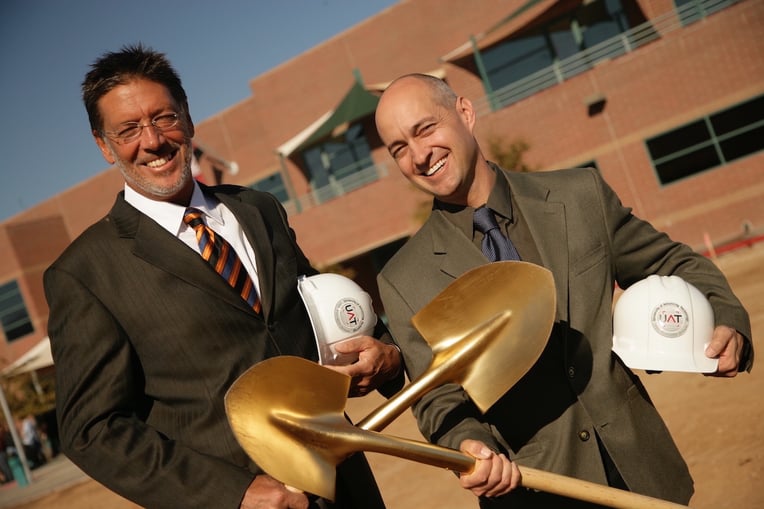 Dominic Pistillo and Dr. Dave Bolman at the UAT Founder's Hall Groundbreaking event
Student Innovation Projects: Innovate to Graduate
Major academic progress was made in 2008 when the Student Innovation Project (SIP) was established as a graduation requirement. This was and is a great opportunity for students and alumni to showcase their very own innovative ideas. It allows each student to create something completely original that could be used/helpful for specific demographics. Professor Craig Belanger said "There was a time when SIP was the biggest conversation on campus among students. They were a little angry at the expectation because what we were saying was, you know, you've got all these classes and these program objectives, you know, that you've taken and the objectives that you've met. But we want you to do this this new thing."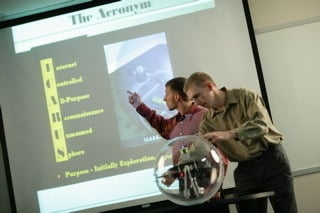 A Student Innovation Project at one of the earlier SIP Showcase events, prior to it being a graduation requirement.
Shortly thereafter in 2009, UAT was accredited by the Higher Learning Commission and became a member of the North Central Association. Chief Operating Officer Karla Aragon-Joyce remembers "That had been our plan for some time - we wanted to be seen as a technology liberal arts college, and that wasn't a thing until UAT. Back in the day, you were a state school or you were a trade school, and so we made that move from kind of trade school field to collegiate field, and that was a big transition."
UAT Opened the DOD-Funded Cyber Warfare Range
As the internet grew and cybersecurity became more prominent, UAT had become so well-known in the cybersecurity world that in 2010, through a program grant, the Department of Defense partially funded UAT's Cyber Warfare Range, otherwise known by students and staff as "The Cave." This was the main hub for Network Security degree, Network Engineering, and Technology Forensics degree students. It doubled as a classroom that was less than traditional, designed for hands-on learning and student collaboration, as well as an event space for Cyber Security events. This space has since been retired and replaced with the UAT Security Operations Center.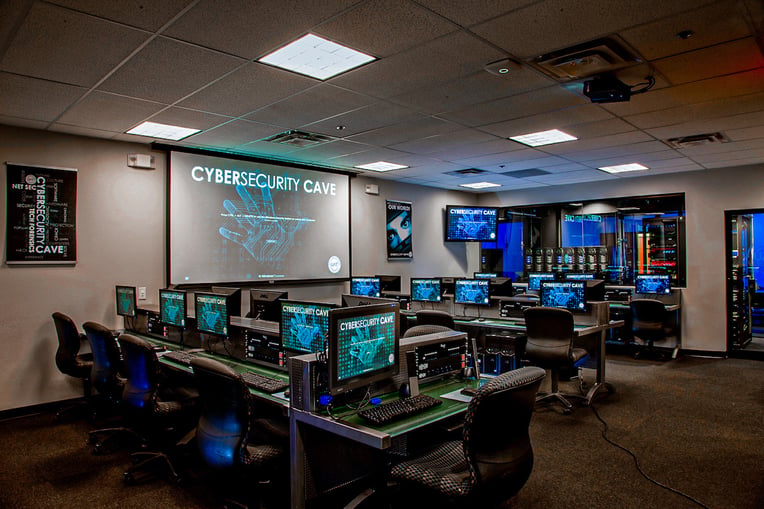 UAT's Cybersecurity Cave, also known as the "Cyber Warfare Range" (now retired).
UAT Continues Adding New Innovative Technology Degree Offerings
Just a year later, UAT implemented four new degrees to stay ahead of emerging and advancing technologies, including the:
UAT's Learning Model Gets a New Name
To put a cap on this decade, UAT transitioned its Hyperlearning model into the revolutionary Synchronic Learning Model in 2012. This specific model is designed for both undergraduate and graduate Advancing Technology students. It gives innovative students the opportunity to create their own flexible school schedule with the same access to mentors and materials as every on-campus student. Today, UAT continues to stay ahead of technological trends to provide the most modern, updated education services possible.
Stay tuned for the final decade leading up to UAT's 40th Anniversary and if you missed our last two posts recapping UAT's monumental decades, check them out here:
Learn more about University of Advancing Technology's history over the years and stay tuned for our last post covering the last and most recent decade at UAT.